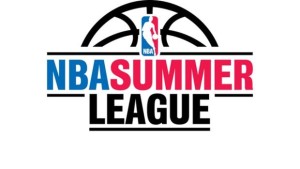 Summer League Impact
Let's talk about summer league. For some teams, summer league is more exhibition than work. It's a chance to show off new talent, not evaluate it. For the Memphis Grizzlies, summer league is ride or die. It's the chance to show how a player fits in with the current roster, to cement a role, or remain in heavy D league rotation.
The Memphis roster is tightly coordinated, and a system that does not foster players in development. Joerger is fond of the 43 second insertion at end of play. The one chance in regular season play that saw hefty minutes of our rookies was against Golden State, that saw Russ Smith and company erase a 40 point deficit to within 4. Development is the name of the game, and you better work.
Jordan Adams is the rook that has seen the most play out of his class. There's even a campaign calling for "Free Jordan Adams".  He's aware of the talk. Summer league for Adams was a chance to rise to the elevation of that talk. Adams has been billed as the sleeper the Grizzlies desperately need in outside shooting.
This past week in Orlando saw Adams struggle mightily from, well, everywhere except the free throw line. The perimeter is Adams signature shot, usually mechanically sound. Almost everything he threw up this week was over extended, bouncing hard at the rim connection. There was a slight knee issue that saw Adams sit for game 2, but it was mostly a matter of soreness.
Adams failed to square up his shot, waiting until surrounded to release. Game three sudden death final play was drawn for Adams, and he bricked it. Hard. The resulting rebound was collected by Jarnell Stokes, and kicked to Russ Smith. The championship sudden death final play was also called for Adams, but again found Russ Smith.
The positive side of Adams having a very difficult offensive week, was evaluating his defensive development. Being a sound two way player is essential for a roster that needs shooting, but defines itself on defensive prowess. Adams has worked on his fitness, and gained some quickness. He's a fan of sleeping and unexpected explosion. He loves to look disinterested. That doesn't always translate well. Adams has quick hands, combined with an ability to read angles, he is capable of picking off players.
While Adams did have a nice spin move to the basket, this was not the breakout series I expected him to have. He did have games where he dropped 15,17 respectively, but the differential was made up at the free throw line. Players are allotted a 10 personal fouls, equating at time on the line. It's a good thing we know what Adams is capable off, because his potential was not on display.
Jarnell Stokes had a dominant summer league aside from game two. Game two saw Stokes setting lackluster screens, and nervous hands. There was a shift in responsibilities for Stokes, that initially seemed overwhelming. Game one was solid. Game two Stokes was asked to contribute more offensively. There seemed to an internal to do list that once completed left Stokes a move behind. Overthinking got the best of him game 2. However, games 3-5 that was done. Memphis would not have survived, nor thrived, without Stokes. He was consistent, dominant, confident. Stokes is everything you hope he'll be. There would have been no Russ Smith flash finishes without Stokes to balance.
It is evident that Stokes has been working. He was never bullied in the paint. He's also worked to pick up speed, and endurance. There was never a moment he looked like he needed respite. Not only was Stokes dominant in the paint and under the glass, he was able to convert the pull down. Stokes has also developed a nice 15 footer, and step back floater.
His court knowledge has expanded, and his positioning improved. His body control, due to strength training and work, was on point. Off the grab, he comes down with authority, and maintains ball control and footing. On the up, he's straight up and down, not leaning in to the opposing player.
Offensively he's very good at creating contact that results in time at the line. From the line, Stokes was almost perfection. He's playing smarter. Game 5, in the fourth quarter Stokes was unstoppable. Taking a charge in the paint, Stokes set his feet just outside the inner arc, and held his position tight, arms up. This is important as outside that arc is an offensive foul, in it is a defensive foul. That was the change of possession that carried the Grizz into overtime. In overtime, off the fast break hustle saw Stokes intercept and deflect what would have been a slam.
Conversely, Stokes can slam. Stokes is the player I wanted to see develop, he's the guy you want to see succeed because you know he will be great. Jarnell exceeded expectation, and did not disappoint.
Russ Smith is simply Russdiculous. I'll say that once because he's trademarked the term, and I don't want his lawyer to call me. Smith established himself as the floor general to watch right out the gate. What Smith lacks in stature, he makes up in panache. He's got it. That combination of flash and accuracy. Lightning quick on the dribble and off, Smith can just as easily break your ankles, or infiltrate your lane like a ninja.
I can't tell you the number of times I caught opposing players at a standstill watching him, or throwing up arms and shrugging after getting beat. Smith has the uncanny ability to immediately take inventory, note and exploit weakness. That's a trait that makes a point guard dangerous. Laser accurate no look, behind the back, drop off, quick whip low in traffic, are all in Smith's arsenal.
He's also got the perimeter, a pull up jumper with range, ambidextrous floater, and crazy circus infiltration to the basket in his pocket. Scoring is not an issue. What Memphis brass wanted to see from Smith was if he can facilitate and run the floor. How effective that is can be determined in part by the skill of the four running the floor alongside him. There is obvious chemistry between Smith, Stokes, and Adams. Russ was able to adapt to Tony Crocker, Okaro White, Holyfield, without missing a beat. He's also got grace under pressure, and can hit clutch.
Smith's vertical is also insane. Smith won jump balls. You read that right. He also had three rim hanging, head above the basket, rocket take off, fast break off the steal SLAMS. The test of a Grizz is grit and grind, and all heart. Smith played the championship game with injuries to both hands sustained in game 4, and still came up clutch. That's how we Grizz do.
JaMichael Green was ill for most of the tourney. He did see 5 minutes of action against the Charlotte Hornets. Those 5 minutes saw him take top draftee Frank Kaminsky to the cleaners with ease. Green was dominant in the lane, cutting through like the Hulk.
He destroyed players in the paint grabbing rebounds, and converting points. 5 minute stats for Green 10 points 5 rebounds. The Grizz brass are aware of Green's ability. The question, can he do it with consistency remains to be seen.
Andrew Harrison second round draft pickup is the one I expect to spend a large amount of time in Iowa. He's athletic for sure. But this ain't Kentucky, this is the NBA.
His fundamentals need work. High outside dribble, very forward ball with high outside swing on the crossover leaves him open to getting his pockets picked. More often than not dribbling to nowhere and getting quickly backed into a corner with no plan.
He is used to being a superstar, and has to transition. His passing game is decent. He did miss a game winning layup for the championship. Harrison will have to learn to listen to teammates and staff. Ego must have an attitude adjustment.
After having press scandal in the college arena via infamous press conference wording aimed at Kaminsky, Harrison has to realize that press is still a part of the stage.
Overall summer league was very successful for the Grizzlies. They showed grit and grind, determination and work. They demanded notice, and commanded respect. They took the championship with authority, leaving doubt to the wayside. Names like Kaminsky, Winslow, Johnson, beaten by the execution of Smith, Stokes, and Adams. Beale street hat tip gentlemen, well done.

Latest posts by Jennifer Conroy
(see all)