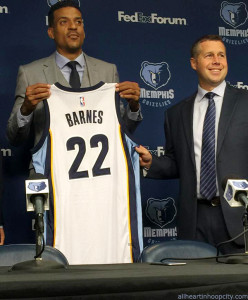 Will the Real Matt Barnes Please Stand Up?
MATT BARNES HAS FINALLLLLLYY COME TO M-E-M-P-H-I-S!!! (In my @TheRock voice!)
Prior to yesterday if you said the name Matt Barnes in Memphis, you were likely to get a very visceral reaction. Public enemy number 1, kicker of trash cans. The perennial Clipper thorn that delights in prickly instigation on the court. Hard fouling and unapologetic. Trash talking in your ear while elbow checking your ribs and dropping the baseline three in your face. Barnes plays the kind of ball Memphis adores, unless it's from a point of opposition. Grit and grind is only permissible if it stems from Beale Street. Barnes is the guy that survives the onslaught and barrage in our paint and thrives. He's the guy that takes it and uses it as motivation to give it back. He doesn't flop, he doesn't complain, he returns the favor harder. That alone gave us reason to hate him. He could be us, but wasn't, and therefore must be punished. All of these things make up the cover of the Matt Barnes book, and he had been hammer, nail, coffin, judged.
You know what the proverbial "they" say about judging books by their covers. Still, I approached yesterday's Matt Barnes press conference with hesitation. While I am Grizz loyal, and Barnes is an easy target, there was one thing that kept me from fully being able to hate him. Several years ago I saw an interview with Barnes that still resonates in the recesses of my brain. In the interview, in 2007, Barnes had just lost his mother to cancer. He talked about his mother with such love. He also talked about a tattoo idea culminating in his brain of "The Last Supper". At the head of the table would be his mother, surrounded by Marley, Pac, Biggie, and Michael Jackson. A legend among legends. Asked by TMZ if Barnes was brushing up on his Elvis, Barnes replied "Nah, I'm brushing up on my Pac.". Music and his mama. I can dig that.
While Barnes has been persona non grata within Grizz Nation, he's long been down with the Grizz themselves. Barnes served as a groomsman at Tony Allen's wedding. He's friends with Zach Randolph. The respect between the two parlays on the court as evidenced by the two exchanging hard fouls, only to turn and exact hand slaps and nods instead of fists. Not only does Barnes exemplify the grit and grind mentality, he has existing chemistry within the Beale Street brotherhood. He's already family.
Matt Barnes is a defensive specialist that can hit the elusive baseline three. He knows his role. That alone is a skill set that evades most. Barnes talks about players that role model Kobe Bryant, and wanting to throw up 30 a game. That is not sustainable for the average player. Barnes figured out early on that focusing of defense would equal longevity in the league. That being said, Barnes is versatile on both ends on the court. He can just as easily nail the three as deny it. Barnes made over 167 from the perimeter last season.
At 35, fans feel trepidation in adding yet another veteran to an already seasoned roster. Does Barnes have enough in his tank to last another NBA season? Barnes himself sights his endurability from limited play his first 4-5 seasons. The mileage on his body is lower than his 14 seasons belies. Barnes prides himself on being one of the more physically fit players in the league. Sustained fitness is helpful in avoiding injury. It is also beneficial to be surrounded by the grit and grind than opposing it.
While Barnes will add veteran utility to the roster, he's more than capable of playing extended minutes. Coupled with Brandan Wright the Grizzlies bench just got mob deep on a league considered welfare budget. There are also non-analytic elements that Barnes contributes. As well as much needed generated offense from the perimeter, and grind style defense, Barnes adds vocal hellfire. He will not tolerate less than heart. Barnes is an in your face motivator. He's also the angel of death protector. His loyalties lie with those he shares a uniform. Friends off the court receive no special consideration or benefit. Come Clipper time, Jordan, Paul, and Griffin better be prepared for Barnes to deliver blue ground and pound. Also shared is rival OKC Thunder, specifically Serge Ibaka. In short, Barnes is ready to rumble.
Matt Barnes is well spoken, humorous, and well aware of his reputation. The dichotomy of his on court persona is in direct conflict to the man he has become. The aggression on the court translates to a family man that loves his now passed mother. He wants to live up to her expectations of him as a man, and fulfill her legacy. A rough childhood prepared him to fight through adversity with a tough exterior and a work ethic that is both grounded and motivated.
In conclusion I'll leave you with a verse befitting the situation, a little Ghetto Gospel. -"The world looks dreary, when you have your eyes seeing clearly, there's no need for you to fear me, if you take the time to hear me, you could learn to cheer me." -Tupac Shakur
Welcome to the family that is not only grit and grind, but ride or die.

Latest posts by Jennifer Conroy
(see all)