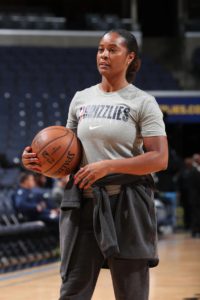 Memphis Grizzlies Assistant Coach Niele Ivey Named New Head Coach for Notre Dame Women's Basketball Team
In breaking basketball news, (now former) Grizzlies assistant coach Niele Ivey has been named as the new head coach for the Notre Dame women's basketball team.
Read the official Notre Dame press release here.
This comes on the heels of today's unexpected retirement announcement from Hall of Fame coach Muffet McGraw.
McGraw served as the head women's basketball coach at Notre Dame from 1987 to 2020, compiling a 905–272 record over 32 seasons, and led her team to nine Final Fours, seven championship game appearances, and two National Championships. (2001 and 2018)
Coach Ivey spent the 2019-2020 NBA season as an assistant coach for the Memphis Grizzlies, under head coach Taylor Jenkins.
Congratulations Coach Ivey from Grizz Nation!

Latest posts by Aimee Stiegemeyer
(see all)