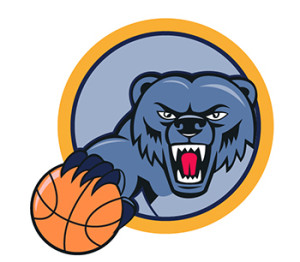 Small and Future Ball
It used to be the Phil Jackson, the Zen Master, triangle ball was the innovative strategy to duplicate. It's still being run, and implemented, most notably in Jackson's New York Knicks. Thus far, it has failed miserably. Carmelo Anthony can't run it. But I digress. Triangle offense was a plan with longevity.
Since Golden State's championship run, the microscope has been focused on small ball and the swing. I heard it all week in Orlando "Swing!". Ball movement whipped and centered on the perimeter. You can move a ball faster than a body. Not many big men can move like a guard.
Small ball indicates running the floor with players 6'6″ and under. The idea is to implement speed and movement with precision shooting, taking the ball out of the paint. Fast paced, high scoring. It's a style of play that is hard to defend, and unless your roster is athletically outfitted for it, difficult to run.
Memphis has been very successful with grit and grind. We'll simply tear you down in the paint relentlessly, mercilessly. There's not a player that steps in the paint with Zach Randolph and Marc Gasol that doesn't require ice afterward. That's our money. We run our offense and defense through the paint, and the million dollar man and his enforcer. However, there's a shift in power if the game you're playing barely trespasses through the paint, and knocks down 3's to your 2's. Simple math really.
There's been much said in the Grizz community about lack of outside shooting. If your offense is run through the paint, as ours is, an outside shooter doesn't mean much if he doesn't have the ball. Gotta have possession of the ball to play with it. Perimeter shooting also has to be pounded in practice. Steph Curry, Klay Thompson spend all day there. That's their signature, that's where they work. The perimeter is ingrained in muscle memory from top to bottom.
So, the question is, can Memphis hang? I think we're beginning to see puzzle pieces coming together. The whole picture isn't done,  but the shape is coming together. Zach Randolph, Marc Gasol, Tony Allen and Mike Conley. Solid. The future will arrive sooner rather than later. October is hiding right around the corner. The future has names. Jarnell Stokes, Russ Smith, Jordan Adams and JaMychal Green.
Free agency has almost been depleted, and summer ball completed. Summer ball is a glimpse into possibilities. The chance to evaluate incoming talent and the development of  players on the brink. Last season we saw small snippets of our rooks. We saw limited explosions in fractals. Individual rotations. We saw the chemistry they have been developing in Iowa on the NBA stage in Grizzly blue, once. Where the Russ Smith led crew erased an almost 40 point deficit to within 4. The ability to rally, and defend, small ball and the swing.
There has been much ado over the what it's of  second round playoff series that saw Memphis eventually fall to Golden State in 6. Conley, our all heart, grit and grind floor general, grievously injured. Allen sidelined by way of hamstring betrayal. Jeff Green still aggravated by back spasms. Courtney Lee hampered by a lingering wrist/hand injury. Beno Udrih pushing through an ankle injury that required surgery. What would have been if they had been healthy?
Or, what if Dave Joerger had inserted the rooks? Fresh. Eager to prove their worth. That is the what if. If triangle and grit and grind are being phased out and replaced by the swing, who better to fight it than youth?
I believe the Grizzlies can adapt, and prosper. The core four are still essential to Grizzly basketball. Gasol and Randolph still guard the paint zealously. Allen is still the pitbull that don't nobody know who the owner is. Conley still runs the floor, but we give him some freedom. Take the gloves off.  I've seen Conley come down the floor, call the play, only to be rerouted to the left by Joerger.  Head coaches are necessary, but there has to be trust in the men on the floor. The trust to make decisions, even if it means occasionally overriding the sideline. I trust our floor general and his band of badass soldiers.
Jeff Green is probably safe as the front office brass is keen on contract men. Up in the air remain Courtney Lee, and Vince Carter. Kosta Koufos is now a King. Nick Calathes will become the new spokesperson for Hair Club for Men, possibly in Greece. He doesn't want to land in DeAndre Jordan territory, and is keeping the door open for the possibility of an NBA contract.
We have picked up Brandan Wright, a Nashville native, power forward/ center via Chapel Hill. He can fly y'all. And run the floor like a guard. We've picked up Matt Barnes. Matt Barnes trash can kicker, dual to the death, win at all costs. Good pieces that should fit.
With training camp around the corner, I'm eager to see where our franchise is heading. I look forward to seeing how our upcoming core four fit. Especially in the small ball arena.

Latest posts by Jennifer Conroy
(see all)