Grizzlies dominate Hawks again in 118-101 victory
For the second time in less than a week, the Memphis Grizzlies were able to secure a convincing win over the Atlanta Hawks.  The win by the Grizzlies came after a tough loss on the road to the Dallas Mavericks the night before.  After Saturday's win, the Grizzlies got back to 0.500 and secured a 3.5 game cushion between their spot in the 8th seed and the 9th seeded Sacramento Kings.
Notable Performances
Jonas Valanciunas was 10-13 from the field and finished the game with 27 points, 17 rebounds, 3 blocks and 2 assists in 32 minutes of action.  The Hawks defense did little to thwart his offensive prowess, and he was able to cash in on their inability to stop him.  When he was asked about Valanciunas, Hawks' head coach, Lloyd Pierce said, "he is a load.  He is tough.  You are trying to crowd the paint.  When they miss, you feel like you are always in a bad spot.  He is just a big body."  Notably, he was on target to tie a franchise record set by Marc Gasol of consecutive made field goals over a two game stretch (15) until a missed tip-in at the close of the 2nd quarter.  That tip-in would have tied with Gasol's record set in November 2009.
Coach Lloyd Pierce was also complimentary of Ja Morant's game calling him "poised" and "competitive".  "I don't know what his numbers were", Pierce said.  "One of the things I admire about this team is they don't really care who scores.  It is just good ball movement.  It is under control. He has that temperament."  Morant ended the first half taking only four shots.  He had 5 points (2-4 from the field), 3 assists, 2 steals and 1 rebound.  At the final buzzer, in true Morant fashion, he was 8-12 from the field, 4-4 from three and had 24 points, 6 assists, 3 steals, 5 rebounds, and 1 block.
Morant and Valanciunas combined for 51 of the Grizzlies' points, but it was solid scoring all around.   Four other players had a double digit scoring night.  Starters Dillon Brooks, Kyle Anderson, De'Anthony Melton combined for 38 points.  Additionally, Josh Jackson contributed 17 points off the bench.  John Konchar also came in off the bench and grabbed 10 rebounds.
John Collins was the Hawks' leading scorer with 27 points (9-16 from the field).  He also grabbed 8 rebounds, 1 block, 3 assists and 2 steals for the Hawks.  The Grizzlies' defense held Trae Young to 4-16 shooting from the field and 1-10 from three.  Young had 16 points, 4 assists, 2 steals and 5 rebounds.
Hawks' Vince Carter, who once donned the Beale Street Blue, played his last game in Fed Ex Forum as he prepares for retirement.  Carter played nearly 19 minutes off the bench and contributed 5 points, 2 rebounds and 1 assist.  With 3:44 left in the game, he made his last three point shot in Fed Ex Forum with thunderous applause in the background.  He exited the game to a standing ovation with just 28 seconds left on the clock.
What's Next
The Grizzlies have 18 more games.  There are 9 on the road and 9 at home.  Coach Taylor Jenkins said "everything is trending in the right direction" when asked about the impending return of Jaren Jackson, Jr and highly anticipated debut of Justise Winslow.  Updates on their progression are expected early in the week.  The timeline for Brandon Clarke's return, however, is expected to be a little longer than Jackson Jr. and Winslow.  The Grizzlies face the Orlando Magic in Fed Ex Forum Tuesday.  From there, they'll face the Portland Trailblazers Thursday and the Utah Jazz Saturday.  Both games are on the road.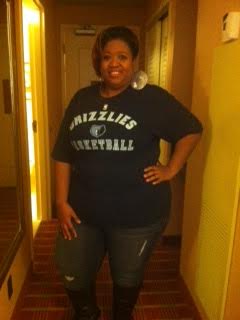 Latest posts by Carmen Patton
(see all)