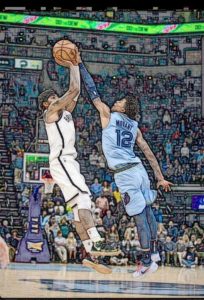 The NBA is set to resume
On Thursday, the NBA announced that its Board of Governors approved a competitive format to restart the 2019–20 season.
The tentative start date is Friday, July 31 with 22 teams at the ESPN Wide World of Sports Complex at Walt Disney World Resort in Orlando, Florida.
The National Basketball Players Association has been working closely with the league to resume the season. The NBPA released a statement on Friday:
"The Board of Player Representatives of the National Basketball Players Association (NBPA) has approved further negotiations with the NBA on a 22-team return to play scenario to restart the 2019-20 NBA season. Various details remain to be negotiated and the acceptance of the scenario would still require that all parties reach agreement on all issues relevant to resuming play."
"The Board's approval of the restart format is a necessary step toward resuming the NBA season," NBA Commissioner Adam Silver said. "While the COVID-19 pandemic presents formidable challenges, we are hopeful of finishing the season in a safe and responsible manner based on strict protocols now being finalized with public health officials and medical experts. We also recognize that as we prepare to resume play, our society is reeling from recent tragedies of racial violence and injustice, and we will continue to work closely with our teams and players to use our collective resources and influence to address these issues in very real and concrete ways."
What does this mean for the Memphis Grizzlies?
Memphis is one of the 22 teams that is invited to compete in Orlando. All teams will be playing eight regular season games before the playoff starts. The Grizzlies currently sit in the eight spot in the with with 32–33 record and is 3.5 games ahead of the New Orleans Pelicans, Portland Trail Blazers and the Sacramento Kings.
No schedule has been announced about which opponents Memphis is set to play during the revamped regular season.
Jaren Jackson, Jr, Justise Winslow and Brandon Clarke are expected to return after their injuries.
Playoff Scenario
After the eight games are completed, if the Grizzlies finishes the season with a four or more game lead over the ninth seed, then the Grizzlies will be locked into the playoffs as the eight seed.
However if Memphis finish with less than four games ahead of the ninth seed, they will have would compete in a play-in tournament to determine the eighth playoff seed.
The traditional playoff format with best-of-seven series in the first round, conference semifinals, conference finals and the NBA Finals will be in effect.
COVID-19
The NBA suspended its season after a positive diagnosis of Rudy Gobert for COVID-19 on March 11th.
The NBA said in a statement:
"The NBA and the NBPA are working with infectious disease specialists, public health experts and government officials to establish a rigorous program to prevent and mitigate the risk related to COVID-19, including a regular testing protocol and stringent safety practices. The season restart is also contingent on an agreement with The Walt Disney Company to use Walt Disney World Resort near Orlando, Florida, as a single site for a campus for all games, practices and housing for the remainder of the season."

Latest posts by Sharon Brown
(see all)