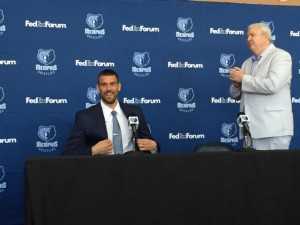 The Special Announcement
On July 13, 2015, the Memphis Grizzlies franchise posted on social media that they would be making a special announcement via press conference on July 14 at noon. There would be a Plaza party from 11 a.m. to 1 p.m. There would be food trucks. The Claw Crew and the Grizz Girls would be there with giveaways. The mobile store would be parked and open for business. Fans became curious about what the special announcement would be. Speculations ranged from renovations at the FedEx Forum, to a new uniform design, to an announcement about the 15th season as the Memphis Grizzlies, to an introduction of new players. All of those things would certainly be worthy of a celebration, but this announcement wasn't about any of those things.
July 14, 2015 should have been just another ordinary hot, summer day in Memphis. However, there was this special announcement going on at noon. So, the FedEx Forum Plaza was buzzing with fans getting Grizz swag and partaking of lunch from the food trucks, and the Grand Lobby of the FedEx Forum was filled with fans anxiously waiting on the special announcement. There was a table set up on a stage in the middle of the lobby with the Memphis Grizzlies press conference backdrop behind it. There were two chairs at the table, and there was a rope separating the fans gathered from the Beale Street Blue carpet leading towards the stage.
Right before noon, the Grizzlies' newest rookie, Jarell Martin, came off the Grizzlies' practice court and down that carpet and headed to a seat in the Media area without the walking boot that he's been wearing. Shortly after, Marc Gasol walked across that carpet and headed to the stage after a stirring introduction from the Grizzlies' tv announcer, Pete Pranica. Gasol sat in one seat; Memphis Grizzlies' GM Chris Wallace sat in the other.
It was obvious even to the casual observer that Gasol was humbled by the crowd gathered and the applause he received. Gasol didn't understand how many fans sat on pins and needles waiting and watching and hoping all season and into the summer that he didn't take this opportunity to go to another franchise. Gasol, after all, just finished the best season of his career thus far. He was rumored to be desired by other franchises in larger and championship proven markets. Why wouldn't he want to go to one of those markets? After all, he'd seen his older brother, Pau Gasol, leave Memphis and head to a larger market and win two championships. At this level of play, it's about winning, and Marc Gasol is certainly a winner.
Following a short speech from GM Chris Wallace, Marc Gasol sat almost seemingly embarrassed with nervous laughter and spoke very few words. He felt undeserving of the attention, the thunderous applause and the random "Love you Marc" screamed from the crowd. The words that he spoke in just over 60 seconds were genuine and heartfelt and were music to the ears of Memphis Grizzlies fans. Gasol told fans, "At the end of the day, it is not about me. It's about making you guys proud." He desires for every Memphian to be proud to say they're a Memphis Grizzlies fan everywhere they go.
Gasol addressed questions from the media, and they managed to ask the questions that were burning in the hearts of Grizzlies' fans. No, Gasol didn't consider any other franchises. He knew that Memphis was where he wanted to be. He didn't even consider a short term deal; if he was going to be in Memphis, he was going to be here long term. He alluded that talking to Mike Conley, who will be an unrestricted free agent next year, helped to seal the deal. This should give Memphis Grizzlies fans some hope that Conley would like to be with the franchise long term as well. Going into the dinner meeting with Grizzlies' owner, Robert Pera, Gasol's mind was made up to stay in Memphis. He was, however, delighted to hear that he and Pera shared the same vision and direction for the franchise. When asked about how he felt about Craig Brewer's "Marc Gasol of Memphis" video, he said it made him emotional because it didn't just talk about him as a basketball player; it described who he is as a man.
July 14, 2015 was a special day in Memphis. Memphis was chosen by a man that had the option to go just about anywhere. Memphis was the only option. No other franchise was considered. No other city was considered. Memphis will continue to Chase Greater for years to come. Memphis chose Marc Gasol, and Marc Gasol chose Memphis. That is a special announcement.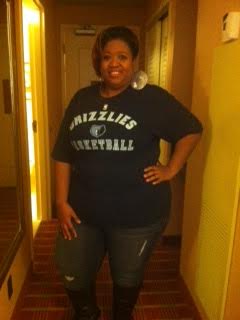 Latest posts by Carmen Patton
(see all)