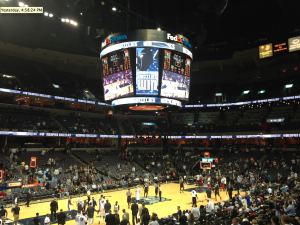 Preseason Flow: Hawks vs. Grizzlies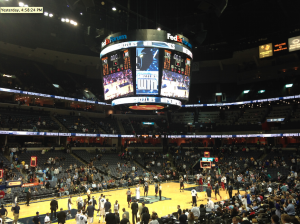 October 11, 2014. 1900 hours.
It was a great evening to be back in the Grindhouse.
Not only was it energizing to finally be among some of the most devoted in GrizzNation, but all of us had the opportunity to celebrate Mike Conley's birthday. He certainly brought the energy on the first day of his 27th year of life; his exuberance gave the Grizz 23 points total (6 of those coming from the 3-point line) with 35 minutes on the court.
Grizz veterans Tayshaun Prince, Zach Randolph, Marc Gasol, Mike Conley, and Quincy Pondexter started, with Tay scoring the first FG with 11:05 left in the 1st quarter. Despite this seemingly "normal" starting line-up, there was one element of experimentation here. Remember that Pondexter was absent for the majority of the 2013-2014 season as a result of a stress fracture in his right foot. Joerger's rationale for including him could very well be that he simply hasn't had a lot of experience with him on the court, at least since Joerger replaced Lionel Hollins as head coach. Makes sense, right?
In the 1st quarter, it was evident that Pondexter's confidence post-absence did not rub off on Randolph; while he eventually got his strong defensive groove back, it was evident that Randolph had a bit of trouble adjusting offensively in the 1st quarter as he missed all three shots attempted. He wasn't our typical "I'm gonna beat your a**" Z-bo who we know and love.
A visibly more robust-bodied Marc Gasol came to play. He accrued a total of 3 blocks, one that involved Hawks forward DeMarre Carroll in the 1st quarter that was particularly epic. He also excelled offensively, scoring 21 points for the Grizz, second only to Conley's 23 points.
We know about all those guys. Now let's talk some Vinsanity. Defensively, he put in work defending Thabo Sefolosha of OKC fame. He earned the Grizz 9 points with 13 minutes on the court. The best part of it all? The 9 points were made with only 3 shots. When he wasn't shooting successful threes, he proved that his agility hasn't been eradicated by his age.
Joerger also gave newbie Jordan Adams playing time, 21 minutes to be exact, and while he wasn't a prominent scorer, his aggressiveness and confidence in the 4th quarter was promising. He really stepped up to the plate and proved that he is NBA-ready.
Leuer was particularly impressive. He had that "Mil-Leuer time" hustle, defined by a formidable dunk in the 2nd quarter.
With 27.4 seconds left in the 4th, Joerger gave Memphis-made Jarnell Stokes the nod. I wish we could have seen more from him, but there's still plenty of time for that.
At the end of it, the Grizz prevailed with a score of 93-88. While the score was close for the majority of the game, the Grizz maintained the lead for most of the time. Next up is tomorrow's match-up with OKC in the Sooner State. What are you looking forward to most for tomorrow evening's game?

Latest posts by Aimee Stiegemeyer
(see all)