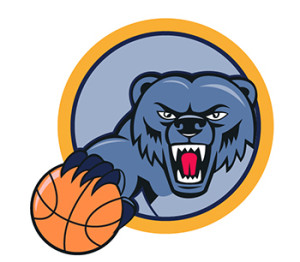 Is it Timma Time?
You may remember Jānis Timma in a number of ways. Some of us simply recall the Grizzlies drafting him in 2013 as the 60th overall pick, while others fondly remember the 6-foot-7 small forward as the one who compelled them to learn that a European country called "Latvia" existed.
(Side note: I'm not too proud to admit that I had no idea that Latvia existed. I didn't take geography in high school. Sue me.)
My shoddy geographical knowledge aside, I also remember that with Timma came an interesting clash of opinions from Grizz Nation. Some fans wrote him off as someone who would never step on the Grizzlies court and call it "home," while others acknowledged his swift, killer offense. Fans on both sides of the issue seemed to agree on one thing: The then 20-year-old Timma needed to develop his game, principally his defense, before stepping foot in the NBA. Timma participated in the 2013 Summer League in Las Vegas, but the Grizz agreed with his need to develop and ultimately stashed him away. He returned to Latvia to play for the BK Ventspils for a second season, averaging 25.4 minutes per game (1.5 more minutes than in 2012-2013) and 11.9 points per game (2 points less per game than the previous season) during the 2013-2014 season. He also came out with a FG percentage of .497 (.09 less than the previous season) and 3 point FG percentage of .411 (0.33 less than the previous season).  I will admit that the downtrend of these numbers concerned me until I did yet another comparison. Timma's average steals per game increased from 1.5 to 1.6 in 2013-2014. Despite this very small increase, the upward trend indicates that Timma is improving his defensive game by becoming more aggressive on the court when it counts: when the ball is in the hands of the "other guys." Changes don't occur overnight, especially when these changes involve drastically altering your points of focus in the game.
Here is a highlight reel from his 2013-2014 season with the Ventspils. He's sporting #6.
And here's another video that features Timma puttin' in work.
In case you need yet another Timma refresher course, here is a video of him serving up a sweet dunk at last year's Adidas Eurocamp.
Despite the long distance, our own John Hollinger seemed to actively keep tabs on Timma; just months ago, Timma tweeted at Hollinger, thanking him for traveling to Latvia to attend a BK Ventspils game. Not surprisingly, the Grizz just announced the 2014 Summer League roster with Timma as a forward/guard sporting #92. He will be playing alongside native Memphians Joe Jackson, Terrico White, and the recently drafted Jarnell Stokes.
Time will tell whether Timma will be successful in the Summer League. I have a feeling that once he proves that he is defensively up to par, he could be beneficial to the Grizz, a team with a positive history when it comes to developing young players. Truthfully, I would enjoy watching the Grizz' coaching and training squads help him develop, and I'll be right there, shamelessly throwing around South Park references the whole way.

Latest posts by Aimee Stiegemeyer
(see all)