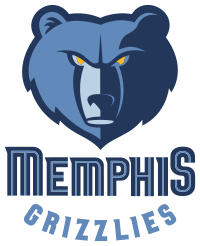 Four Essential Questions for Grizzlies Fans This Season
For the first time ever the ladies at All Heart in Hoop City will answer questions regarding the Memphis Grizzlies. Take a seat, sit back and enjoy the ride. Let's begin:
1) What are your expectations for the team this year?
Jill Kong – Generally speaking, I would expect them to win 55+ games and earn another trip to Conference Finals. Even with the crucial injury to Marc Gasol last season, they managed to take home 50 wins; If Marc wasn't injured, they might have achieved 55 wins and draw a more favorable match-up. Now that they've entered the second year under Dave Joerger and welcomed the addition of Vince Carter and return of Quincy Pondexter, there's really little to no reason to doubt that they wouldn't achieve that goal this season.
Aimee Stiegemeyer – If everyone stays healthy, I'd say to win at least 55 games, and probably at least a number 6 seed in the West. I am anticipating this being a big year for Marc Gasol. He's arguably in the best shape we've ever seen him, clearly he has been putting in work on conditioning and training this summer.
Tabitha Richard – I expect us to easily have a 53 win season and most certainly make the playoffs (we better make it through to the second round). Not like anyone of us could forget but last year was a year of change and injury. We had a second year owner, a new front office (of course that has already changed again), a new coach (who did not exactly have a fan club) and a new system. Sure we tried to stay true to who we are as the Grizzlies but with an injury riddled roster we didn't exactly have the pieces we needed. Hollinger openly admitted that they approached the first part of last season like a trial run and had only started to hit their stride when Marc went down. We went 10-13 without Marc and saw our defensive rating plummet. I don't expect that to happen this year. I do expect that Joerger has had the time to work with these guys as a cohesive unit and not only will we see the defensive powerhouse we are used to but we will also see an offensive presence that we have become accustomed to winning without. I also hope to see Marc step up as a real leader on the floor. I personally could handle seeing a few more minutes of him!
Sharon Brown – My expectations for this year are to be better than last year and that could mean a trip to either the Western Conference Finals or the NBA finals. I know some think that may be unrealistic but a girl can dream. I predict that the Grizz will be seeded from 3-6 in the Western Conference this year. Last year even with all the injuries, we finished 7th with 50 wins in the deep West (by far the superior conference). We have the best 2 big men combo in the league with Zach Randolph and Marc Gasol and when they're both clicking, we are hard to beat.  Looking for Marc to be more aggressive offensively and Zbo is going to be Zbo. Mike Conley has improved his game. With the addition of Vince Carter, the return of Quincy Pondexter and the defensive specialist in Tony Allen, the Grizz will be grinding in the West. Plus we have ourselves a pretty decent bench.
Amanda Schultz – I have a feeling this is going to be a very different team than in recent years. We have some great new young talent in Adams and Stokes. Quincy will be back. Oh, and let's not forget that we'll be Calathes-less in the beginning of the season, thanks to some Tamoxifen consumption. Despite that last fact, I think we'll begin on a much more positive note than last season. I have faith in the team's ability to prevent the prevalence of injury that quite literally crippled us last year. I also like the idea of developing Adams and Stokes. The return of our favorite players, along with the addition of some new ones, will make for a very interesting and unique season.
2) How well do you think Jordan Adams & Jarnell Stokes will perform this year?
Jill Kong – Contrary to most folks' expectation, which is mostly sparing playing time and multiple trips to Iowa, I would predict the two rookies to force their way into rotation later in the season, especially Jordan Adams.
It's hard to conceive the idea that a late first rounder could compete for a rotation spot on an established playoff team in his first season, but through what I've gathered from scouting reports and summer league, the maturity, craftiness and scoring ability of Jordan Adams might just make him the most NBA-ready and overall best rookie of 2014 class. To be honest, I don't think any of our wing players is good enough to squeeze his playing time if Jordan Adams could develop into a ROY caliber rookie.
As for Jarnell Stokes, what might potentially help him is less competition. Actually the only obstacle in Jarnell's pathway to rotation minutes is Jon Leuer. Sure, it is possible for Dave to put out smaller bench lineups with Prince or Beasley at 4, but it's hard to do that night in and night out. Same goes for 3 bigs rotation with Kosta being the only backup. If Jarnell could manage to beat Leuer to the job, he might gain a rotation spot. And even though Johnny Badger has the smooth perimeter skill and more experience to show for, he has limitation as well in terms of rebounding and defense.
Aimee Stiegemeyer – Obviously that will depend largely on the amount of playing time they see. With our bench being as deep as it is, I'm not sure that either of them will end up with a lot of minutes this season. It will be interesting to see how Coach Joerger utilizes them in our rotations.
Just based off his recruiting video, Jarnell Stokes looks like a baby Zach Randolph in his style of play, and I think he'll fit in well with the Grizzlies.
We have some of the best veterans in the league for Adams and Stokes to learn from, and that will benefit them both in the long run regardless of how much they see the floor.
Tabitha Richard – I, for one, am glad that we are in a situation that we have a deep enough bench that our rookies can perform as just that, rookies. I expect we will see more of Stokes than we will of Adams. I see Stokes finding a real way to fit in our system as an athletic big man and that he will bring some energy to the floor. I think that he is going to be productive for us and can hopefully be someone to groom for the day Zach makes his exit. Stokes seems to consistently perform and fit into whatever system he gets brought into and I believe he will succeed here. I don't know that Adams will end up with a whole lot of minutes. He can be a great shooter but it's hard to know how that will stack up once he hits the NBA. It's a different world and while he can make shots happen his athleticism will only carry him so far.
Sharon Brown – I think some Grizzlies fans are sleeping on Jordan Adams because he's really an unknown. On draft night, there was a collective WHO when his named was called. Many of us frantically searched Google and Youtube to see who he was. We didn't want him to be another Thabeet. But I believe he will become a household name for the Grizzlies in the future. He's a straight shooter and we witnessed that in summer league.  He college career was not too shabby either. Last season he averaged 17.4 pts, 2.6 steals and shot 35 percent from beyond the arc.  I believe he will get minutes this year but I don't know how many minutes. Time will tell though and it's up to Coach Joerger and his staff to determine that.
Jarnell seems to fit the system and is like Zbo 2.0. He was a double double machine in college for the Tennessee Vols last season averaging 15 pts and 10 rebounds a game. And it doesn't hurt that he's a from Memphis. I believe Stokes will see minutes as well this season; how many minutes he gets is dependent upon how well he plays. He might even beat out Leuer as the primary back up to Zbo.
Amanda Schultz – I could go on and on about this, but let me keep this brief: I think they both have a lot of NBA potential. I will also admit my bias when I say that I am particularly excited about Stokes, considering his Memphis roots (he's a Southwind grad). I just think that this will be a year of new experiences for them. They both scored 17-15 points per game during their short college basketball careers, respectively, so I absolutely believe they have the potential to develop in the NBA; even better, I think they can become shooters for the Grizz, and we all know how much some good shooting is needed on the team.
3) What are your thoughts on the Vince Carter signing?
Jill Kong – I am excited as most Grizz fans are. Actually the experience of finding out was as exciting. I was gathering offseason information onto our Chinese Grizz fans forum that afternoon and I posted Chris Vernon's tweet about Grizzlies talking to Vince Carter. Folks there said it's just another goose chase and laughed it off. Hours later, news of the signing broke and I screamed at the screen so loud that my neighbors might have heard.
Back to the topic, I would say the playmaking ability that Vince brings to the team is the most crucial thing. Dave said in an interview last December that he would replace then-surprisingly-good James Johnson with returning Prince just for his experience and playmaking. Dave's undying affection for TP aside, you can tell how much Dave values playmaking from wings. And Vince Carter is the better version of Prince with much more overall scoring left in the tank. Not only can he facilitate offense by being a pick n' roll ball-handler and free up Conley and Marc a little, but also his ability to drive or rise up a jumper in a pick n' roll set would bring versatility into Grizz offense or even help Dave to construct the motion offense he often talks about.
Aimee Stiegemeyer – Outside of ensuring Zach Randolph will be in a Grizzlies uniform for the foreseeable future, signing Vince Carter was the best move the front office made during the off season. I think he may be the missing piece we've needed to move ahead, and he definitely does not hesitate to take big shots in high pressure situations.
Actually, he doesn't seem to hesitate much at all on taking a shot if he has one, which is kind of refreshing after all the times last year I yelled at my TV for Mike Miller to just shoot the ball.
Vince Carter is a closer, something we have desperately needed. This buzzer beater against the Spurs is the perfect example.
He may not be half man, half amazing anymore, but definitely at least still 2/3 man, 1/3 amazing.
Tabitha Richard – Who doesn't love a little Vinsanity? Carter brings another level of veteran leadership that can really continue to bring our roster together. Carter can fill some much needed minutes in the SF position that allow Prince to only play spot minutes and only when he will be effective. Carter should fit very successfully into our system and was hands down my favorite off season move!
Sharon Brown – I was really happy about the Vince Carter signing!! I could imagine him dunking on everybody. I know he's 37 but he looks amazing and I believe he is headed to the NBA Hall of Fame one day!! He knows the game and has a high basketball IQ. He's in improvement over Mike Miller (who was loyal to LeBron and left Memphis for Cleveland) . Mike Miller had a higher percentage of 3 pointers, but Vince is a better all-around basketball player and isn't afraid to shoot the ball and is good defensively.  Mike usually was torched on the defensive end. Young players still look up to Vince to this day. They remember when he had hair. The veteran leadership that Vince possesses is good for the young players. Vinsanity is now in Memphis and a part of the Grind!
Amanda Schultz – I love the Vince Carter signing. In my opinion, "Vinsanity" will benefit Memphis in multiple ways. For those who are unaware, Carter is 37 years old with roughly 16 years of NBA experience under his belt. This yields differing opinions from fans. While some think that he's "too old" to contribute, others value the experience that could benefit the team. I'm on the "his experience will benefit the team" team. We may not get a young, vivacious vibe from Carter. In fact, I know we won't. We can't expect another "le dunk de la mort" situation (à la the 2000 Summer Olympics). Despite this, I think that he will contribute to the team by mentoring players and giving Joerger some much-needed coaching insight. He also has a great philanthropic history, which will help him fit in here in Memphis. With his commendable history on the court and in the community, I think that Vince Carter will prove to be an inalienable asset to the Grizzlies.
4) Your suggestions on how we can do better at the small forward position? 
Jill Kong – Try establishing a consistent rotation early. Part of the cause for the slow start last season was the constantly changing minutes for a lot of players on the roster. Of course it is important for coaches to adjust minutes based on performance and matchups, but Dave should try to get a general sense of everything before season starts this time around.
As for specific personnel, it's hard to talk about it because the positions are rather blurry right now as we have a group of wings with similar heights. That will certainly bring up a defensive issue since we don't really have one wing player with standard height and capability to play significant minutes. Quincy Pondexter and Vince Carter seem like two best options to split minutes there as both of them possesses the ability to guard multiple positions and decent to good shooting ability. Additionally, Vince brings playmaking and some ISO scoring while QP is working towards setting himself as a 3-D role player. But will their 6'6" height become a defensive issue at times remain to be seen.
Aimee Stiegemeyer – Let Vince Carter play at the 3? I need to give this more thought, I've been focused more on how we can get better overall. I'm looking forward to seeing Quincy Pondexter back on the court, hopefully he will come back strong, and give us a boost at the SF position as well.
Tabitha Richard – Taking a look at the potential we have in that position between Vince Carter, Quincy Pondexter, Tayshaun Prince and Michael Beasley we might not need to do better. Signing Michael Beasley opened us up to the possibility of really having options to fill the SF position. If Beasley can find a home here and perform at a level he is capable of, I think we may have a solid set of players to toggle the SF position. With that in mind I want to reserve my suggestions until training camp and the first part of this season play out!
Sharon Brown – I firmly believe that Quincy Pondexter, Tony Allen, Michael Beasley (if he remains on the roster) and Vince Carter should take turns starting in the small forward position. Either one is capable of doing so. It all boils down to, who's better offensively and defensively based on the match up; who can space the floor better for Marc and Zach to operate proficiently. We basically need someone who can score and attack the basket and outside shooting to take the pressure off of Marc, Zach and Mike as the primary scorers. So basically I am saying it should be a game by game decision but I think Dave knows who his starter will be.
Amanda Schultz – Well, first of all, I think we would benefit from a SF who can actually see…
Now that I've angered the Rudy fans, let me give my real opinion. I think this is one of the areas where Carter can help us. His experience as a SF could eliminate our deficit here, whether it involves him providing pointers for another player or taking over the role himself. Only time will tell.

Latest posts by Sharon Brown
(see all)