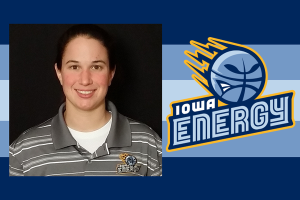 Iowa Energy announces new assistant coach Nicki Gross
BREAKING: Nicki Gross named Iowa Energy assistant coach, becomes only female assistant coach in the @nbadleague. pic.twitter.com/R89dE6J0F9

— Iowa Energy (@iowaenergy) July 30, 2015
It's an exciting time for women breaking the glass ceiling in the traditionally male world of professional sports.
Today the Iowa Energy, Memphis Grizzlies NBA D-League affiliate, officially announced the promotion of former video coordinator Nicki Gross to assistant coach.
Gross served as the Energy's video coordinator for the 2014-15 season, and was the graduate manager for the Monmouth University Men's Basketball team for the 2012-13 season. In addition, she has served as an intern for the Samsung NBA Summer League in Las Vegas since 2013.
Read the official release from the Iowa Energy: http://iowa.dleague.nba.com/news/nicki-gross-named-assistant-coach-becomes-only-female-coach-in-nba-d-league/

Latest posts by Aimee Stiegemeyer
(see all)