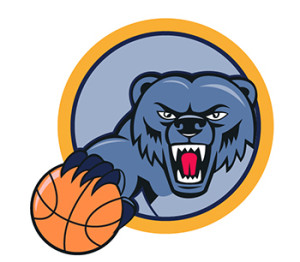 In Shy's Corner: The Night I Covered the Grizzlies Playoff Game
The Grizzlies clinched the series 4-1, 99-93 against the Trail Blazers and advanced to the Western Conference Semifinals. They will face the Golden State Warriors. In this edition of In Shy's Corner, I will give my take as a member of the media in Game 5.
To be honest I was very nervous about this game, both privately and professionally. It was my first opportunity to go to a game as a media member. I didn't really know what to expect or how I would react. I've never been up close and personal with the players before. I've always seen them from afar.
First, I had a chance to be on the floor for the pregame festivities. My heart was beating really fast. I encountered other members of the media that I have never met before. All of those I had an encounter with made me feel like I belonged. At first, I thought I would be intimidated by those who have been where I am trying to go. I was pleasantly surprised, some knew who I was from Twitter and from the site.
I also had a chance to go on the floor and take pictures until game time. Usually, I am really really nervous being out in the open like that. I was in front of thousands of people. I didn't miss a beat. My focus was on the court and watching the players shoot the ball as I took pictures and recorded video. I was just in awe of the experience.
It was hard not to cheer for the team when they made great plays. I had to remember, I wasn't there as a fan. I was there as media and had to conduct myself professionally. I am a season ticker holder and I am a passionate fan of the Memphis Grizzlies. It was hard to separate the two at the game on Wednesday night. Honestly, I wanted to stand up to participate in the various chants the crowd had going on throughout the game. And yes, I wanted to stand up and shout 'Whoop that Trick'. After the Grizzlies secured the victory, I stood up, cheered and clapped my hands.
The post game presser was better than I thought it would be. I had a specific question I wanted to ask Joerger, but I decided not to ask. I wanted to ask if he was glad they didn't have to face CJ McCullum again this post season.
Now to the locker room..that was the most scary part to me. When I first went in there, I saw a massive amount of people and cameras in front of Courtney Lee's locker. I made my way over there and I couldn't even see him. I listened intently and was able to record video after most of the cameras moved on to other players. Zbo came out in his towel, most of the other reporters had now moved on to a fully dressed Tony Allen. By time, I wanted to get to Zbo most of the cameras were there and I didn't get a chance to record him. So, I ended up going to TA. I even had a chance to ask him a question after I stopped recording. I shook his hand and asked him if he was ready for Klay Thompson…he said, "I'm ready for everybody." The fan girl in me wanted to say HELL YEAH, that's what's up. I just nodded my head.
I also had a chance to meet members of the Grizzlies PR team. Let me take this time to publicly tell you guys about Jason Wallace, the director of Grizzlies communications. Jason is great at his job and is a very good person. He's been very accommodating to us at All Heart. I am forever grateful for what he's done for us. The Grizzlies have the right man for the job! All of the media members who I've been in contact with had very good things to say about him. I was so glad to finally meet him and was able to shake his hand and say thank you personally!
I can say that my first game as a member of the media was awesome. I look forward to covering more games next season. And Kelly Evans and Lee Eric Smith thank you guys so much for helping me during my first game. I am forever grateful to you both!! I really appreciate it!
***I missed Mike Conley on the big screen, I was in the restroom.*** 
Captain Conley! @mconley11 pic.twitter.com/tshgdmzfoY

— Rick Trotter (@RickTrotter) April 30, 2015
Key players of the series: Courtney Lee and Marc Gasol
Through 5 games this post season, Courtney Lee has been above his career post season averages. He is averaging 17.2  points per game while shooting .660. Basically, Courtney was getting his shine ON. He has returned to the Offensive Assassin he was at the beginning of the regular season. Also he's averaging 1.2 steals in the postseason.
Courtney scored 20 points in 2 games in this series while only scoring 20 points in one game of the regular season. Coach Dave Joerger had good things to say about Lee. Joerger said after Game 5:
Night in and night out what Courtney Lee has done in this series probably gets him the MVP of the series from our side as far as what he did shooting the basketball, being assertive in a very efficient series for him.

He's doing a lot of work off the court. I think what you guys don't see is the things that is not just about getting up extra shots. He spends a lot of time mentally concentrating on his game watching film and getting himself right. I was really proud of him because it's been a struggle. I thought he had tremendous performance the last few games.
In my honest opinion, Courtney was the x-factor in that series. He put it all on the floor and was confident. He must do the same for the next series against the Warriors.
In this series, Marc Gasol showed why he was an All-Star. His numbers for the post season are excellent!! He is averaging 20.4 points, 9.2 rebounds, 5 assists, and 2.4 blocks!! In some games Marc's shooting percentages weren't so great but he made up for that at the free throw line. And with the balanced effort from other players, in the first couple of games, the Grizzlies didn't really need him to be the hero in the first 2 games. When Marc Gasol wants to take over a game, Marc Gasol can!! He's one of the best all around players in the NBA today. Marc also be key for the Grizzlies in the upcoming 2nd round series against the Golden State Warriors.
Notable Stats from Game 5 
The Grizzlies outscored the Blazers 44-30 in the paint.
The Grizzlies out rebounded Blazers 56-38. Grizz had 15 offensive rebounds while the Blazers had just five.
The Grizzlies had 10 steals and the Blazers had just 1.
Tony Allen converted the Grizzlies only 3 point shot. The Grizz were 1/14 from beyond the arc meanwhile, Portland 13-33. CJ McCullum made 7 three pointers alone.
Tony Allen had a complete game with 8 points, 7 rebounds, 4 assists, 5 steals and 2 blocks.
Marc Gasol Marc tied his postseason single-game career high of 26 points. He also had 14 rebounds, 3 assists and 2 blocks.
Highlights from Game 5
http://espn.go.com/video/clip?id=espn:12794962
**Stats from ESPN and The Memphis Grizzlies**

Latest posts by Sharon Brown
(see all)