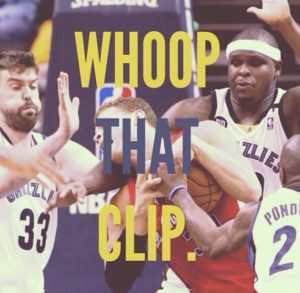 Will the Grizz "Whoop that Clip" Tonight?
Tonight the Memphis Grizzlies will face the Los Angeles Clippers for the final time in the regular season.  They're currently 1-2 with their rival.  If you've ever read one of my previews, you know I'm pretty dedicated to giving you the numbers in a head to head analysis and giving some keys for a win.  I don't often stray from that.  Recently, I've been giving things to remember including playoff positioning and the number of wins that it will take to get to a winning season and 50 wins.  I'm a creature of habit.  Today I'm switching it up some mainly because I'm on one.
The Grizz lost the first match-up to the Clips here at home on November 4.  They went to Los Angeles on November 16 and had a comeback win on ESPN.  Y'all remember that corner three that led to Marc Gasol doing that Conor McGregor walk over to the bench?  Yeah, it was that game.  On January 4th, they had a lead as large as 13 over the Clips without Chris Paul or Blake Griffin, and somehow managed to squander it and lose by 9.  Each game was different.  So, that's what begs the question…will the Grizz whoop that Clip tonight?
Who's Going to Start Tonight?
Honestly, I don't know who starts tonight.  We're 17 games away from the end of the regular season.  Everyone is healthy, and I don't know who's going to start tonight and probably won't until around 6:30 p.m.
On Monday, the Grizz took on the Brooklyn Nets, the team holding the league's worst record this season.  When they stepped foot in the Bluff City, they had a whopping 10 wins…for the whole season.  Coach David Fizdale had been hinting that there may be some changes to line-ups.  He introduced some that night.  Starters for the Grizz against the Nets were:  Mike Conley (G), Andrew Harrison (G), Chandler Parsons (SF), Brandan Wright (PF), and Marc Gasol (C).  Now, before anyone gets it twisted and thinks that this is about to be a "Coach doesn't know what he's doing" whining session; it's not.  I'm still straight up #TeamFizz on this one.  Yes, even after his statement to the media on yesterday.
Now, for those of you that are still here reading after that statement…here goes nothing.
No matter who started or ended or played in-between in that game the Grizzlies should have won.  The Nets' roster (the one they intended to play with this season) is as hodge-podge as the Grizzlies' injury riddled roster was last season.  Was it a line-up that I would have put together?  No, but I'm an accountant that loves and blogs about the Grizzlies, not a coach.  In fact, most of us talking about the line-up changes aren't coaches.  We're fans.  Passionate, well-meaning, sometimes (most times actually) unaware of all the facts (if we keep it real)…fans.  Period.
Brandan Wright started in place of JaMychal Green.  Wright played fewer minutes (18 min) than Green (26 min) as one would expect.  They had the same amount of points (9 points each).  So, right there, you've got a wash at the PF position.  Andrew Harrison started in place of Tony Allen.  Harrison played 22 minutes; Allen played close to 17.  Harrison had 1 assist, 1 steal, and 2 turnovers.  Allen had 1 assist, 2 steals, and 2 turnovers.  They both had 5 points.  So, right there, you've got a wash at the SG position.  The changed line-up was not the issue.
My rationale on why the line-up shouldn't have mattered is two-fold:  1) it was the Nets (the friggin we've won 10, now 11 games all season Nets) and 2) they all practice together and have been a part of this system since late September (with the exception of Douglas).   Starters don't just practice with starters.  Bench players don't just practice with bench players.  Everyone should know the plays.  If you watch them long enough, you'll know the plays.
So, why couldn't they put together a win against the Nets?  Why are they on a path of continuing to struggle to put wins together?
Oh Defense, Oh Defense…Wherefore Art Thou Defense
The Grizzlies have gone from being the one of the biggest defensive threats in the league to being lackadaisical on defense.  This team THRIVES on defense.  The Grizz have the worst field goal percentage in the league.  That's right…there is not a team in the league that shoots worse on average than the Grizz.  That's not a new fact though.  That's standard.  That's who they are.  That's who they've been.
However, the problem with what is and has been is that you can't continue to be that AND not play defense.  They may start out really hot on offense, but statistics say that it won't last the whole game and it typically doesn't.  But when offense gives out, what have they have they continually relied on to overtake opponents???  DEFENSE.
Their last 5 opponents have averaged 112 points against them, which is well over their season average of 100.  This team cannot win games without playing defense unless their opponent is having a rough night offensively.  It's simply not possible.  The Clips are averaging 102 points in their last 5 games.  The Grizz have got to strive to hold them below that.  The first step to winning again is to play some defense.
Lack of Consistent Leadership
Whether it's been written in stone or said aloud, this franchise's leaders are Marc Gasol and Mike Conley.  These are the two cornerstones that the franchise has hooked their wagon to for the long haul.  Whether you like it or not, Chandler Parsons is hooked on to the wagon too.  It is what it is.
With that being said, these three should be leaders every night in stats and actions.  They should lead from practice, to pre-game shoot around, to getting dressed, to the time in the tunnel, to being on the court, while they're on the bench, when the buzzer sounds, and even after the buzzer sounds.  They should be leading this team.  When a play goes awry, they should take ownership if it was on them and help their brothers without finger pointing if it isn't.
It's time out for looking at Coach as being the issue.  Coach isn't on the court throwing errant passes.  Coach isn't on the court missing defensive assignments.  Coach isn't on the court not communicating.  Coach isn't on the court take ill-advised shots.  Coach isn't on the court missing free throws.  Coach isn't on the court passing up wide-open shots.  The players are.  It's up to the leaders of the team to help right this ship that's going awry.
One issue facing the Grizzlies: Fizdale insists that Mike and Marc be involved in some decisions; Marc's made it clear he doesn't want to. pic.twitter.com/sWLUam5ACu

— Peter Edmiston (@peteredmiston) March 8, 2017
Nobody wants to see them lose.  Fans don't want to pay money to see it.  They don't want to waste two and half hours watching or listening to it happen.  They don't want to read about it.  They don't want to hear about it from other teams' fans.
The leaders of this team will need to step up big time tonight against the Clips to get a win.  Both teams have cores that have been together for a long time.  Both teams cores have fallen short of going all the way.  Both teams are running neck and neck right now.  The second step to winning again is the leaders of this team have to consistently be better than their opponents.
Everybody Has a Part to Play
While this team has leaders, everyone is valuable to making this ship sail.  This team doesn't get where it's going (or where it's been) without Zach Randolph, Tony Allen, JaMychal Green, Brandan Wright, Vince Carter, Troy Daniels, Toney Douglas, James Ennis, Andrew Harrison, Deyonta Davis, Wade Baldwin IV, and Jarell Martin.  Everyone has a role to play.  Even if their role changes, they have to play within that role.
Zach Randolph has been the greatest example of playing within the role you've been given this season.  He's gone from being a starter to the lead reserve player for this team.  The others need to follow his lead.  Whatever your assignment it is, complete it.  That's key to this team's success.  In order to start winning again, everyone has to understand that roles change, possibly from night to night.  So, if you're starting, coming off the bench or just cheering from the sidelines or offering support in the huddle or on the bench…DO IT WELL.
Tonight the Grizzlies have a chance to narrow the gap in the standings between them and the Clippers and widen the gap between them and the Thunder.  A win tonight is paramount.  The Clippers are on the second night of a back to back after a tough loss to the Timberwolves last night.  It's time to get our mojo back Grizz Nation, and there's no better way to do that than to… WHOOP DAT CLIP!
If you're one of the first 4,000 fans, you'll get a pair of Mike Conley socks.
Tip off is at 7 p.m. from FedEx Forum.  Don't miss any of the action.  Go Grizz!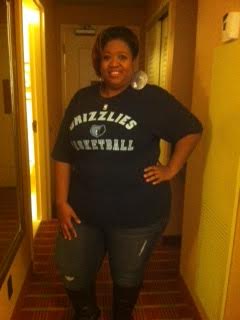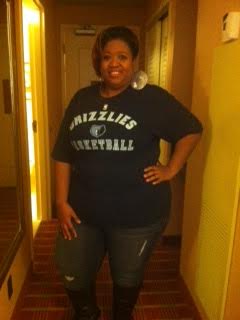 Latest posts by Carmen Patton
(see all)