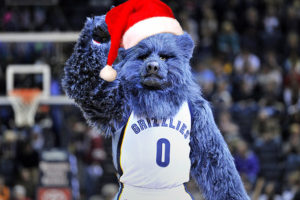 What I Want for Grizzmas 2016
Dear Santa Grizz:
It's me again.  I've got a whole list made out for you again this year.  Unlike last year, I've been a good girl AND an even better fan.  So, I'm hoping you can come through for me.
Here's what I'm really hoping for this Grizzmas:
1.)  A Healthy Roster
I didn't ask for this last Grizzmas, and we see what a mess that turned out to be.  Santa Grizz, I'm hoping the Grizzlies have seen all the injuries they're going to see this season. Please bring Mike Conley a strong back and good ankles, Chandler Parsons strong knees, Tony Allen healthy hamstrings, and Brandan Wright and Deyonta Davis some healthy feet and ankles.  If all else fails, just bring a lifetime supply of industrial sized bubble wrap, and I'll just make sure they all get wrapped in that.
2.)  C & C…Chemistry and Consistency
This team has seen its share of challenges this season.  Those challenges have put Coach Fizdale and his staff in a position to do things on the fly…OFTEN.  Injuries and life changes are often unexpected and unpredictable.  Unfortunately, we know all too well that the season doesn't stop to accommodate those things.  Chemistry and consistency are what make average teams better and good teams great.
When the team had to play without Mike Conley, Chandler Parsons, Zach Randolph, Vince Carter and James Ennis III, they were average.  Yet they saw a nice share of victories together because they developed a chemistry and consistently came in night in and night out and played with heart.  Now as players mend physically and emotionally and are coming back into the line-up, they have to continue to build upon that chemistry and that consistency because they're a good team with all those guys.
Chemistry and consistency would be a great Grizzmas gift for this squad as they continue to grind towards greatness.
3.)  The Continued Growth of the Younger Guys
There really isn't an in-between level for this team.  The players pretty much fall into the three years or less in the league or eight years or more in the league category.  Chandler Parsons is the only in the middle guy with five years.  We've watched this Core (Conley, Gasol, Allen, Randolph) age together and seen players to complement them come and go.
Now, it's time to see some younger guys grow and develop and look towards the future.  As well as he looks, Vince Carter can't play forever.  Zach Randolph and Tony Allen can't play forever.  Mike Conley and Marc Gasol can't play forever.  So, this team needs to see JaMychal Green, Andrew Harrison, Jarell Martin, Deyonta Davis, Wade Baldwin IV, James Ennis III, Troy Williams, and Troy Daniels continue to grow.
We need to see them mentored by the older guys.  We need to see them led by the older guys.  We need to see consistent leadership on and off the court so that we can continue to see the growth and confidence of players.
Development takes time.  But it's really nice to be able to see guys come in and not have to cringe because the wheels could come completely off the bus.  It's nice to see their confidence building.  It's nice to see them becoming more comfortable and knowledgeable of the competition and each other.  For the first time in a long time, we've seen player development.  Seriously, Mike Conley was the last player developed here.  Player growth and development…yeah, that's a good Grizzmas gift.
4.)  Continued Success of Coach Fizdale and his Staff
In Memphis, we either ride with our coach or want to send him on the next thing smoking out of the city.  There's really not a middle of the road.  Add to that if you're that one or two off person that's going against the grain we're looking at you rather sideways.  Coach David Fizdale has been a breath of fresh air for this franchise to me.
He's doing what he said he was coming to do.  He's building a winning culture.  He doesn't mince his words.  He readily admits when he makes coaching mistakes.  He holds his team accountable.  He shakes the table and doesn't care who's mad about it or doesn't like it. He's immersed himself into this community.  He's embracing what this city has to offer, who we are, and what we're about.
He's my BFF in my head, and if you don't like him, may you get a lump of coal in your Grizzmas stocking.
5.)  More wins throughout the season and into the postseason
You know that one gift that you ask for that's selfish and self-serving, but you really want it so you ask for it…this is mine.  If I get the other things I asked for, this one is kind of inevitable.  Things just go better for me at the home games when I can hear Whoop There It Is, You Dropped a Bomb, All I Do is Win, and Celebration.  I sleep better when I can high five and chest bump and scream and walk through the grand lobby of the Fed Ex Forum and hear cheers and see kids walking out with streamers.
They don't necessarily have to be heart stopping, wire to wire wins though Santa Grizz. Don't get me wrong; I love those.  However, too much exhilaration from this team could take me out.
Well, I think these Grizzmas wishes should keep you pretty busy.  I know you've got more fans to hear from and listen to.  I've been really nice…even to other team's fans, and you know that hasn't always been the case in years past.  So a little Grizzmas wish granting would be most appreciated.
Thanks Santa Grizz…Merry Grizzmas!!
Carmen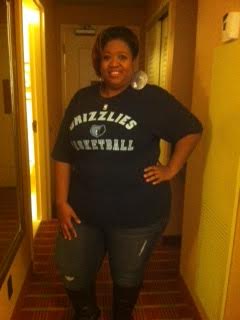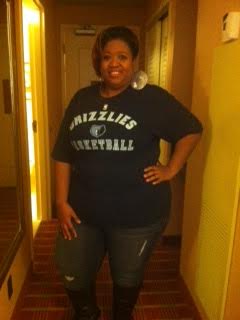 Latest posts by Carmen Patton
(see all)