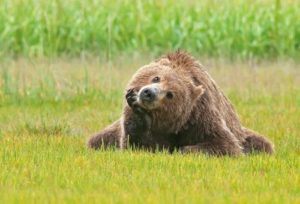 Nets shock the Grizzlies in Memphis
It wasn't a great night in Memphis. "We're stale. Right now we're 14-14 since January 1," said David Fizdale after the devastating loss to the Brooklyn Nets. "It's my job to shake it up and there were some good things about it and overall, at the end of the day, it doesn't matter who was on the floor for us. We couldn't guard them off the dribble. That's the bottom line. We have to solve this puzzle of speed. I mean that's just the bottom line."
Stale was an understatement. The Grizzlies allowed to then 10-51 Nets to score 34 of their 122 points in the fourth quarter. Yes, the Brooklyn Nets defeated the Memphis Grizzlies 122-109.
An bewildered Marc Gasol said, "We had too many, 'My bads," too many, 'We should have done this, we should have done that.' Too many of them. Especially down the stretch.
Coach Fizz made a starting line-up change by inserting Brandan Wright and Andrew Harrison. "Until we start getting places earlier in the mind, we're going to continue to struggle with it," said Fizz. "That's really our biggest Achilles heel right now: handling speed off the dribble, getting back on defense, all of those things, and being quicker to the ball. All of those speed areas right now we have to get better."
Zach Randolph shared his thoughts on the change to the starting line-up, "We all practice together; we all play together. I don't think that's it. It's more listening and trusting and I don't know exactly. I wish I could put my finger on it and tell you exactly what it was, but it's hard. It's hard because there are too many little things. Defensively, it's too many breakdowns from way too many places. There are fouls on the ball and then we have one thing and we do something else"
How did the loss happen?
The Grizzlies now have lost three in a row and seem to be headed in the wrong direction.
Lackluster defense and turnovers continue to plague the Grizzlies. "[There were] too many breakdowns, lack of communication, not really commitment all around on what guys wanted to do," said a frustrated Gasol. "If we don't get stops in the last few minutes of the game, that's when we are supposed to get stops… If we don't get those then it's just really, really hard for us to win."
The Nets outperformed the Grizzlies in key statistical categories. They shot 53.4 percent from the field and converted on 14-of-30 from the three point line. The Nets won the battle of the benches 56-33. The Grizzlies bench was outscored by 23 points.
Two bright spots for the Grizzlies
Mike Conley tried to will his team to victory. To be honest, he had minimal help last night and I know it had to frustrate him. Conley ended with 32 points, six rebound and four assists. After the game, Mike Conley admitted the players are frustrated.
For the first time since February 3rd, Chandler Parsons recorded double figures in a game. Parsons ended with 12 points and three assists. Parsons seemed more relaxed and comfortable on the floor than he has in a while.
Closing thoughts
I think the Grizzlies had their minds focused on securing the fourth seed for the playoffs and not on the regular season. They need to start focusing on one game at a time and worry about the playoffs after the regular season is over.
Yes the loss to the Nets was the worst loss of the season and there is no way around that. Coach Fizz had harsh words after the loss:
"I'm not going to be satisfied with mediocrity. Since January 1 – that's the best word I can use – We are a mediocre basketball team. That's on me as well so I'm controlling what I can, which is minutes, lineup and all of that kind of stuff and hopefully it'll have an impact over the long haul."
This team is filled with guys who have too much pride to accept mediocrity. It's up to them decide how they are going to respond for the rest of the season. Marc Gasol statements after the game was a mouthful:
"I thought by now that we had a good idea of what we were going to do, especially from the players' standpoint, knowing exactly what we are supposed to do. We can look ourselves in the mirror and be honest with ourselves, each and every single one of us. That's what you're supposed to do, especially when things don't go as well as you would want them. Just look at yourself in the mirror instead of looking for an answer somewhere else and trying to pointing the fingers and kind of looking at somebody else, it's like, 'What am I doing wrong?' is a better place to look for the answers."
Yup, he is absolutely right. The players have to look at themselves and fix what is wrong. It shouldn't matter who is in or out of the lineups. They need to get back to playing Memphis Grizzlies basketball and hold one another accountable. They have to start caring about competing and winning consistently. Basically, they need to stop bluffing.

Latest posts by Sharon Brown
(see all)