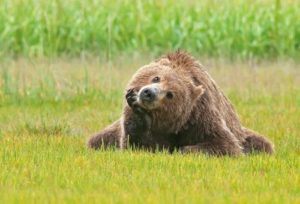 Will the real Grizzlies team, please stand up?
When I ended the game preview for Saturday's game, I asked an important question, "Which Grizzlies team will show up tonight against the Rockets?" Well, the often inconsistent and frustrated team made a disastrous appearance against the Rockets. The Rockets won the game decisively, 119-95.
The team has an identity crisis and David Fizdale agrees with that sentiment:
"I think we're connected. I don't think that's the problem. I think we're just still trying to figure out who we are, whose role is what, and then just really trying to bring a consistent effort every single night. I think that's more than anything –bringing that effort every single night. No matter what's happening offensively, no matter what's happening personally, just bring that effort every single night."
An identity crisis is a bit concerning at this point in the season; however, it seems as if it has happened every year in the era of the Core 4 of Mike Conley, Marc Gasol, Zach Randolph and Tony Allen.
Coach Fizdale discussed the team's offensive play on Saturday:
"Again, our brains were gone. We couldn't stop them so offensively we were going down. We would make a call; we wouldn't get to the call. We came out of timeout I don't know how many times tonight and messed up. Our minds were gone and probably, a lot of the threes and the dunks they were getting was probably what took our brain. It really affected us offensively on our execution and our spacing."
It is very disappointing that this team still don't know who they are after playing 46 games this season. Of course they had huge wins against the Warriors and Rockets, but also have baffling losses to below .500 teams who won't even make the playoffs.
The team is 9-12 since, December 13th. The record is 5-5 at home and 4-6 on the road. They haven't had a consecutive winning streak of three or more games during this time period. It's very sporadic and is like a rollercoaster ride.
Where has the mental toughness gone? One game, they're playing like the Avengers; the next game they're playing like Monstars from Space Jam stole their abilities. Sometimes, they don't look like the team will resolve and determination. In the words of Slim Shady, will the real Memphis Grizzlies team, please stand up?
In a week's span, the Grizzlies have allowed some role players and others unexpectedly get the best of them. First it was the Bulls forward, Doug McDermott who dropped 31 to set a career high on January 15th. Then the Wizards, Otto Porter torched them for 25 points three days later on January 18th. Tony Allen was miffed about Porter's performance:
"That made them a lot dangerous. I didn't even know he was on the scouting report today. I didn't hear two words about him today in the shootaround. It was just a lot about (Bradley) Beal and (John) Wall, Beal and Wall. Like I said, we gotta pay better attention to our opponents and have a little better focus coming into games, you let guys, the others, when the others, guys like him, (Markieff) Morris, you let those guys be highlights of the day, there is going to be pressure on your defense."
Sam Dekker made his first career start against the Grizzlies on Saturday and set a career high 30 points. Mike Conley spoke about how Dekker's performance affected the defense:
"Well, it's difficult when they start making shots. You know, it's difficult when for instance [Sam] Dekker, tonight, was not missing so it causes the guy who's guarding him to not help as much as we had planned to. It opened up a lot of things for them. When they've got a guy making shots like that everyone else kind of feeds off of it. You don't know who to pay attention to and easily you get caught up in that game. We got caught up in their game tonight"
From here on out, the Grizzlies and Grizznation will remember who Doug McDermott, Otto Porter and Sam Dekker are and they will never forget them.
The Grizzlies are known for their defensive prowess; unfortunately, that is missing in action lately. In losses since Dec. 13, the Grizzlies have given up an average of 106 points.
Opponents are shooting 47 percent from the field and are shooting 10.4 threes per game. The defensive woes continue to plague the team.
The Grizzlies defensive rating has slipped and the net rating of -9.9 is atrocious. They have gone from the number one defensive rated team to number three. Fizdale spoke about the defensive effort against the Rockets on Saturday:
"We were all over the place defensively tonight. We had no answer for the pick-and-roll. I didn't have an answer for the pick-and-roll, let alone us doing it right, doing it hard, doing it connected. When you don't take care of the initial coverage that you want to do, you can try to keep making adjustments but if you're not into it and focused and doing it at a high level, it doesn't matter what adjustments you make and it didn't matter. We tried like 10 different things and they made a three or got a dunk on every one of them and for whatever reason, we didn't have any gas in the tank tonight."
How can they get back on track?
Remain focused for 48 minutes
They need to figure out who they are quick, fast and in a hurry. This team need put the focus on competing in games for 48 minutes. Recently, Fizdale talked about the lack of effort for the entire game, "You can't spot a team 15 points and think that every time you're going to be able to come back and win the game. It's the same thing I've been stressing to our guys over the last month is consistent effort and focus and we didn't decide to do that until the second half."
Tony also shared his thoughts on breaking the cycle:
"We gotta have more of a sense of urgency each possession. Basically, cherish each possession defensively and offensively. When you talk about coming in and being elite, just certain players, we're are not supposed to give up, plays that you could control, the 50–50 balls, you know, careless turnovers and just basically understanding the detail of your opponent. When we learn to do that for 48 minutes, I think we can get on a roll. We've showed signs of it, it's just we gotta be a little bit more consistent."
Core 4 must show up EVERY night
The numbers for the Core 4 are good in wins and troubling in losses. Let's take a look at the players numbers. First up is Marc Gasol:
In wins: He is averaging 20.0 points per game (50 percent from the field),  37.5 from three, 6.1 rebounds and 3.2 assists. Gasol's advanced stats are: net rating 5.5, defensive rating 103.5, and offensive rating 109.1.
In losses: He is averaging 20.6 points per game (43.5 percent from the field), 29.3 from three, 5.7 rebounds and 5.2 assists. Gasol's advanced stats are: net rating -12.3, defensive rating 116.1, and offensive rating 103.8.
Next up, Mike Conley:
***Conley only played in 17 of the 21 games***
In wins: He is averaging 19.1 points per game (50 percent from the field), 41.5 from three, 5.1 rebounds and 7.1 assists. Conley's advanced stats are: net rating 4.9, defensive rating 108.7, and offensive rating 113.6.
In losses: He is averaging 18.1 points per game (39 percent from the field), 30.6 from three, 3.4 rebounds and 6.4 assists. Conley's advanced stats are: net rating -11.2, defensive rating 115.9, and offensive rating 104.7.
Now Tony Allen:
In wins: He is averaging 10.9 points per game (49.4 percent from the field), 6.4 rebounds, 1.9 steals and 1.7 assists. TA's advanced stats are: net rating 10.4, defensive rating 96.2, and offensive rating 106.6.
In losses: He is averaging 8.6 points per game (45.7 percent from the field), 5.5 rebounds, 2.0 steals and 1.4 assists. TA's advanced stats are: net rating -10.9, defensive rating 111.6, and offensive rating 100.7.
Last but not least, Zach Randolph:
In wins: He is averaging 15.4 points per game (47.3 percent from the field), 8.2 rebounds and 3.1 assists. Randolph's advanced stats are: net rating 27.6, defensive rating 90.4, and offensive rating 117.9.
In losses: He is averaging 12.3 points per game (39.4 percent from the field), 8.3 rebounds and 1.7 assists. Randolph's advanced stats are: net rating -6.6, defensive rating 107.6, and offensive rating 101.0.
When the Grizzlies win, the Core 4 are on point offensively and defensively. Unfortunately in losses, they struggle collectively together. That's a major issue that needs to be addressed.
Mike Conley said it best after a recent loss:
"We've got to dig deep within ourselves. There's not much coach can say or do about it. It's more so that action is what we need. We don't need any more locker room discussions, or arguments between guys or coach chewing us out. We need action."
In Conclusion
The Grizzlies must be vigilant to find consistency. They must find their identity soon and all of this lies with the Core 4. As they go, the entire team goes. As I've said before, cohesiveness and confidence we know this team has within themselves. They just have to bring it out every single game. Their fate will be determined by how well they can bounce back after inconsistency, frustration and doubt.
There is no greater summation about this team than what Grizzlies TV analyst Brevin Knight tweeted after the loss to the Rockets on Saturday:
At the end of the day this @memgrizz team has the tools to win. Have to bring the D mindset, attention to detail and play for each other

— Brevin Knight (@brevinknight22) January 22, 2017
At the end of the day, that's what they must do order for the real Memphis Grizzlies team to STAND UP!!
Stats via NBA.com and basketball-reference.com

Latest posts by Sharon Brown
(see all)