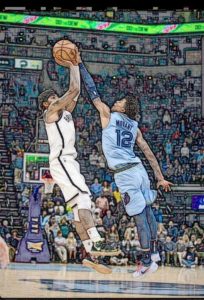 What can we learn from last night's win?
On Sunday night, the Memphis Grizzlies were able to defeat the Brooklyn Nets 134-133 in a thrilling overtime performance. The victory marked not only the first win of the season, but Coach Jenkins' first head coaching career win as well. After tough losses to the Miami Heat on the road and the Chicago Bulls at home getting that first win was a relief.  Last night's victory came in front of a home crowd of about 15,000 fans. What can we learn from the victory?
So, if you hadn't figured it out yet, the Grizzlies rookie point guard is special. Morant became the first Grizzlies rookie to score 30 points in one of his first three career NBA games. Additionally, Morant became the third player in NBA history to have at least 30 points and 9 assists in the first three games of his NBA career, joining Isiah Thomas and Trae Young. Of the three, Morant played the least amount of minutes to achieve the feat.  After just three games, Morant is averaging 18 points, 6 assists, and 1.67 steals in just under 29 minutes of play per game and has a field goal percentage just above 51%.
There were two instances in the match-up against the Nets where Morant showed he had heart: the block of Kyrie Irving's potential regulation game-winner and staying committed to the game even after turning over an inbound pass with just 8.1 seconds left in OT.  A rookie in just his third NBA game could've easily folded in both of those moments, but Morant went on to assist on a game-winning three by Jae Crowder.  While three games is definitely a small sample size, he's worth keeping an eye on.
30+ PTS 9+ AST in a game, Within 1st 3 Career Games, @NBA History:

Isiah Thomas – Oct. 30, 1981 (41 MP)
Trae Young – Oct. 21, 2018 (38 MP)@JaMorant – Oct. 27, 2019 (32 MP)

— Grizzlies PR (@GrizzliesPR) October 28, 2019
The box score doesn't always show impact.
Jae Crowder had 6 points during Sunday's match-up.  Those six points came with just a little over one minute left to play in overtime.  Yes, Crowder played nearly 38 minutes and had 7 rebounds, 5 assists, 2 blocks, and 1 steal, but he didn't score until literally the last minute of the game.  His first three gave the Grizzlies a 131-128 lead with 1:09 left in overtime.  Crowder's second three was the game-winner as the clock expired.  That's an impact.
For those that don't know, Valanciunas is on a minutes restriction.  He's currently allowed to play about 20 minutes per game.  In Sunday's game, he scored 16 points, grabbed 11 rebounds, assisted on 4 shots and blocked 2 shots in just under twenty minutes (19:42).  That was his 2nd double-double in the three games played this season.  Once he comes off this minute restriction, expecting a double-double from him most nights isn't a far-reaching expectation for the Grizzlies.
There's no need to get ready if you stay ready.
Last night was the first time Solomon Hill has played for the Grizzlies since the season started. Hill came in and provided respite and veteran leadership for the young group playing just over 24 minutes, going a perfect 5-of-5 from the field, scoring 13 points, with 5 rebounds and 3 assists.
Teamwork actually does make the dream work.
The win over the Nets was an overall team effort.  One could say Morant was the star because he had 30 points, blocked a potential Kyrie Irving game-winner in regulation, and assisted on the game-winning shot in OT. Someone else could say Jae Crowder was the star because he hit the game-winner. Another person might say Coach Jenkins was the star because he's been able to coach this team into being better each game, and it finally paid off in victory Sunday. The truth of the matter is all of those things are correct, and beyond that, every player played a part in the win.
It was all five guys at any given time on the floor committed to playing together unselfishly.  I'm just extremely proud of them.  Special game.  Crazy finish.

-Coach Taylor Jenkins
Every Grizzlies player that played Sunday scored. Eleven players played; seven of those eleven players scored in double digits (Jackson Jr-12; Valanciunas-16; Brooks-21; Morant-30; Clarke-10; Anderson-13; Hill-13). The team ended the game with a 45% field goal percentage and shot 42.4% from three-point range. After turning the ball over 24 times against the Heat and 18 times against the Bulls, the Grizzlies only turned the ball over 12 times in the win against the Nets. Ten of the eleven players got at least one rebound.  Of the eleven players that played, ten assisted on at least one shot.
The Grizzlies' next game will be Tuesday in Los Angeles against the Lakers. Tip-off is at 9:30 p.m. CST and the game will be aired on NBA TV.  Let's hope Sunday's victory was just enough spark to get this young team's fire burning.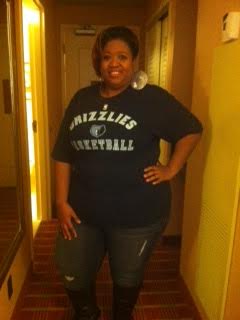 Latest posts by Carmen Patton
(see all)