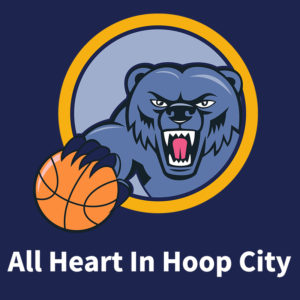 Grizzlies Beat the Nets Down in Brooklyn
Your Memphis Grizzlies brought an old-fashioned Beale Street Beat Down to the Big Apple last night against the Brooklyn Nets.
Final: Memphis – 112, Brooklyn – 103
Who Stood Out?
Grizzlies:
Brandan Wright– LOBS ON LOBS ON LOBS! Wright scored a season-high 17 points on 7 of 9 FG shooting and 3 of 3 from the free throw line.
Confession: I didn't expect to see Wright on the court in a Grizzlies uniform again, and I am pleasantly surprised and very happy to have been wrong on this one.
Mike Conley– Captain Clutch doing Captain Clutch things. Lead all scorers with a game high 32 points.
Vince Carter– Vinsanity was definitely in the building last night, and Mr. Carter was responsible for 4 of the Grizzlies 9 made 3-point baskets.
Nets:
Brook Lopez– The Not Sideshow Bob Lopez Twin shared the lead in scoring for his team, with 17 points on 7-18 FG shooting.
Spencer Dimwiddie– Also had 17 points, but the majority of his came from beyond the arc, on 4 of 5 3PT shooting, and 3 of 3 from the charity stripe.
Who Didn't?
Grizzlies:
Chandler Parsons– Sigh. The number of minutes Parsons plays has been steadily increasing, but on nights like this one, that doesn't translate into increased offensive production. Parsons played 25 minutes, and finished with 2 points, 7 rebounds, and 2 assists. Head nod for attacking the defensive glass. That's…something.
Toney Douglas– No buckets for #16 tonight, although to his credit he did have 3 rebounds and 5 assists.
Nets:
Luis Scola– Lord Farquaad, I mean Luis Scola, has taken mediocrity to new levels on this Nets team. That's all I'm going to say. Have a funny picture.
Honorable Mentions:
Grizzlies:
Troy Daniels– Shoot your shot, young man. Daniels earned all 6 of his points from beyond the arc, shooting 2 of 4 from behind the 3PT line.
Marc Gasol– The big guy didn't have the best shooting night, but he did work hard attacking the glass and facilitating for his teammates. Gasol only had 19 points on 6 of 17 shooting, but he did have a game high 9 rebounds and 8 assists. And 7-7 from the free throw line.
Nets:
Bojan Bogdanovic– 11 points on 3 of 6 FG shooting and 5 of 6 from the free throw line.
Trevor Booker– 13 points on 6 of 10 FG shooting.
Who Got Next?
The Grizzlies return home Wednesday night to play the New Orleans Pelicans. This will be their last game before the All-Star break. Their first game after the ASB will be on the road against the Pacers on February 24th.

Latest posts by Aimee Stiegemeyer
(see all)