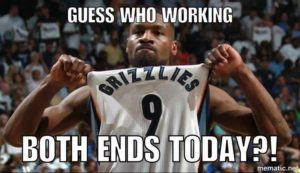 Allen and company shock LeBron in Cleveland
Last night after this game, I thought I was dreaming but for LeBron and the Cavs..it was a nightmare. A shorthanded Grizzlies team defeated the Cleveland Cavaliers in Cleveland.  As Ron Tillery put it in his article: this was "Cleveland's mistake on the lake".
The Cavs were stunned and for good reason. The Grizzlies were without Marc Gasol, Zach Randolph, Mike Conley, Matt Barnes and Chris Grizzilla Andersen and they did the improbable.
Yes that's right an eight man Grizzlies team consisting of Tony Allen, Mario Chalmers, Lance Stephenson, Vince Carter, Ryan Hollins, JaMychal Green and Jarell Martin stunned the reigning Eastern Conference Champions. They started with Grit and ended with the almighty grind.
My fellow blogger at Grizzly Bear Blues, Joe Mullinax put it nicely here:
Most of all, this win showed the resolve and tenacity of this team. The faces change, but the core of what is Grit and Grind thrives through Tony Allen and the mentality that he and others instilled in this organization several years ago now. It is a cultural thing, now- especially when Allen is active and thriving (something that does not always happen, in fairness), they fight and they scratch and they claw more often than not. They are crazy, and they are unpredictable, and they are flawed, and they lost to the Suns the night before in a terrible loss…
LeBron admitted they lost focused:
"I was (concerned) especially because we had went over everything with the expectation that guys would be in the lineup this morning. We get here before the game and find out that no one, that we pretty much went over, is playing. But we're professionals. You got to respect (the opponent). We are in this league for a reason. We didn't respect them tonight and they beat us."
After the game, the Grindfather himself (Tony Allen):
On how satisfying tonight's win was:

"Honestly, it was just a game for us to get better. Guys like me, Mario (Chalmers), Lance (Stephenson) and J. Mych (JaMychal Green), we told each other before the game that we were just going to go out there, play hard and go to work as a team. We were confident coming in. When you've got all the guys from one through 15 (and) they believe, then the sky is the limit. I thought we kind of caught them off guard in the first quarter and from that point on, we felt good about ourselves and were confident throughout the game."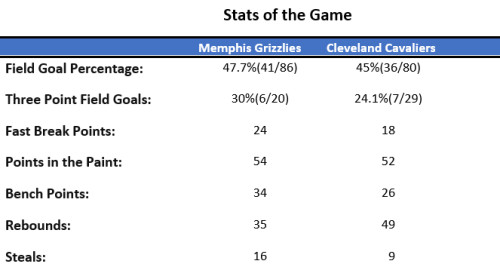 Player Notes
Grizzlies had five players in double figures
Tony Allen led the Grizzlies with 26 points (11-of-17), five steals, four assists and two rebounds.
JaMychal Green had a double-double with 16 points (6-of-13), 10 rebounds, six assists, four steals and two blocks.
Mario Chalmers finished with 17 points (7-of-17), four steals, four rebounds and a team-high seven assists
Lance Stephenson chipped in 17 points (8-of-15), seven rebounds and three assists as a reserve.
Vince Carter coming off the bench added 15 points (4-of-9), four rebounds, two steals and two blocks.
Cavs had four players in double figures:
LeBron James led all scorers with 28 points (11-of-19), nine rebounds and five assists.
Kyrie Irving finished with 27 points (9-of-16), five assists and four steals.
Kevin Love had a double-double with 14 points (2-of-9) and 11 rebounds.
Tristian Thomas tallied 11 points (5-of-6), six rebounds and three blocks.
Highlights:
Interesting Stats:
Up Next:
The Grizzlies head to Boston to take on the hot Celtics team on Wednesday night at the TD Garden. Tip-Off is at 6:00 PM CT.