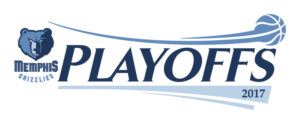 Time to Get Back in the Saddle in San Antonio
Tonight is Game 2 of a seven game series against the San Antonio Spurs.  So, let's not put Game 1 totally out of our remembrance because I'm a strong believer of old adage if you don't deal with your past you're destined to repeat it.  However, let's not dwell or wallow in it either because that will give you a defeated spirit.  The Spurs came out and did what they were supposed to do:  snatch the Grizzlies' soul.  The problem is that instead of the Grizzlies trying to fight for their soul they pretty much just let the Spurs have it Saturday.  Today is a new day, but some adjustments are going to have to be made in order for the Grizzlies to even compete, let alone win and take their soul back.
"They showed us what championship level basketball is.  And that's something we're still learning. Frankly, if we want to beat them, we have to get up another level or two."
Conley is spot on about getting up another level or two.  Here's my thoughts on adjustments.  Take them for what they are…my thoughts.
You need a new game plan on guarding Kawhi Leonard.
Don't hear what I'm not saying about Carter's defense.  It's not terrible.  At 40, he's still actually a pretty good defender.  However, at 40, Carter expended a ton of his energy on the defensive end having to guard a freakishly athletic Leonard.  He needs that energy on the offensive end.  The Grizzlies need him to have that energy on the offensive end.  I got how it worked in theory, but it wasn't a success in action.
Your goal isn't to stop Leonard.  To think you can stop Leonard is fooling yourself.  You hope to contain Leonard within a 22-25 point range.  Realistically, Leonard is going to get that while being contested.  Leonard is that kind of good.  You have to take away another part of the game for him.  Not only did Leonard score 32 points on 11-14 shooting and 9 free throws, he also had 5 assists.  The Grizzlies allowed him to get his and to set his teammates up to get theirs.  The Grizzlies have to determine what they're going to live with and what they're going to die with on Leonard.  Someone other than Carter has to try to contain him though.  I'm looking at you, Wayne Selden, Jr.
The bench has to score.
At the end of the first half, the bench had 2 points. T-W-O, two.
Zach Randolph and James Ennis III logged 11 minutes in that half.  Andrew Harrison and Troy Daniels logged 7 minutes.  Brandan Wright logged 5 minutes.  They took 9 shots (Randolph took 5 of those), and Randolph made one.  At the end of the third quarter, they had a total of 8 points.  The white flag was waved, and the bench ended the game with 25 points.
Ideally, Zach Randolph has to continue to be the bench leader that he's been all season.  That's the whole reason he's in that unit.  Someone else in that unit has to step up too though.  I don't care who it is.
Effective guys have to play more minutes.
Either Mike Conley or Marc Gasol has to be on the court at all times.  Period.  There unfortunately isn't a way around it.  There is no if this, then that.  Conley or Gasol have to be on the court through the entire game.  This team needs their leadership and their experience and their presence on the court.
Gasol was everything you wanted him to be on Saturday.  He was aggressive.  Gasol was vocal.  Gasol owned his role as leader.  For 33 minutes, he gave the game and this team his all.  This team needs another 5-7 minutes out of him tonight.  Conley was effective in the first quarter, and his effectiveness waned from there.  He played 30 minutes.  You need him effective in scoring and/or facilitating for 35-40 minutes.
[perfectpullquote align="full" cite="" link="" color="" class="" size=""]  "Obviously, it's frustrating the way we played, the way I played. But it's just about trying to match the physicality of what they're trying to bring. They did a good job of putting a fresh body on me, and I've got to be better mentally prepared for it and give my team something." -Mike Conley [/perfectpullquote]
Brandan Wright played only five minutes.  He was pretty effective in the regular season match-ups.  I think his athleticism alone puts him in a position to do more good than harm. It has been reported that Coach Fizdale did say that Wright would see more minutes today.
JaMychal Green and Jarell Martin were the only players with a positive +/- in the game on Saturday.  Martin got his minutes when the white flag was waved.  Green only played 14 minutes but was a victim of his own circumstances because he racked up fouls rather quickly getting 3 of his 4 fouls in three minutes in the third quarter.  The Grizzlies need him to play hard AND smart today.
We could talk all day and all night on coulda, woulda, shouldas.  Game 2 starts in a few hours though.  Grizzlies, steal a win if you can.  Even if you have to come home down 0-2, don't get demoralized like you did in Game 1.  Keep your head up.  Stay focused. Communicate.  Play together and for one another.  Take a licking, but keep on ticking.  Go Grizz!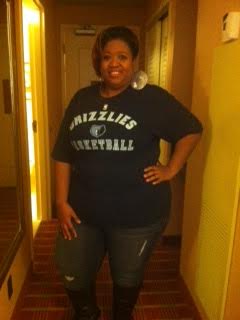 Latest posts by Carmen Patton
(see all)