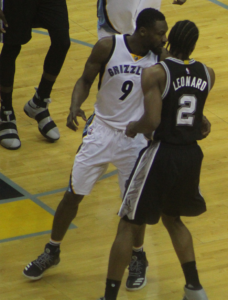 Will the Grizzlies Layeth the Smacketh Down in San Antonio?
After a disappointing display in New Orleans, will the Grizzlies put forth a better effort in San Antonio against the Spurs? In the last outing against their division rivals, the Grizzlies had their way on both ends of the floor. Memphis held the San Antonito 96 points below their season average of 106.4. Will the Grizzlies maintain their win streak against the top teams in the West?
In the season series, the Grizzlies hold a 2-0 lead over the Spurs. Also, they hold a 2-1 advantage over the Warriors, 3-1 advantage against the Jazz and are evenly matched with the Rockets at 2-2 for the season.
Consistency on offense…
Marc Gasol, Mike Conley and Zach Randolph must produce offensively, that's a given! In the loss to the Pelicans, the trio combined for 30 points which was less than what DeMarcus Cousins scored alone (41). However the trio were better offensively on March 18 versus the Spurs. They attributed for 53 of the Grizzlies 104 points. The Grizzlies cannot and will not win against any team, let alone the Spurs, if the Big Three for the Grizzlies aren't in sync offensively.
Rely on their defensive anchor…
More than likely, Tony Allen will return to starting line-up after being sidelined the last outing for the Grizzlies. Allen is the defensive anchor and his teammates tend to feed off his tenaciousness. Allen made it somewhat difficult for Kawhi Leonard last Saturday in Memphis. Leonard shot 40 percent from the field below his 48.4 percent average for the season. It is imperative for the Grindfather to continue his defensive prowess against Leonard.
If Allen is unable to play, someone else has to be the defensive anchor and that someone has to be Marc Gasol.
Bench production…
Someone other than Zach Randolph needs to step up off the bench. Players like Troy Daniels, James Ennis or Brandan Wright can be that guy to make a difference. It is critical that they play within themselves, stay aggressive, and execute the gameplan. One of the three have to contribute in order to secure a win. Troy Daniels added 11 points in the last meeting against the Spurs, will he be able to do it again?
Have fun…
The Grizzlies need to avoid their old habits  and continue to try to become the team they know they can be, one play at a time. They should have fun while they're doing it. This game is important and if they win, they may have confidence against the Spurs. This game may be a indicator of how a first round series against the two teams will pan out.
Tip-Off
When/Where: 7:30 p.m. at the AT&T Center in San Antonio, Texas
TV/radio: Fox Sports Southeast; WMFS 92.9 FM/680 AM

Latest posts by Sharon Brown
(see all)