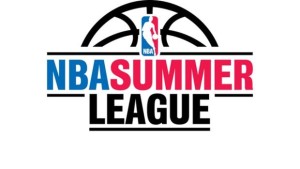 Memphis Grizzlies vs Charlotte Hornets
The Memphis Grizzlies took the Charlotte Hornets to school today, and driving the bus was Russ Smith. Day two of summer league play saw the return of Robert Pera, who was joined by head coach Dave Joerger. Also in the house were Jeff Green, and on the bench serving as player coach veteran Vince Carter. The opposing Charlotte bench is being held down by the formidable Hall of Famer Patrick Ewing.  In the viewing audience were former Knicks center Louis Orr, and Thunder star Kevin Durant.
Jordan Adams did not participate in shoot around, and was a DNP, coach's decision, at game time. Adams cited a slight issue with his knee that required rest.
JaMychal Green, who was ill yesterday, and did not play, returned to action. Green saw 5 minutes of action before exiting to the locker room. While Green returned to the hardwood, he did not return to play. He did not return to play due to ongoing illness. However, in the 5 1/2 minutes that Green did play, he was full beast mode. First round draft pick Frank Kaminsky got served, and JaMychal Green delivered. Shooting 4-5 from the field, o-1 from the perimeter, and 2-3 from the foul line, Green finished with 10 points. He was fully engaged and aggressive at the basket. For the 51/2 minutes he played he was dominant.
Russ Smith continued to assert himself at the point. Smith has developed into a player capable of handling a leadership role. He's got the right amount of flash and ability. His capability to quickly assess plays, and good decision making, were on full display today. Low passes in traffic, accurate no look-behind the back, and acrobatic hops resulting in and one make Smith dangerous. Smith finished with 14 points, and 7 assists. Smith also had 3 steals. Russ is dependable and consistent.
Jarnell Stokes held down the paint, but there is improvement still to be had. His screens were lackluster, and his defensive stance is closed tight to his frame. With a wingspan as large as his, opening up will go a long way. Where Stokes has been dominant is under the basket. His body control is on point, and he's not getting bullied. He's able to control the ball in his possession, and effectively challenge opponents by positioning himself well.
Andrew Harrison faced off with his twin brother Aaron who is on the Hornets roster. It is the first time the brothers have been in opposing uniforms. They credit each other with pushing the other to be better. Both brothers played well. Andrew is the more athletic of the two, and executed better decision making today. He seemed more confident and settled. He cut passes behind the back, and sliced through traffic to attack the basket. While he does still back himself into a corner with the ball, his exits were better planned. Andrew finished with 9.
Also having another good day was Tony Crocker out of Israel. Crocker played college ball in Oklahoma. Crocker shot 4-9 from various spots in the field, 2-5 from the arc, and 1-2 from the foul line.
Today was a very physical game, that saw the Grizzlies dominate. The largest lead of the game was 19 in favor of the Grizzlies. The Grizz had 36 in the paint as opposed to the Hornets 26. Second chance points also favored the Grizz 12-6.
Tomorrow is an off day for Memphis, who will return to play Tuesday against the blue Orlando Magic at 1:00.

Latest posts by Jennifer Conroy
(see all)