Grizzlies down Celtics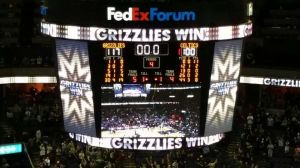 With a 117-100 win over the Boston Celtics, the Memphis Grizzlies remain the best team in the NBA while improving to 11-2. The Grizzlies led the game wire to wire with their largest lead at 21. Grizzlies shot 53% from the field and shot 50% beyond the arc. Grizzlies also had a season high 31 assists out of 48 made field goals and a season high 66 points in the paint.
Players of the match: Marc Gasol and Jon Leuer
Marc led all scorers with 32 points, ties career high and season high, while also adding 8 rebounds. Celtics just couldn't contain him. Kelly Olynyk pissed him off in the 3rd quarter and he woke up a sleeping giant! Gasol scored 13 points in that quarter alone.
Jon Leuer returned to the lineup after missing the last game with that ferocious stomach virus that sidelined key members of the team. In the 2nd quarter, Leuer went off. He was EVERYWHERE! In 10 mins, he had 10 points, was 5/7 from the field and also had 2 assists, 3 rebounds, 2 steals and 1 block. He played 22 minutes and ended up with a season high 19 points going 9/13 from the field. He also added 4 more rebounds & 2 more assists. He was the only bench player in double figures.
Honorable mention: Zach Randolph and Mike Conley
Zach finished with 16 points, 16 rebounds and 4 assists. Zbo didn't see a lot of action in the 2nd half and sat the whole 4th quarter. He had his 9th double double of the season and has scored in double figures in all 13 games played this season.
Mike Conely played well offensively and defensively. He finished with 15 points, 8 assists and 4 rebounds. He gave Rajon Rondo problems. Rondo only had 4 points and a season low 4 assists. Mike continues to  shoot the ball well from the 3 point line. He is shooting a career high 47.6% from 3. He was 3/4 from the 3pt line last night.
Game Highlights
Notes
Grizz flu couldn't hold these guys down for very long. This is a bounce back win after losing a close one on Wednesday in Toronto against the Raptors. They were shorthanded and without 5 key players. Their only losses of the season has been to 2 Eastern Conference teams. Courtney Lee, Kosta Koufos, Beno Udrih and as mentioned earlier Jon Leuer all returned from the ferocious stomach virus. Jarnell Stokes was active but didn't see playing time. Quincy Pondexter and Tony Allen both were out this game due to the illness. It has been reported that members of the coaching staff also are suffering for this illness. Coach David Joerger seemed not to be felling well during his post game conference. Hopefully, the illness will be under control soon.
Tid-bits
1) Eight players had 2 or more assists for the Grizzlies
2) Four players were in double figures.
3) Grizzlies won their 21st consecutive regular season home game. Grizzlies has lost a regular season game since last February.
4) Grizzlies continue their historical run this season. This is their best start in franchise history.
Quotes from Marc Gasol and Jon Leuer after the game:
"I'm proud of the guys that played. The guys that played tonight and weren't 100 percent themselves. They gave us what they had. That is what I care about. You come in and you give me what you got, that's plenty for me. I couldn't ask for anything more." — Marc Gasol
"With the stomach virus that we all had, I think, the guys are still coming back from that. We are still feeling a little run down, but it's just a matter when you step between the lines you can't make any excuses. You just have to go play." — Jon Leuer
Up next 
Grizzlies with host the LA Clippers at the Grindhouse tomorrow afternoon at 5pm. This should be a fun game to watch. These two teams clearly don't like one another. Also Nick Calathes will return to the team from his suspension!!

Latest posts by Sharon Brown
(see all)