Looking To the Future: Grizzlies Participate in Utah Summer League
It's Summer Time, Grizz Nation!
The draft is over.  Free agency news is abuzz.  And Summer League play is underway.  This year the young Grizzlies are getting their feet wet in Utah and Las Vegas.  In addition to the franchise's 2018 draft picks, Jaren Jackson Jr.  and Jevon Carter, Grizz fans can find the familiar faces of Deyonta Davis, Ivan Rabb, Wayne Selden Jr., and Kobi Simmons out on the Summer League court.  So far, the Grizzlies have only played two games (Atlanta and Utah), and they've been victorious in both.
Summer League isn't sexy to everybody.  So, here's a quick review by player for those who want to know what's going on but don't care enough to watch.
Jaren Jackson Jr.
The Grizzlies' first round draft pick, Jaren Jackson Jr., had a magnificent debut against the Atlanta Hawks on Monday.  Many tuned in because they wanted to see how he'd fare in a game against Trae Young, who was taken immediately after him in the draft by the Dallas Mavericks but was subsequently traded to the Hawks.  Let's just say he held on his own.
Coming into the game if someone told most people that one of the lottery picks in this game would take 13 threes and make 8 of them, they would have taken Trae Young on that stat in a heartbeat.  However, it appears the rookie out of Michigan State donning the Beale Street Blue would be the player to actually do that, including a half court half-time buzzer beater.
Jackson ended the game against the Hawks with 29 points (9-15 FG; 8-13 3Pt-FG), 3 rebounds and 2 blocks with no fouls or turnovers in 23 minutes of play.  In the Tuesday night game against the Utah Jazz, the rookie scored 10 points (4-11 FG; 2-4 3Pt-FG) and had 8 rebounds and 2 blocks with one turnover and one foul in 27 minutes of action.  The Jackson that Grizz fans will see during his rookie season probably lies somewhere closer to the one that played on Tuesday night, but it's nice to know that the one that played on Monday is in there young, eager and waiting to be developed.
Jevon Carter
The Grizzlies' second round draft pick, Jevon Carter, was the team's primary ball handler in both games.  The rookie who was known to have defensively destroyed Trae Young when the two faced each other in college came in Monday and did more of the same holding Young to 0-9 shooting while guarding him.  Against the Hawks, Carter scored 10 points (4-9 FG; 1-3 3Pt-FG) with 5 rebounds, 3 assists and 1 steal in 23 minutes.  Carter also had 2 turnovers and 6 fouls.  In Tuesday night's game against the Utah Jazz, Carter only scored 2 points (1-6 FG; 0-2 3Pt-FG) but had 3 rebounds, 4 assists, and 2 steals.  He turned the ball over twice and had 3 fouls in 28 minutes of action.
Carter just wants to "go out there and play hard and win some games".  So far, he's done just that.
Deyonta Davis
Deyonta Davis is about to start his third season with the Memphis Grizzlies.  Depending on who you ask he either still just needs some more development or he needs to kick rocks in flip flops.  No matter what side of the fence you sit on the truth is this Summer League appearance for Davis may truly be the beginning of "put up or shut up" time.
In true Davis fashion, he showed flashes of potential in the game against the Hawks but still looked like he'd rather be home playing 2K.  Davis had only 4 points in the game against the Hawks, but he managed to pull down 7 rebounds and masterfully block 2 shots in 19 minutes of play.  However, he looked more like what most want him to be in the game against the Jazz.  Tuesday against the Jazz he came in focused from the tip, including scoring on the team's first possessions.
He finished with 17 points (8-9 FG), grabbed 6 boards, and had an assist and a steal in 23 minutes of action.  He even made a free throw.  Davis and Wayne Selden looked in sync with each other, which is promising.
Wayne Selden Jr.
Wayne Selden Jr., who went off in last year's Summer League appearance in Las Vegas, but spent most of this past season injured, didn't play in the game against Atlanta but did see some good action against the Jazz.  Selden started at the SF position and had 20 points (6-17 FG), making 2 of 6 of his perimeter shot attempts.  Selden also managed to grab 4 rebounds and dish out 6 assists.  If he can stay healthy, continue his development and keep feeding Davis, the bench looks alright.
Ivan Rabb
Ivan Rabb is still as quiet and unassuming as he was this past season.  He's pretty efficient when he scores, but defensively he had some mishaps in both games.  Rabb played in both games averaging 11 points, 4.5 rebounds and 2.5 assists in 22 minutes of play off the bench in the two games.
Kobi Simmons
Kobi Simmons spent most of his time in the point guard position when he hit the court for the Grizzlies this past season.  It looks as if the coaching staff is looking to get him more time this season at the shooting guard position.  Simmons looks comfortable there.  He was the team's second leading scorer against the Hawks with 21 points and tied with Selden for leading scorer against the Jazz with 20 points.
Simmons is averaging 20.5 points, 1.5 assists and 3.5 rebounds starting at the shooting guard position in the Utah Summer League.
While it's certainly too early to tell what this season holds, it's clear that the Grizzlies are trying to develop some young guys to help its veterans Mike Conley and Marc Gasol carry the franchise forward.  If you're looking to catch some Summer League play, you can catch the Grizzlies tomorrow on NBA TV at 6:00 p.m. CST as they face the San Antonio Spurs in Utah.  Then they'll move on to Las Vegas to face the Pistons (Sat), the Magic (Sun) and the Kings (Tues).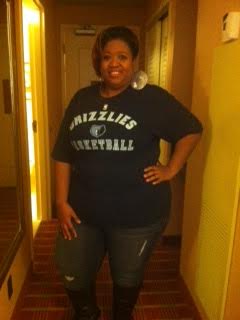 Latest posts by Carmen Patton
(see all)