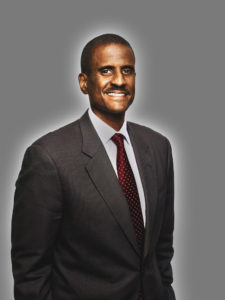 In Shy's Corner: A Chat With TNT and NBA.com's David Aldridge
For nearly 30 years, David Aldridge has been covering the NBA in some form or fashion. Aldridge began his career as a sports journalist for The Washington Post. After stints with ESPN and the Philadelphia Inquirer, he joined Turner Sports in 2004.
The award-winning journalist is currently a sideline reporter for TNT's Inside the NBA telecast. Additionally, he serves as a studio analyst on NBA TV and conduct interviews, provides analysis and commentary for NBA.com. The American University alum also writes a weekly "Morning Tip" column for NBA.com.
In his career, Aldridge covered the biggest sporting events, from the World Series, the Super Bowl, the Indianapolis 500, the U.S. Open tennis championships, and the 1992 Olympic games.
Aldridge spoke with All Heart about NBA free agency, the Memphis Grizzlies and more.
---
1) What was the most surprising signing during the first day of free agency?
There weren't really many surprises. The only thing that I didn't expect was Paul George signing for so long (four years) with Oklahoma City. It wasn't the city that was surprising; it was the length of the contract. Many of today's star players sign short contracts so they become free agents again as quickly as possible; because the top players can get up to 35 percent of a team's salary cap allotment in a given year. So I was surprised that George essentially gave up three years of potential free agency for the security of staying in Oklahoma City.
2) What's going on with the San Antonio Spurs? Did it shock you Tony Parker signed with the Charlotte Hornets?
The Spurs are in transition, as every great team has to do at some point. Until they resolve the Kawhi Leonard situation one way or the other it will be difficult for them to move forward. It did not surprise me that Tony left. He wants to play three more years so he can have 20 years in the NBA, and I didn't think San Antonio would be willing to do that for him.
3) Do you think the Memphis Grizzlies will bounce back after missing the playoffs last season?
Yes. I like the moves they've made so far. They drafted well; Jaren Jackson Jr. will be a very good pro, but I especially liked taking Jevon Carter in the second round. He's a pit bull and will fit right into the style that J.B. wants to play. And Kyle Anderson is a really good player. But they need Mike Conley to get back healthy.
4) What are your thoughts on Jaren Jackson Jr? Did the Grizzlies make the right choice?
Yes. I think Jaren [Jackson, Jr.] will be a very good pro. He's a hard worker, wants to play at both ends and comes from a program at Michigan State that has consistently produced players who've done very well in the NBA. Plus, Jaren's been around the game because of his dad—who I covered when he was in college!
5) Why do you think LeBron James chose the Lakers? How do you think the season will play out for his new team?
LeBron went to L.A. because that's where he wanted to finish his career. The opportunities both for him as a business person post-career and for his family to settle in and not have to worry about moving around were too good to pass up. It's not that he didn't like being in Cleveland but L.A. is L.A., and guys like being out there.
6) Speaking of LeBron James, since he's no longer in the East….which team will become "King of the East?"
Boston—unless Philly gets Kawhi Leonard. The Celtics have a great core to build around: Jayson Tatum, Jaylen Brown, Kyrie Irving, Gordon Hayward. They have a vastly underrated center in Al Horford. And they have some great young role players like Marcus Smart and Terry Rozier. Plus, Brad Stevens is one of the best coaches in the league.
7) What are your thoughts on the DeMarcus Cousins signing with the Golden State Warriors?
It was unexpected. But every team in the league could have signed him for that amount of money, and more than a few teams could have given him a lot more. They each decided not to for whatever reasons. So I can't fault him or Golden State for hooking up.
8) What would you say to fans who think the league lacks a competitive balance because of the Golden State Warriors?
I'd say that what people say they want and what they actually want is different. If the Warriors are so bad for basketball, why are the TV ratings the highest they've been since Michael Jordan retired? I think people theoretically want "competition," but what they really want is to watch stars that they've come to know. There aren't too many movies made with a no-star cast that do well at the box office.

Latest posts by Sharon Brown
(see all)