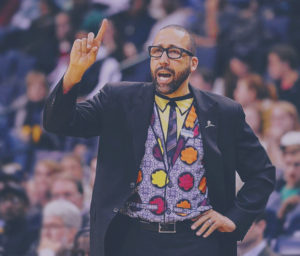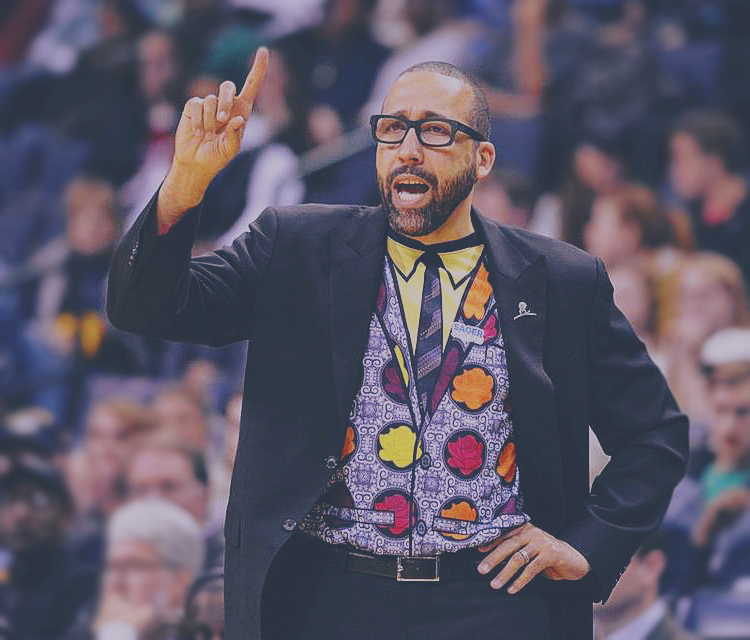 Full-Court Press- Get You A Coach Who Can Do Both
What it do, y'all? What's good?
Welcome to the Inaugural Edition of what will hopefully be a regular installment here at All Heart in Hoop City, in which I will talk about basketball stuff. And anything else I damn well feel like that might be tangentially related to basketball.
Because what good are editorial privileges if you don't abuse them?
Whatever. I do what I want.

In addition to my rambling analysis about the Memphis Grizzlies, you can look forward to topics such as:
General NBA news and ruminations
The contents of my unfinished drafts folder
Things That Are Too Long For Twitter
Potentially weird NBA themed fiction, with illustrations!
Random musings about Life, The Universe, and Everything. And basketball.
And so without any further ado, let's get this party started!
Get You A Coach Who Can Do Both:
Maximize the potential of your existing franchise players, while simultaneously developing the younger and less experienced players for the future.
Here's a look at two of the most important reasons why
David Fizdale is exactly the coach the Memphis Grizzlies need.
One of the most important qualities that Memphis Grizzlies Head Coach David Fizdale has brought to the team has been his emphasis on developing younger players who will theoretically move into more key roles with the team in the years ahead. That he's doing this while simultaneously improving the Grizzlies veteran core has been no small feat.
That he's doing both while battling a spate of injuries is bordering on miraculous. 
This concept is something of a novelty for Grizzlies fans, as player development was not a strength of our two previous head coaches, to say the very least.
However, Fizdale has surrounded himself with a top-notch staff of assistant coaches, being pragmatic enough to realize the value in balancing out any of his potential weaknesses with colleagues whose strengths lie in those areas. J.B Bickerstaff and Nick Van Exel come immediately to mind as two examples of this.
At times both Lionel Hollins and Dave Joerger seemed outright averse to the concept of player development, and tended to avoid it as much as possible. Joerger was forced, by injury and necessity last season, to give playing time to players that under normal circumstances would have been firmly parked at the end of the bench, save for the occasional garbage time minutes.
The current season has already found Coach Fizdale in similar circumstances, with several key players having spent time on the injured list: Mike Conley, Chandler Parsons, Vince Carter, James Ennis, and Brandan Wright. And yet the attitudes of not just the coach, but the players as well, could not be more dissimilar from what we endured last season.
The skeleton crew that made up the Grizzlies roster earlier this season, dubbed the Nasty Nine, went out and worked their asses off for Coach Fizdale. Perhaps more telling than anything is that they all appeared to be having fun doing it. At the very least, there's not the same look of abject misery from players and coach alike. That's not insignificant.
A while back, our staff had a round table chat, and each of us gave a brief assessment on Fizdale's first quarter season as Memphis Grizzlies Head Coach.
Here's the part of my assessment that's especially relevant:
The Grizzlies need Coach Fizz and his staff to continue doing the tremendous job they have done using these last five games as valuable learning experience for the developing cubs, who are obviously benefiting from it, and continue the work they've put in guiding Marc Gasol into a leadership role on the court. Conventional wisdom would have expected the Grizzlies to be slaughtered during this time missing so many key pieces, and yet here we are.

The Nasty Nine lineup has managed to do the improbable: scratch and claw their way into keeping the Grizzlies in playoff contention. It ain't pretty, it's gritty. But it's also a good sign that the Fizdale Era will be the most storied chapter in the book of Memphis Grizzlies Basketball History.
 Emphasis mine.
David Fizdale is the first coach this team has seen who is even remotely resembling championship caliber, at least with this Grizzlies core. He's been clear since Day 1 that he intended to draw on what he felt was untapped potential with Mike Conley and Marc Gasol.
Fizdale was part of the coaching staff during the Big 3 championship era in Miami, where he worked with some of the most talented basketball players in the league. He has been to the top of that mountain, and seen that it is good. He can help create the sort of basketball dynasty Memphis deserves, both on and off the court.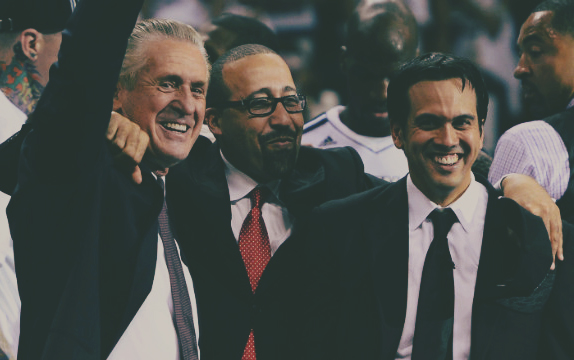 The fact that he made his bones, proverbially speaking, under an organization lead by coaching legend Pat Riley, and his protégé Erik Spoelstra, lends even more credibility to the sentiment that if anyone can help this Grizzlies team reach the next level, David Fizdale is That Guy. Marc Gasol and Andrew Harrison are prime examples of how Coach Fizdale can indeed, do both.
Get You A Coach Who Can Do Both:
Maximize the potential of your existing franchise players, while simultaneously developing the younger and less experienced players for the future.
One specific thing Coach Fizdale mentioned in his introductory press conference this summer, was in regards to having Marc Gasol shooting more from behind the three point line. True to his word, that is exactly what he's done. And how.
Marc Gasol: Three Point Shooting Threat
(has a nice ring to it, don't you think?)
Fun Fact: Marc attempted more shots from beyond the arc in the first quarter of this season than he has in every previous season of his career, combined. 
To get a clearer idea of just how dramatic Coach Fizdale's impact has been on Big Spain's long range game in the span of less than one season, here's a look at the data on Gasol's 3-point shooting across his entire NBA career.
Coach Fizdale and the staff he has assembled appear to have unlocked the hot spots in Gasol's shooting game. Moreover, Gasol looks more confident and driven on the court this season, he is really growing into the leadership role that Fizdale is creating for him.
Marc Gasol takes basketball very seriously, and he does not like to lose.
There has been so much talk over the last few years about Marc needing to become the so-called alpha dog on the court in order to be a dominant force on both ends of the floor.
It's been said more than once he needs to develop the same toughness displayed regularly by Zach Randolph, his "brother from another mother".
This fails to take into consideration that Marc's version of an alpha male isn't necessarily going to look the same as Zach's, or Tony's, or anyone else's. Which is not to say that a more physically dominating Marc Gasol will be less effective than Randolph's version; just that his way of achieving that might not look like what Grizzlies fans are used to seeing.
One of the best things this coaching change seems to have done for Gasol has been to instill the confidence in him to take charge during games. Another notable example of this newfound leadership has been Gasol taking it upon himself to be an example for the younger players, who are for once getting a real chance to run the floor in games that count.
Which is not to say that there haven't been some growing pains along the way, and no doubt still more yet to come.
Coach Fizdale expects from Gasol a level of accountability that his predecessors did not. 
When the team has played especially poorly, Fizdale doesn't hesitate to call it out, in no uncertain terms. We were able to see this play out first hand after Fizdale made a comment during a postgame press conference earlier in the season, specifically mentioning poor leadership on the court. It was perceived, and perhaps intended, as unequivocal shots fired at Marc Gasol.
It was an uncharacteristically sloppy night for Gasol that night, and he seemed pensive in his response postgame when asked to comment directly about Coach Fizdale's leadership remark.
"None."
Rarely does one word say so little and yet so much at the same time. It's not unusual after a Grizzlies loss for Gasol to be visibly agitated in sort of a quiet way. Marc Gasol takes basketball very seriously, and he does not like to lose.
But this new role as the so-called alpha dog that Gasol has been put in is new territory for Big Spain. As mentioned above, in past seasons he's had Zach Randolph alongside him in the starting lineup, and filling that role of dominant team leader on the court.
However with Randolph's new role coming off the bench, Marc has had to step up and be the man. Even more so while Conley was sidelined. To his credit, Gasol has not only accepted the mantle of team leader, he's embracing it and making it his own. The next step is being able to do it consistently, and not slipping back into passivity now that Conley has returned to the lineup.
Coach Fizdale expects from Gasol a level of accountability that his predecessors did not. While this may cause the occasional bit of friction in the heat of the moment, as a long term coaching strategy, it's both desirable and necessary.
It also speaks to Fizdale's ability that he's been able to earn the respect and trust of the veteran players in such a short amount of time.
But Coach Fizdale has made an impact on more than just the core four. He's also the first coach in recent franchise history to actively develop rookie and sophomore players, giving them meaningful minutes in numerous games, rather than the occasional garbage time appearance.
The results have not always been pretty to watch, but Fizdale and his staff have been cultivating the Grizzlies young talent, instilling confidence in them, as well as valuable learning experience.
It's been a trial by fire in many respects, and at times that fire has been a complete dumpster fire. But exhibiting enough confidence and trust in the young guys to go out and compete against some of the top contending teams in the league, helps foster confidence in their own abilities.
The way Fizdale interacts with players, it's on a different level than CDJ or Hollins ever managed. But it's noticeable, both in his actions and how players respond.
Whatever it is he's done, Fizdale is relating to these guys on a whole other level and it shows in how they play. The young guys especially.
He's giving them more confidence in their ability by sending them out knowing they'll make mistakes, but basically giving them the 'brush it off and get back out there' treatment.
For a prime example of this player development, look no further than rookie Andrew Harrison.
While this is technically Harrison's first season playing in the NBA, he spent the majority of last season playing in the D-League for the Iowa Energy. Which gave him an extra year to mature and adjust to the differences between collegiate and professional basketball.
Due to an unexpected spate of injuries earlier this season, he found himself inserted into the Grizzlies starting lineup for over a dozen games.
On many of those game nights, during the pregame shoot around period, you'd find Harrison working one on one with assistant coach Nick Van Exel. No doubt Van Exel has also been one of the catalysts for some of the veteran player improvement we've seen throughout the season.
However it may well be Van Exel's work with the young guys, the ones who are ostensibly the future of the franchise, that benefits the team the most over the long haul. I love the Core Four as much as anyone, but they aren't getting any younger.
Without a concerted effort to develop young, talented players, the future of this franchise and life after the Core 4 era looks bleak.
Just for the sake of my own curiosity, I decided to compare Harrison's rookie year to date, to Nick Van Exel's rookie year.
Let's be clear, by no means am I suggesting that Andrew Harrison is the next Nick Van Exel. But I do think that Andrew Harrison has gotten more than his fair share of criticism this season, particularly when you take into account that he was pushed into a larger than intended role out of sheer necessity.

While clearly not as productive offensively, there are some areas in his game that show Harrison isn't the scrub he's been made out to be. In my not expert opinion, I think some people may be expecting too much, too soon. Give the kid some time, he's not by any means reached his full potential.
He's shown a willingness to put in work, and Coach Fizdale & Company are rightfully giving him a chance to prove it.

Latest posts by Aimee Stiegemeyer
(see all)