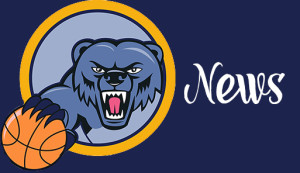 Memphis Grizzlies trade newly acquired Luke Ridnour to Charlotte Hornets for Matt Barnes
After a mostly quiet start to the off season, the Grizzlies front office has been hard at work the last two days.
Yesterday we got the news that the Grizzlies had traded the draft rights to Janis Timma to the Orlando Magic in exchange for veteran point guard Luke Ridnour.
Many fans questioned the logic to this move, with some insisting he would be a great replacement for Nick Calathes, others saying he was most likely going to be waived or used as part of a trade package for another player.
I fell in the latter camp, that the Ridnour pickup seemed most likely the precursor to a bigger move the front office had in the works.
Roughly 24 hours later, we have the answer with the news that the Grizzlies had traded Ridnour to the Hornets* for Matt Barnes.
#Grizzlies acquire @matt_barnes22 from @Hornets in exchange for Luke Ridnour. Details > http://t.co/S8BBCYNrQx pic.twitter.com/gXTXClLbbX

— Memphis Grizzlies (@memgrizz) June 25, 2015
So in essence, the Grizzlies essentially just picked up Matt Barnes for Janis Timma. Basically, we got him for free.
No matter how you might feel about Barnes as a player (or a person) there is no denying that this was an incredible score on the part of the front office.
Obviously there is still the chance that this too was also meant to be part of a larger move, and that Barnes may never play a single minute in a Grizzlies uniform. That said, all signs so far are pointing to him spending the 2015-2016 in Beale Street Blue.
If you had asked me a few days ago what I thought about the prospect of Barnes to Memphis, I probably would have said not just no but hell no.
As a Clipper, he was one of my most disliked players, although to be fair I would dislike anyone that plays for the Clippers. Hating the Clippers is practically a requirement to be a Grizzlies fan, I think it might even be written somewhere in the Grizz Nation bylaws.
But I have to admit the longer I think about it, the more the idea is growing on me. Plus, can you imagine what a team with ZBo, TA, and Barnes would look like? Scary doesn't even begin to cover it.
From a numbers perspective, we certainly could have done worse. During the 2014-15 season, Barnes averaged 10.1 points, 4 rebounds, and 1.5 assists, and shot 36% from beyond the arc. Those are respectable veteran numbers, and if he gives the Grizzlies the same effort we would certainly benefit from it.
I think Grizzlies sideline reporter Rob Fischer may have said it best:
Matt Barnes is a great example of this guy: "I hate him….. unless he's on my team."

— Rob Fischer (@thefishnation) June 25, 2015
I hope the Grizzlies fan base would be willing to let the past go if this makes us stronger in the coming season, and embrace Barnes as one of our own.
Remember when the Grizzlies first traded for Zach Randolph, many said his reputation as troubled both on and off the court would be a liability. After seeing how Zach has flourished here, I'm willing to take a chance on another seemingly troubled player.
While it is unlikely that Barnes will ever be as beloved to this city as Zach has become over the years, his addition to the roster certainly isn't the worst thing that ever happened. It seems only fair to give him a chance to show us what he can do.
*For those of you not keeping up with trade news from around the league, the Hornets acquired Barnes and Spencer Hawes from the Clippers less than two weeks ago in exchange for shooting guard Lance Stephenson.

Latest posts by Aimee Stiegemeyer
(see all)