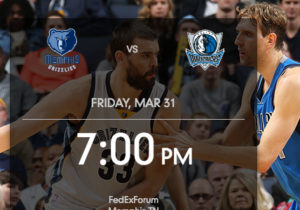 Grizzlies Look to Maul Reeling Dallas Mavericks
Tonight our Memphis Grizzlies (41-34) take on the Dallas Mavericks (31-43) at FedExForum. The Grizz are 1-1 against the Mavs this season. The first time they met this season back on November 18th Memphis walked out of Dallas with a 80-64 victory behind Chandler Parsons 12 point outing. When they met back on March 3rd, they brought back a 100-104 loss and a wasted night of 30 points from Mike Conley and 24 points from Zach Randolph. Dallas comes in losers of 3 in a row and 7 of their last 10. However, with a coach like Rick Carlisle, never discount what the Mavs can do. They are completely capable of taking this game from the Grizz, so Memphis must be on their toes.
.@memgrizz injury report:

OUT
M Gasol (L foot strain)
J Green (L shoulder soreness)
C Parsons (L knee)

QUESTIONABLE
A Harrison (R ankle)

— Grizzlies PR (@GrizzliesPR) March 31, 2017
The @memgrizz would clinch their 7th consecutive playoff berth tonight with a win (vs Dallas) AND a Denver Nuggets loss (at Charlotte).

— Grizzlies PR (@GrizzliesPR) March 31, 2017
Keys to Victory:
*Mike Conley has been a strong force in the face of a hurricane recently. Our Captain has led in the face of adversity time and time again. Conley is averaging 23.4ppg in March. In the victory on Wednesday, Conley was only 2 off from his career high, scoring 36 against the Pacers. Conley must continue to lead the team and orchestrate the offense if the Grizz want to get a 2nd win against the Mavs. Getting Conley multiple touches on offense is key for a Memphis victory.
*Play defense from tipoff. This is a mantra by now. It should be on a growl towel honestly. The Grizzlies have to stay focused on their game plan and not look at this as an easy victory due to the Mavs record, because we all know how that has worked out in the past.
*Harrison Barnes has averaged 16.5ppg against the Grizz this season. He has been for the Mavs what Chandler Parsons was supposed to be (but was derailed by injury) for us. Barnes is enjoying a productive March, averaging 17.3ppg on 42.5% shooting. If Grizz hope to take another win from the Mavs tonight, they must keep Barnes in check.
*Dallas has plenty of weapons capable of lighting the Grizz up on offense. The always tough Dirk Nowitzki, Nerlens Noel (who had 15 points and 17 boards in their previous matchup), Seth Curry (17.5ppg against the Grizz this season), and various role players such as Yogi Ferrell (who lit the Grizz up for 17 earlier in March). Lock in, Grizz, because the Mavs wont go down without a fight.
After tonight the Grizz will be heading out for a 2 game road trip vs the Lakers and Spurs before they come back home to finish the last 4 games of the season. The Grizzlies have to use the momentum they gained against the Pacers on Wednesday to push forward, finish this stretch run and get ready for the playoffs. Regardless of circumstances, the time is now. Make the most of it.
Who: Memphis Grizzlies vs Dallas Mavericks
Where: FedExForum, Memphis
When: Friday, March 31 at 7:00 PM CST
Where to watch/listen: Fox Sports Southeast, 92.9 ESPN Radio Memphis
-stats courtesy of NBA.com, ESPN.com-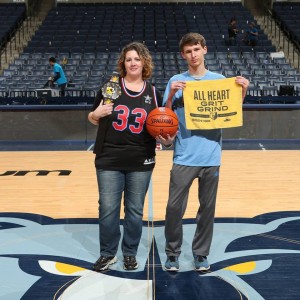 Latest posts by Elizabeth Smith
(see all)