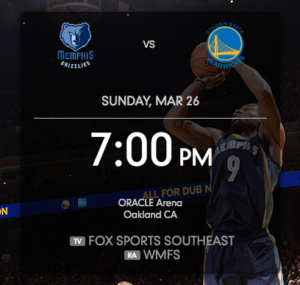 Here We Go Again – Grizzlies vs Warriors Preview
Tonight your 40-32 Memphis Grizzlies take on the 58-14 Golden State Warriors for the fourth and final time this season. This will be the 3rd game of a four game road trip for the Grizz. So far, the trip has not been kind to the home team.  The Grizz lost on Tuesday night to a fired-up Boogie Cousins and his New Orleans Pelicans and on Thursday to the San Antonio Spurs. Warriors are playing without Kevin Durant but are still plugging along without him and currently on a 6 game win streak. Grizz big man Marc Gasol is out with a left foot sprain. Gasol has not been playing like we need him to anyway, so maybe it will be a good thing that he will be sitting out this contest. What that does to the Grizzlies chances of walking out of Oracle with a win is another matter entirely. In the three contests this season against the Warriors, Gasol has averaged 19.6 points per game, the lowest being 17 in the Warriors lone win back on February 10th.
The Warriors will come out fired up and ready to put the screws to the Grizz. Memphis is one of only two teams to beat Golden State twice in the regular season in the last 2 years. The Grizzlies are 2-1 against the team from Oakland this season and the Warriors will be eager to even up the season series going into the final games of the regular season.
Keys to Victory:
*Klay Thompson has to be a major target of the defense. Thompson has been hot the last few games for the Warriors. He has averaged 27 points (55%) from the field and 53% from beyond the arc. Every antenna that Tony Allen has must be up. In fact, it will take a team effort to put a damper on Thompson's hot streak.
*Play defense from tipoff. If they give the Warriors one inch, that team has the ability to turn that into a mile. It will obviously be more difficult without a defensive anchor like Gasol, but the rest of the team must pull together and take up that slack.
*Stay together. Take things one play at a time. The Grizz have to remain engaged for the entire 48 minutes or they risk walking out of Oakland tied in the series. They must trust each other to take up the slack with Gasol out. They have to remember this is #OneTeamOneGoal.
Who: Memphis Grizzlies vs Golden State Warriors
Where: Oracle Arena, Oakland, CA
When: Sunday, March 26 at 7:00 PM CST
Where to watch/listen: Fox Sports Southeast, 92.9 ESPN Radio Memphis
-stats courtesy of NBA.com, ESPN.com-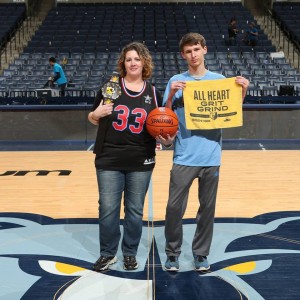 Latest posts by Elizabeth Smith
(see all)