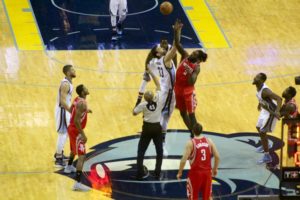 Grizzlies toppled Kings and prepare for the Rockets
The Grizzlies toppled the Kings 107-91 in Memphis on Friday night. After dropping two straight games, the Grizzlies sought and gained redemption against the Kings.
As usual the Grizzlies came out to a slow start and was down 9-0 against the Kings. Devin Walker (ESPN 92.9) has a grand idea to combat the slow starts.
Quick dribbles from the game
1) Marc Gasol led the Grizzlies with 28 points, nine rebounds and four assists. Big Spain scored 15 of his 28 points in the third quarter. He also was 3-of-6 from the three point line.
2) Zach Randolph recorded his 11th double double of the season with 20 points and 10 rebounds. He reminded us of first name 20, last name 10. Zbo finished with a team high +23 in plus/minus and went 2-of-3 from the three point line.
3) Mike Conley finished with a near triple double with 16 points, eight rebounds, eight assists along with two steals. Conley is averaging 20.8 points, 4.9 rebounds and 8.8 assists in the last eight games.
4) Tony Allen keeps doing Tony Allen things. He recorded his fourth double double of the season with 13 points and 10 rebounds.
5) James Ennis, III started in place of Chandler Parsons who was out due to rest. Ennis finished with 10 points, six rebounds, three assists and two blocks.
6) Demarcus Cousins led the Kings with 19 points and 10 rebounds. Boogie recorded his 21st double double of the season. The Kings also had two other players to score in double figures, Garrett Temple finished with 14 points and Ty Lawson ended with 13 points and five assists as a reserve.
Stats of the game
Thoughts and Quotes
Finally we all saw a game where the Grizzlies competed for 48 minutes. Struggle started early in the first quarter but they climbed back in the game.
"I just felt like we sustained our effort tonight. It was a consistent 48-minute effort and we just kept our defense at a high level tonight. We, for the first time, really put it all together. But again, our test now is can we do it tomorrow and really start building on a win like this, which is a good momentum win for us." — David Fizdale
Marc Gasol had that aggressive attitude and wanted to win the game.
"You can tell when he's in that mode, and I keep pushing him to do it more. I like when he's like that. He just gets this edge about him, the way he attacks and really his versatility comes out when he gets that aggressive.

I want it more where he gets a little greedier on the offensive end, not necessarily to score, but to make plays and to really be an attacker; not concerned about playing selfishly or unselfishly, but just going out and playing the game in a really aggressive manner."
Both Grizzlies' big man shined from beyond the arc. Gasol and Randolph went 5-of-9 from the three point line.
"When they're making shots, it makes us really hard to guard. It opens up the paint for us, for everybody so to speak. They're both capable. They're both capable of going off and making five or six threes in a night. When they're making them, we're hard to guard." — Mike Conley on Marc Gasol and Zach Randolph making three pointers.
"Me and Marc [Gasol] have been shooting threes, just having the confidence and Coach [Fizdale] believing in us. We're in the gym getting shots every day, so it isn't like we just come in the game and shoot them. We're actually working on them and putting time in." — Zach Randolph on three point shooting
---
There will be no rest for the Grizzlies. They will kick off the second game of their three game home stand against James Harden, his beard and the Houston Rockets.
The Grizzlies need a repeat of last night's performance against the Kings. Grizzlies Core 4 of Gasol (28), Zbo (20), Conley (16) and Allen (13) combined for 77 of the Grizzlies' 107 points.
The Grizzlies have to have consistent play for 48 minutes. Getting down early and coming back is really getting old but that's what they do. The Grizzlies have a 2-0 lead in the season series so far.
It will not be easy to get the W against the Rockets. The Rockets have lost four of their last six games and are looking to bounce back. They can be a deadly team on any given night and the Grizzlies must be prepared.
Coach Fizdale is expecting a battle:
"That monster with that beard that you're jealous of (James Harden). God, is he good. He is just an unbelievable player, and obviously what Coach (Mike) D'Antoni is doing with his offense is just frightening. We've really got to enjoy this one tonight, but really lock in tomorrow for a tough battle. They are going to come in here tomorrow really gunning for it because we've beat them twice. They are coming off a tough loss tonight in Golden State, so they'll really be ready to go chomping at the bit. Once we heal our bodies up tomorrow morning, we've got to get right back after it and really bring a defensive mindset."
Mike Conley has thoughts on the game against the Rockets:
"I expect what we get from them every game. They're a very good team, very competitive. They're playing some of the best basketball out there right now, so we expect them to run, shoot threes and make the game a fast paced game like they normally do."
Zbo also shared his thoughts on the Rockets:
"You've just got to keep playing. Tomorrow is going to be one of those games—high powered offense. We're going to be ready. They've got a MVP candidate in James Harden and they're playing well. It's going to be a tough game for us and a tough match. We've just got to come out and match their energy and be ready to play."
The Grizzlies know they have to be consistent and that every game here on out counts. My question is: Which Grizzlies team will show up tonight against the Rockets?
Tip-Off: 7pm CST at the FedEx Forum
TV/Radio: Fox Sports Southeast/ESPN 92.9