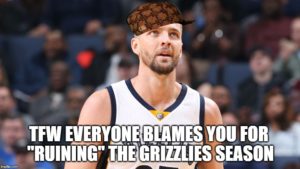 In Shy's Corner: It's do or die time for Chandler Parsons
The million dollar question left to ponder is, will Chandler Parsons live up to his contract in the upcoming season?
"When I grew up in Orlando every time Grant Hill got hurt I got so ticked," said Parsons. "This guy is soft; he doesn't care. He makes too much money to be getting hurt.' And now that I'm in his shoes, I just want to call him and say, Hey man, my bad."
Parsons had time to reflect and had a change of heart about players with injuries. He now truly understands how fans feel about players who are consistently plagued with injuries. The saying goes you must walk a mile in a man's shoes to understand his journey. Parsons took that journey.
Last season, he played in only 34 games for the Grizzlies after signing a hefty four year contract worth $94 million. Parsons was limited as he was plagued with injuries to both of his knees. A minute restriction and being bounced in and out of the line up didn't help either. He could never find his rhythm and was shell of the sharpshooter he once was.
"I've never played awful for a long period of time," Parsons contended. "It was the worst feeling in the world last year, riding the bike during practice, traveling and not playing, not playing back-to-back, and playing one and a half quarters per night. It was tough. You feel like you're letting a lot of people down."
Here is a look at his shot charts for the past two seasons:
Last season, Parsons averaged 6.2 points, 2.5 rebounds, and 1.6 assists for the Grizzlies. His lowest output of his career.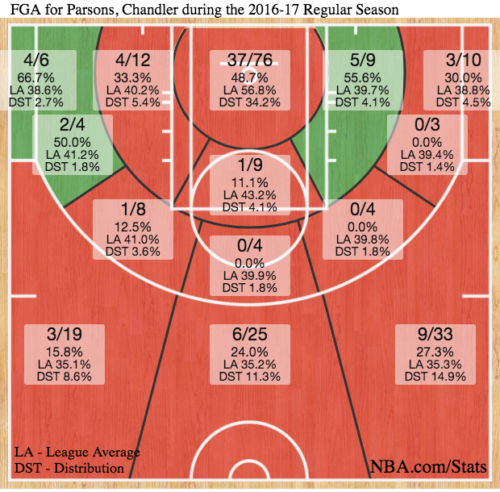 Parsons averaged 13.7 points, 4.7 rebounds and 2.8 assists during the 2015-16 regular season for the Dallas Mavericks.
Will Parsons stay healthy and improve his play on the court?
Parsons must put up or shut up and must produce to prove his doubters wrong. He believes it will show on the court, but understands it might take some time.
He is projected to be the third option on offense going into the season. During media day, Grizzlies coach David Fizdale said, "I'm not going to use kid gloves with him [Parsons] this year, for sure." We're going to throw him out there and see what happens."
Mike Conley believes in Parsons and reiterated, "He's the X-factor for us. He's the guy. Looking for a big year from him." Conley, went on to say, "I was very encouraged when he came down the middle of the lane and dunked on two people. I don't know if he was doing that before the injury."
Parsons recently told ESPN's Tim McMahon:
"I dedicated my entire summer to my body," I can't even really compare it to last year because it's night and day how my body feels, the kind of shape I'm in. I'm lean. I'm playing 5-on-5, one-on-one, 2-on-2, 3-on-3. Working out five times a week. I'm doing stuff now that basically I couldn't even do throughout the season last year. It's completely different."
Parsons wants fans to know he cares about the team and winning. At media day, Parsons said he did a poor job of comprehending it and admitted that he was cold and angry last year. Parsons said, "As an athlete, as a competitor, you want to do great, you want to do special things out there, and I straight up didn't do that last year."
Chandler Parsons has much to prove to the Grizzlies, the fans, his teammates and himself in the upcoming season. The Grizzlies need a return on their investment. He has to stay healthy and let his play on the court speak for itself. The Grizzlies are going to go as Parsons' health will take them. The sky is the limit if he can consistently knock down threes like he has done in the past. It's truly is do or die time for Parsons and we all are watching.

Latest posts by Sharon Brown
(see all)