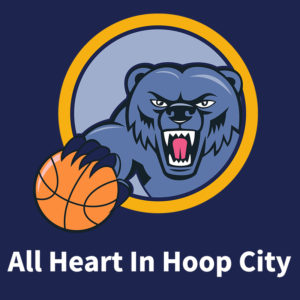 Real Talk: Memphis Grizzlies Season Preview
Real Talk: Memphis Grizzlies Season Preview
It's go time for the 2017-18 NBA season. The Memphis Grizzlies season tips off tonight, on their home court against the New Orleans Pelicans
The new look Grizzlies face many questions this season. Will they remain competitive in the juggernaut Western Conference? How will they adapt without Zach Randolph and Tony Allen?
Some of the ladies of All Heart answered these questions and more in this panel discussion.
Today's panel: Carmen Patton, Aimee Stiegemeyer and Sharon Brown. 
1) What are your expectations for the Grizzlies this season?
Carmen: So, if I'm honest, it's really just starting to sink in with me that the Core Four is no more.  It's just starting to become real to me that this team is going to look completely different this year.  I realize that everything must change.  Nothing can stay the same forever.  I even accept that it's insanity to keep doing the same thing yet expecting a different result.  I said all that to say that I'm really not sure what to expect this year.
I'm not all doomsday, but I'm not looking for the Grizzlies to be higher than a 7th or 8th seed either.  I don't foresee it being as heart wrenching as the season from hell (2015-16), but the ceiling for this season is hinged on a lot of "ifs".  In a perfect world, Conley would have an even better season than he did last year.  Gasol would become a double-double, near triple double machine every game.  In-game Parsons would look like Instagram Parsons.  In other words, the guys that this franchise has decided to hook its wagon onto would be leaders both on and off the court.
I expect Conley and Gasol to be leaders, and I expect the younger guys to grow and develop under their leadership and the leadership of the coaching staff.  From there, I hope to see this team continue to defy the odds and the amaze the naysayers.  This isn't the best team we've ever had, but it isn't the worst either.  I just want to see guys give it their all for 48 minutes on both ends of the court.
Aimee: Cautiously optimistic they won't be a Knicks-level dumpster fire. Beyond that, I expect Mike Conley and Marc Gasol to really take ownership of the team this season.
In terms of improvement over last season, I'm not sure I completely believe the additions to the roster will be enough to offset the losses of Zach Randolph, Tony Allen, and yes, Vince Carter. The former two especially still played important roles for this team, and I am anxious to see who steps up and fills those roles this season.
Zach was the quintessential sixth man last year for the Grizzlies, and his ability to come off the bench and go to work in the post will be sorely missed. I've said numerous times that if you need a bucket, Zach Randolph can get you a bucket. He was't always First Name: 20, Last Name: 10, but you can't ignore that he still contributed tremendously for the Grizzlies last year.
Tony Allen, for all his flaws, still has the practically supernatural ability to check in and disrupt the flow of the game. His impact offensively wasn't always something to write home about, but he usually made up for it on the defensive end. Who's going to step up and take on the mantle of defensive stopper?
Sharon:I expect the team to be competitive is the real answer.  Yes, they lost key players in Zach Randolph, Tony Allen and Vince Carter but I expect them to compete. They have to take it one game at a time. Last season both Conley (20.5) and Gasol (19.5) averaged career highs in points respectively. The Grizzlies also added players that can shoot the three-ball at a high rate. Floor spacing should be better. They won't shoot the lights out every night but their offense should be better.
Defense is another story. Tony Allen's defensive prowess will be sorely missed but the team still has former Defensive Player of the Year, Marc Gasol. Gasol has to be the defensive anchor and the other players should feed off him. Andrew Harrison is another player who should take up some slack in Allen's absence.
2) What player are you expecting to have a breakout season?
Carmen: Anyone that knows me knows the answer to this question.  I've like slick stalked this player for the last few seasons because I think he's a really good player.   I'm not really quick to buy a jersey.  However, I am about to add his to my collection (by collection I mean James Posey, Zach Randolph, and Mike Conley).  The player that I'm expecting to have a breakout season is JaMychal Green.
I really wanted to see him breakout last year, but I think the weight of walking in Zach Randolph's shadow (while Randolph was still on the team, nonetheless) was a bit heavy for him.  Then, the whole merry-go-round that we went on in the offseason was nerve-wrecking.  I'm expecting him to go out and prove that not only does he want to be a part of this franchise, but that he is an asset to this franchise.  With an average of 14 points and 8 rebounds last season, Zach Randolph was the Grizzlies' third leading scorer.  I'm looking to see Green aggressively step into those stats.
Aimee: I'm going to try and speak it into existence: Dillon Brooks.
Beyond that, I have been very impressed by Jarell Martin's preseason play, and now that I've seen him in action a few times, I'm even more excited about Mario Chalmers returning to the Grizzlies roster. Brandan Wright looked damn good at times during the preseason as well, and I would love to see what a full season of a healthy Wright looks like. It was easy to forget that Wright was even a part of the team last year.
Sharon: Dillion Brooks. In the Grizzlies last preseason game against the Pelicans, Brooks managed 15 points in a little under 12 minutes. He went 5-of 5 from the three point strike and showed plenty of confidence. With that type of performance consistently, Brooks can be a heavy rotation player in his first season. Brooks averaged 16.1 points, 4.5 rebounds and 2.7 assists a game with the Oregon Ducks. He also shot 40 percent from the three-point line last season. If he can continue that trend, the sky is the limit for this kid.
3) Who do you think will be the most valuable bench player?
Carmen: There are so many "could be" players for this question.  From what I've seen thus far, I'm going to go with Mario Chalmers.  He brings championship experience to the table, and he doesn't seem to be hampered by his injury from 2016.  He's a proven leader and can easily run the floor when Conley is out of the game.
However, I'm also really hoping to see Tyreke Evans and Brandan Wright add a level of value to the Grizzlies' bench.  I really want all the Wright haters to actually see him excel this year and understand why he was brought here two seasons ago.
Aimee: Right now, it's a toss-up between Jarell Martin and Mario Chalmers.
Sharon: Tyreke Evans. His health has prevented him from being the player he's capable of being. Evans' playmaking ability is what the Grizzlies can count on. He can create offense for himself and others.
I am looking forward to see him on the court with Conley, Gasol, Chalmers and Green in crunch time. Evans has the capability to hit 20 or more points on any given night. He will undoubtedly become a fan favorite since he played college ball in Memphis for the Tigers. The key to success is his health. Hopefully he can remain healthy the entire season and produce like we all know he can.
4) Do you expect the Grizzlies to make the playoffs for the eighth consecutive season?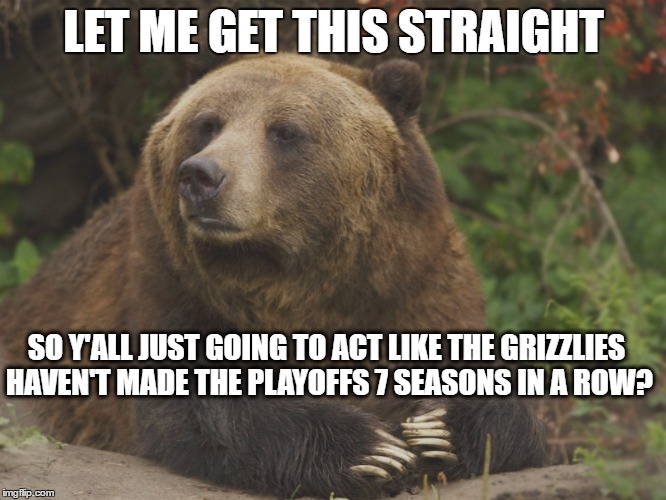 Carmen: Yes, I do, and I'm not just being a "homer" when I say that.  I realize the Western Conference is tough; I do.  However, if the 28 player roster Grizzlies can make the playoffs, this roster of Grizzlies can make the playoffs.   I'm not going all crazy like they're going to be a high seed. They'll be either the 7th or 8th seed, but they'll make their way in.
I think the first four spots will go to the Warriors, Spurs, Thunder, and Rockets (in no particular order).  There will be a dog fight to get in those 5-8 spots, though.  The Grizzlies aren't the only team that saw changes.  I do believe some teams will fall out to make room for some that were on the outside looking in last season. I just don't think MY team is one of them.
Aimee: The Western Conference got a lot tougher over the summer, but I still think the Grizzlies will finish as the 7th or 8th seed.
Sharon: Yes. I really believe they will still make the playoffs. A number of things have to happen for the team to be successful this season. Health is the main thing. Key players have to stay healthy. Mike Conley and Marc Gasol must put up career numbers across the board. Role players must produce. They will have to take it one game at a time and not worry about the other teams in the West.

Latest posts by Sharon Brown
(see all)