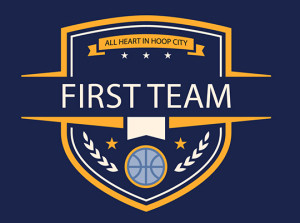 All Heart Grizzlies Season Preview
1.) The Southwest division is loaded. All 5 teams made the playoffs last season. How well do you think the Grizzlies will stack up?
Carmen Patton: Consistency and health are the two main factors that will determine where the Grizzlies land in the Southwest Division.  Even as loaded as the division is, the Grizzlies have a tremendous amount of talent.  Arguably the team has made some improvements from last year which will keep them in the running for the top spot in the division.  The top 3 spots will be between the Grizzlies, the San Antonio Spurs, and the Houston Rockets.  The teams will be separated by one or two wins max.  They were neck and neck last year.  They will be neck and neck this year.  The Grizzlies will fall into either the 1st or 2nd spot.  I'd admittedly love for it to be the 1st.
Aimee Stiegemeyer: My biggest concern is San Antonio. The Spurs are a perpetual thorn in the Grizzlies side, and I think this season is going to be no exception. With their offseason addition of LaMarcus Aldridge, it could be enough to push that squad to the next level. To say nothing of Tim Duncan's seemingly endless ability to get better with age, and continues to stay at the top of his game. I would not be at all surprised to learn there was a painting of a weathered Tim Duncan with no hops and who can't ball, hanging in Gregg Popovich's attic.
I feel pretty confident about our ability to beat out the rest of the Southwest Division, but if I had to rank the rest in order of who I think poses the biggest threat, it would go like this: Houston, New Orleans, Dallas.
Sharon Brown: Last season, the Grizzlies lead the division for most of the season and faltered at the end. Things went downhill after the All-Star break. San Antonio will still be a thorn in the Grizzlies side with the addition of LaMarcus Aldridge and David West. Zach Randolph probably will be happy that the Spurs will have Aldridge guarding him. The Grizzlies can very well lead the division again or come in second place. Since division winners don't have advantages in the playoff seeding now, everything is fair game. The only thing a division leader can do now is put a banner up. I'd rather have a championship banner than a division banner.
Elizabeth Smith: The Western Conference is strong, but the Southwest Division is especially stacked.  Barring major injuries to core players, I believe it will end up in this order:
Spurs
Grizzlies
Rockets
Pelicans
Mavericks
As a fan, I want to rank my Grizzlies above all other teams. As a realist…it's not that easy. To be honest, I struggled with this Grizz/Rockets ranking. I truly believe the Grizzlies will be a better team than Houston, but I have a suspicion that the Rockets might win more regular season games. I also think the Grizzlies will do more in the playoffs than Houston will. This team has the tools to be great. They gave the Warriors the most trouble of any team in the playoffs last season, per Warriors players. With the right breaks, good health, and commitment to their defensive principals while stepping up their offensive game, I really believe the Grizzlies can be playing in June.
Tabitha Richard: Let's face it, the Western Conference in the NBA is loaded on its own and the Southwest Division is ridiculous. The Grizzlies stack up well in this bucket of contenders. The Spurs and Rockets added key pieces to their rosters. The Spurs picked up David West and Lamarcus Aldridge. The Rockets added Ty Lawson to their roster, who desperately needs a fresh start and could give them some depth at the point and the Rockets are a strong team when not plagued with injuries. While New Orleans and Dallas still have the potential to find themselves in the playoffs, I definitely believe the Grizzlies will finish with a better record than either of those teams.
All that said, the Grizzlies still have the opportunity to play hard, use their veteran leadership, their talent and depth to win the Southwest Division. This season is going to come down to the "easy" games that will make the difference. So many times we have seen the Grizzlies drop games that they "should" walk away from with a "W". They are going to have to dig in and win the games they should. The Grizzlies are going to have to perform at an extraordinarily high level to try and obtain a favorable playoff seeding this season.
2.) Who should make up the starting 5?
Carmen: If I were choosing the starting 5, I'd go with Conley, Lee, Allen, Randolph and Gasol.  The Core Four are like a well oiled machine.  They can play together in their sleep.  The whole team works well together as a unit, but these 5 have proven to be quite effective together.  I'm not largely opposed to Jeff Green coming in at SF over Allen occasionally, but with the 2nd unit, Green has more free reign to create shots.  For that reason, I prefer Green coming off the bench rather than coming in with the starting unit.  Green is more effective and has more points coming off the bench, in my opinion.
Aimee: I think the real question will be who starts on the wings, seems a no-brainer it'll be Mike Conley, Zach Randolph, and Marc Gasol in the one, four, and five positions, respectively. If I were Coach Joerger, I would probably start Courtney Lee and Tony Allen, and bring Jeff Green first off the bench.
Sharon: Marc Gasol, Zach Randolph and Mike Conley will definitely be starters. The question remain will who will be equipped to start as the shooting guard and small forward. And like last season, I think Dave Joerger will experiment with the starters some based on match-ups. I believe most nights Courtney Lee will start at shooting guard. The small forward position is really the problem position for this team. Tony Allen is a good defender that have the starters in defensive mode but his offense is lacking. Jeff Green can score the ball but he's inconsistent and his defense is left to be desired. Green has to find a way to be comfortable playing in the lineup with Gasol and Randolph. And Matt Barnes can very well work his way into a starting position if he shoots a lot of threes and he's good defensively. There even may be a scenario in which Allen and Barnes start along with Gasol, Randolph and Conley.
Elizabeth: I believe the Grizzlies starting lineup should be Mike Conley, Courtney Lee, Tony Allen, Zach Randolph, and Marc Gasol.  Stats show that the most productive lineup the Grizz put on the floor is the one that I just listed.  The Conley/Lee/Allen/Randolph/Gasol lineup has a net rating of +7.4 while Conley/Lee/Green/Randolph/Gasol has a net rating of -3.0.  The fact that Coach Joerger insists on starting Jeff Green continues to astound and frustrate fans to no end.  Green looks to many (I might even dare to say a majority) of us to be more comfortable and productive with the bench unit anyway.
Tabitha: Marc Gasol, Zach Randolph, Jeff Green, Courtney Lee and Mike Conley. This is starting line up that we finished last season with and I don't see any need to mix it up, yet. While I've seen some "reports" that Tony Allen's preseason and training camp performance could put Jeff Green's spot as a starter into question I still think Green gets the start. Last season a back injury gave Green some trouble that I believe affected his performance. I think that we will see some flex in whether Green or Allen starts as the season progresses though. Both players have the potential to bring a spark off the bench but for now I think that Allen is going to provide that spark. I believe bringing him off the bench gives a little more flexibility to where we use him.  Allen's defensive presence can shut down some of the best in the business, when you can leverage that presence it can be much more effective. Of course, he is a fan favorite so I have no doubt that starter or not we all get to see him play plenty of minutes! As for the rest of the guys, we all know they are our starters. The Grizzlies stood behind the fact that Marc Gasol is their man when they signed him to his 5-year max deal contract. There is no question that Randolph, Lee and Conley will continue to round out our starting five for this season.

3.) How much of an impact do you think Matt Barnes & Brandan Wright will have?
Carmen: I don't know that Matt Barnes will add a tremendous amount to the offense, but I do see him being able to create stops on the defensive end by adding to the team's defensive edge.  I don't see him being a slacker offensively by any means.  I just see his defense outweighing his offense.
Both Barnes and Brandan Wright bring a level of athleticism that put the Grizzlies in a better position to play small ball when necessary.  I'm also hoping that the familiarity that exists between Wright and Vince Carter on the court will put Carter in a position to have a better season this year.
Aimee: The optimist in me wants to say they will both offer valuable contributions in their own way. Barnes and Wright are both talented players, however I would like to see a bigger sample size of games with them in the rotation before I make a prediction there.
Sharon: Both are good pick ups for the Grizzlies. They will be very valuable as the season progress. Barnes is a tough defender and I can't wait to see him and Tony Allen lock up defenders. The Nasty Boys will be in full effect. Barnes need to consistently shoot those corner threes. Wright, on the other hand, will be great off the bench and will pick up where Kosta Koufos left off the past two seasons. Look for a lot of lobs going his way. He and Jeff Green probably would compete for most dunks. Hopefully, he and Randolph won't fight for rebounds when they're on the floor together. And I can't wait to see Wright on the floor next to Marc Gasol. Welcome to Memphis, Barnes and Wright.
Elizabeth: Matt Barnes has had a tough preseason. However, I think that he will come back into form as he gets more comfortable with his role on the team. If he can get anywhere close to last season's 36.2% from 3 and bring that tenacious defense that he has shown in the past, he will be a good contributor for this team. I have watched Barnes drain shot after shot from the corners in pregame. We have to hope that comes back to him sooner rather than later.
Brandan Wright brings energy and high-flying athleticism to the Grizzlies.  He brings shot-blocking and lob finishes. He is great in the pick and roll and he and Vince Carter once made a good tandem in Dallas. My hope is that Wright being here will help get Carter out of the slump he's been in recently.
Tabitha: I'm going to have to get used to seeing Matt Barnes in a Memphis Grizzlies uniform. I'll be the first to say it but that doesn't mean I won't like it. Signing Matt Barnes added some fantastic depth to the bench. Barnes plays the gritty style of basketball that we are all used to seeing from the Grizzlies. He also boasts 36.2% 3-point shooting. He is the offensive weapon to Tony Allen's defense. Granted, Barnes can also make an impact defensively but I think his ability to score is going to be what he brings to the table.
Brandan Wright is going to bring exactly the amount of impact that he is supposed to. Wright has been a pleasure to watch in the pre-season and I look forward to seeing the same type of performance from him in the regular season. He has excellent awareness of the ball and is going to be a solid big man off the bench. Wright doesn't boast anything spectacular, he's just performs well, consistently. Filling in for Marc Gasol is no easy feat but Wright is going to fill in nicely. He will be there to grab a few rebounds, make a dunk or two and keep the game flowing.

Latest posts by Sharon Brown
(see all)