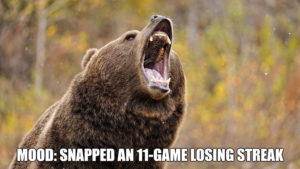 Quick Recap: Grizzlies claw their way to a win against the Timberwolves
Just when it was starting to look like their philosophy on losing games was "Cheaper By the Dozen", the Memphis Grizzlies have finally won a basketball game.
I'm still remembering how to write about a winning basketball game, so here's a photo essay instead.
Let's see if they can do it again Wednesday night against the Knicks.

Latest posts by Aimee Stiegemeyer
(see all)