Rockets Give Grizzlies A Problem: A Tale of Too Many Turnovers
With a 9 point loss to the Houston Rockets the Memphis Grizzlies move to 15-3 on the season. A start to be proud of but let's face it, this game was not the product Grizzlies' fans have gotten used to.
Let's start with the bad.
Courtney Lee kind of sums it up for us. He was not entertained and most likely, neither were you.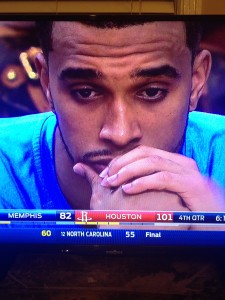 Houston took the lead with 3:15 left in the 1st quarter on a Motiejunas put-back, scoring Houston's 8th second chance point. At this point the Rockets were already outrebounding the Grizzlies 10-5 and the Grizzlies had turned the ball over four times. The turnover and rebound differential continued to plague the Grizzlies for the rest of the game. The Grizzlies finished with 21 total turnovers, a whopping 8.2 more than their average 12.8 heading into tonight's game, that resulted in 30 Houston points. While the Grizzlies on average allow their opponents to collect 10.9 Offensive rebounds, they gave up 23 to Houston tonight, who outscored the Grizzlies in the paint by 6. Despite shooting 51.3% the Grizzlies simply could not take care of the ball, giving too many free baskets to Houston. While the Grizzlies shot well from the floor, the charity stripe was not as kind. The Grizzlies connected only 16 of their 27 free throws for a 59.3 shooting percentage.
With Dwight Howard's absence it was a little shocking to see Marc and Zach register just 8 points a piece and collectively only grab 13 rebounds. To state the obvious, without question the Grizzlies should have been able to dominate in the paint but they did not. Not a single starter finished with a positive efficiency rating. All that said, it was one game, and I don't expect this kind of performance to be one we have to suffer through too many times this season.
There is one final bad. In case you missed it, Marc Gasol was seen limping off the court. At this point there is no news if he suffered an injury to his knee so be on MRI results watch! Also, please keep your digits crossed that's it's only a bruise.
Now it's time for the good.
Despite the loss, the bench play was a high point in tonight's game. The Grizzlies bench showed us exactly why we have all quit talking about their performance. They scored 51 total points tonight and captured 21 of the 39 team rebounds. They played hard and brought the team back in the 4th quarter, resulting in the single digit loss, instead of a complete blow-out. That has to give you something to be happy about. Effective and dependable bench play will be key as the season continues.
We also all got to have a little fun watching the rookie Jarnell Stokes play. Tonight was the first game that he registered double digit minutes and he sure made them count. During his 12 minutes on the court he shot 71.4%, scored 12 points, had 2 blocks and 3 rebounds. Jarnell used his physicality and gave us all a taste of what kind of player he can be. It will be interesting to watch him develop as the season plays out and I for one see some great potential. Hopefully tonight's game earned him a little more playing time in the rotation going forward.
Even though tonight's loss was disappointing I have to say; this is the NBA and eventually you are going to lay an egg. Now is the time to re-group, let this one go and show the Spurs what we are made of.

Latest posts by Tabitha Smith
(see all)