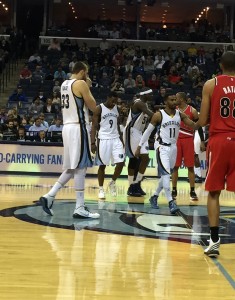 One Down, Three to Go: Grizzlies vs. Trailblazers Game 1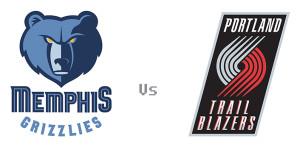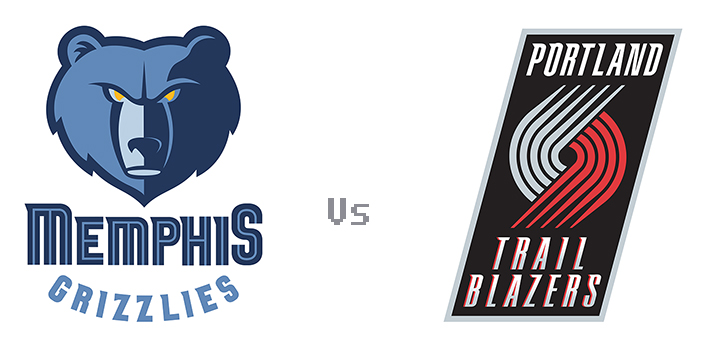 The Memphis Grizzlies faced the Portland Trailblazers on Sunday night before the 21st consecutive home playoff sellout crowd at the Fed Ex Forum. With Growl Towels waving and the home crowd energy on 100, the game tipped off on TNT at 7:00 p.m., and it looked as if the Grizzlies meant business once the clock started ticking. Although the Blazers won the tip, the defense was on point. The Blazers went just over 3 minutes before the Grizzlies even allowed them to score. Sunday night's game marked the first time in nearly a decade that the Grizzlies faced a team other than the San Antonio Spurs, Oklahoma City Thunder, or Los Angeles Clippers in the playoffs. In 2006, the Grizzlies had a first round match-up against Dallas. From there the Grizzlies have faced San Antonio twice, the Clippers twice, and the Oklahoma City Thunder three times. Sunday night was the first time that the Grizzlies and the Trailblazers have faced each other in the playoffs.
Welcome Back
After missing four crucial games at the end of the regular season due to injury, the Grizzlies saw PG Mike Conley return to the starting line-up. SF Tony Allen, however, while active did not start after missing nine games due to injury. He did however play 25 minutes, while Conley played almost 24. Conley scored 16 points on 6/11 shooting with 1 assist, 1 steal and 1 rebound. He attempted (2) 3 point shots, but didn't make either. Allen had 4 points on 2/3 shooting, including a Jeff Green-esque dunk. Allen had 3 rebounds, 3 steals and 2 assists. When asked about Conley and Allen's return, Coach Joerger said, "That was about what I expected. They are trying to find their rhythm and just get back into it physically and mentally. And with Tony, it's kind of been a bit longer of a time, and he's trying to get himself right. So having three days between games should help."
The X Factor
With 3:48 left in the first quarter, in comes Beno Udrih for Conley. The natural shooting guard, who serves as the Grizzlies back-up point guard, came in guns blazing. He gets a rebound with 3:14 left in the quarter and goes on to hit shots at the 1:47 mark, 1:00 mark, and with 4.5 seconds left in the first quarter hits a 13 ft jumper. For a while, it seemed as if he wouldn't miss; he was hotter than hot. Udrih would go on to be the leading scorer for the Grizzlies during Game 1 with 20 points (9/14), 7 rebounds and 7 assists.
Let's not forget that Udrih is an 11 year veteran in the league, and he has two championship rings with the 2005 and 2007 San Antonio Spurs. Sunday marked Udrih's 44th postseason career appearance. His 20 points, 7 rebounds and 7 assists were all postseason career highs for him. Udrih is the first player since Nick Van Exel on May 10, 2003 in Sacramento to have at least 20 points, 7 rebounds and 7 assists coming off the bench in the NBA playoffs. When asked about Beno Udrih, Blazers' coach Terry Stotts said, "I thought he was kind of the X-factor in the first half when he came in and scored early. He was aggressive coming off the ball whether it was hand-offs, pick-and-rolls, giving the lane, getting midrange. He did a little bit of everything."
The Frontcourt
Arguably, the Grizzlies are hard to beat when PF Zach Randolph and C Marc Gasol are in sync. While Gasol was complimenting Randolph's play post game in the press room, Randolph was complimenting Gasol's play post game in the locker room. Both players had double doubles for Game 1; in fact, Gasol got close to having a triple double night. The two combined for 31 points and 22 rebounds. Gasol also contributed 7 assists, 1 steal and 3 blocks the frontcourt stats. Surprisingly, LaMarcus Aldridge outscored the duo with 32 points of his own and 14 rebounds, 1 assist and 4 blocks. However, Robin Lopez only contributed 2 points, 5 rebounds and 1 assist. Randolph and Gasol combined for 13/35 FGs; Aldridge was 13/34 FGs.
The Grit and Grind Defense
Coach Stotts said it best with his opening statement to the media: "Well, we got beat. Memphis outplayed us on both ends. We struggled offensively to start with and never really got out of it." The Trailblazers make on average about 45% of their shots. The Grizzlies were able to hold them to a little under 34% in Game 1. At times, the defense seemed smothering, and if you are a Grizzlies fan, you were likely happy to see it. The Blazers never led; the score was never tied. The Grizzlies led by as many as 29 points at one point. With the exception of rebounds and FT%, the Grizzlies led the Blazers in every category. The Blazers made (8) almost as many 3 pointers as the Grizzlies took (9); yet they were only able to hit 30.8% of them (8/26). Gasol chuckled when asked about the Grizzlies' defense: "We actually played defense. I'm happy with how we played it." He went on to say that the team was "communicating and helping each other."
The Grizzlies also held Damian Lillard, who Randolph described post game as "one of the best guards", to 14 points. The All Star Lillard averaged 21 ppg in the regular season. The Grizzlies held him to 5 of 21 shooting. Lillard is known to be a 4th quarter generator, and he looked as if he may be able to get going in Game 1. However, he scored his last point on a free throw with 8:11 left in the quarter.
The Grindfather, Tony Allen, spoke on the team's defense by saying, "that's what it boils down to. That's what we get our notoriety from, playing defense. We hang our hats on the defensive end; good things happen no matter what we do offensively. We have to keep that up all the way through the series because that team is not going to let down."
Head to Head Comparison
The Grizzlies won the game 100-86. They outscored the Blazers in every quarter but the 4th.
The Blazers led in rebounds with 56 (16 offensive). The Grizzlies had 48 rebounds (8 offensive).
The Grizzlies managed to take care of the ball as they ended the game with 8 turnovers. The Blazers ended with 13.
The inside out game the Grizzlies are famous for held true. They had 52 points in the paint compared to 38 for the Blazers.
Grizzlies led with 21 assists to the Blazers 18.
Getting Ready for Game 2
"We understand it's not going to be like that every game. We know that team is a battle-tested team. We know they're tough. Obviously, they missed shots, but I know they're going to come back guns blazing next game. We have to have our antennas ready and just be ready to play Grizzlies basketball. It helps when you have the crowd into it and all the fans having our back." –Tony Allen
"We lost the game tonight, and we need to come back on Wednesday with a good effort. It's tough. Not matter how you lose the first game, you've got to come back and play well the second game. That's why it's a series." –Trailblazers Coach Terry Stotts
"They are well coached. They have two All Stars, and they attacked the heck out of us and put 55 shots up tonight. We know we have got some things that we can do better and our only focus is on Wednesday night." –Coach Dave Joerger
"Either win or lose – it's always better to win- now you have to worry about the next game. That's all you can worry about and the only thing that matters to us is the next one." –Marc Gasol
Game 2 will be on Wednesday at FedEx Forum with another 7 p.m. tip-off. Look to All Heart in Hoop City for your game 2 coverage and recap.  The Grind to Greatness continues…so don't stop believing Memphis!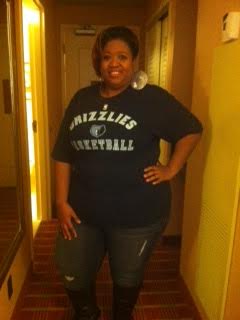 Latest posts by Carmen Patton
(see all)