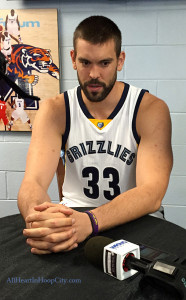 Memphis Grizzlies Media Day 2015
Media Day in the NBA marks the first official event of a new season, shortly before players head off to training camp. It is exactly what it sounds like, a day when members of the media can speak with players and coaches about the upcoming season.
Throughout a few hours on Monday, players were shuffled in one or two at a time and taken to a small table, where they were swarmed by media members asking questions at a sometimes rapid-fire pace.
This was my first time attending, and it was an incredible, and hectic experience.
I didn't ask many questions directly, instead opting to listen and take notes on some of the answers.
However, there was no shortage of exciting moments as I listened to Coach Joerger and most of the players talk about their goals and expectations heading into training camp and beyond into the regular season.
There was so much to absorb that I doubt I can convey it all, but if you read on, I've put together some of the most notable moments.
A big one was Coach Joerger reiterating that the grinding style of basketball this team has become known for is still a main component of the team identity. "This is who we are." Indeed it is Coach, and in my opinion, the Grizzlies are by and large a better team when they stick to the kind of game they excel at, rather than pushing for a faster pace and trying to be something they aren't.
Also, Joerger seems to be optimistic about what the sophomore young guys can possibly contribute this year. I hope that means we can expect to see more of Russ Smith and Jordan Adams in rotation play, even if their minutes remain on the low side.
Speaking of Russ Smith, his desire to work hard and learn from the more experienced players is both obvious and admirable.
It's no secret that I'm Team Russdiculous, and after his standout performance in the Orlando Summer League, I am even more excited to watch his development as a player.
He's not scared to step up in big, clutch moments, and it was that lack of hesitation that lead the Grizzlies to a sudden death victory in the summer league championship game.
While many will argue that summer league performance has little bearing on regular season play, it is just one of a number of indicators we've seen that Russ Smith is a player to keep an eye on in the future. I think he has the potential to be an elite point guard one day, and being under the tutelage of Mike Conley, who is most certainly an elite point guard now, will be a valuable learning experience for Smith.
Here's a video clip of Russ talking about his assets as a player:

Marc Gasol seemed pretty convinced that bringing a championship to the Bluff City is well within the realm of possibilities for this team, and he also talked a bit about how hard it was for him not playing for the Spanish team this summer. He seemed genuinely moved when he spoke about the fanatic devotion of the Grizzlies fan base.
Marc loves Memphis, and Memphis loves him right back. As it should be.
Watch Marc talk a little about working on various aspects of his game this summer, and being a better leader for the rest of the team:
One theme that was prevalent throughout the afternoon was about the camaraderie and well-developed chemistry of the team.
This is a topic that is often mentioned but perhaps not given the weight of consideration it deserves.
Here's Courtney Lee talking a bit about that chemistry, and how it translates into helping them play better:

Another topic of much discussion lately revolves around the "Core Four" of the team, and whether or not they have reached their ceiling. The logic being none of them are getting any younger, and whatever championship window they may have had is either rapidly closing, or has already closed.
I've read more than one complaint that the front office is failing to plan for the allegedly inevitable future where age catches up with our key players, and they are unable to offer the level of production we've come to depend on. I say alleged not because I doubt our front line is susceptible to the ravages of time, but because I think there is another couple seasons left in that particular tank.
In response to a question about keeping that core together, an exasperated Tony Allen exclaimed "y'all trying to break us up." And you have to admit that he has a point, there's been a lot of people lately wanting to play the proverbial Yoko Ono to the Grizzlies beloved Fab Four.
Allow me to channel my inner Grindfather here, and recommend that everyone keep a cool booty.
At the risk of being overly Pollyanna-ish, I fully expect to see the jerseys of the Core Four hanging from the rafters of FedEx Forum one day. Right next to their championship banner.
Which brings me to my biggest takeaway from yesterday's media day:
Simply put, from the front office to the end of the bench, these guys are still hungry as ever to hoist the O'Brien trophy in the Grindhouse, and bring a championship parade to Beale Street.
Whether or not you have faith in their ability, there is no denying the drive to win remains strong.
Last but not least, I'd like to extend my sincere thanks to Geoff Calkins of the Commercial Appeal, for showing me the ropes and being a friendly face in a room full of virtual strangers. Thank you for all your help and encouragement.

Latest posts by Aimee Stiegemeyer
(see all)