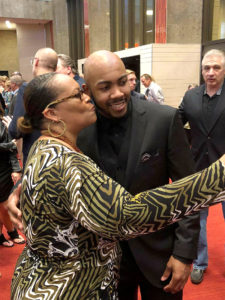 In Shy's Corner: A Mother's Love
Nothing in this world compares to a mother's love for her children. Cynthia "CJ" Johnson joins the countless list of mothers around the world who put their children above anything else.
"You know I told everybody all my life, my son is my priority," Johnson proclaimed. She has made plenty of sacrifices for her one and only son, Jevon Carter.
Carter, the six-foot-two West Virginia University standout, was drafted in the second round in the 2018 NBA draft as the 32nd overall pick by the Memphis Grizzlies.
Johnson is ecstatic her son will start his NBA career in the city she calls home. She was born in Chicago, Illinois but was raised in Memphis. "It's the greatest city on earth," she declared. "The best years of my life I've spent in Memphis."
Johnson recently retired after spending 30 years in what she described as work in "escalated and irate" customer service. Johnson said she left her job because it was exhausting keeping up with Carter's college schedule. "I would do a whole lot with a little bit — just to be able to sacrifice and take off and go where I needed to go to support Jevon," Johnson said. "That was my mission."
CJ [Johnson] recently spoke to All Heart about Jevon's work ethic, her love of Memphis, and much more.
All Heart: What would you want Grizzlies fans to know about Jevon?
CJ: Believe most of what you hear and read about him. He is the hardest-working athlete, I've ever known in my life. He is very dedicated and driven for his own success. He's a number one team guy, he is for the team. Jevon wants to be a champion, not a star. He's not interested in showboating and looking good just for the sake of showing off what he can do. He wants the team to win so that they can become champions. And don't underestimate him; game to game don't ever count him out.
AH: As his biggest fan, you know a lot about his game. What's his strongest point and what would you like to see him get better at during his rookie season in the NBA?
CJ: I would like to see him get better offensively but more consistent. I mean he's a beast on offense but I would like to see him get more consistent with his offense. I think he's just not as consistent because he has never had to be a big scorer. He mostly scores when he has to. When he's the clutch player, when he's under pressure he can knock 'em down then. But I would like to see him score more offensively since people want to put so much stock into the offense which is okay. But in his defense, I have never seen anything like it, that's his strongest. I love to see him steal the ball and block the ball. I love to see him block because he's not a very tall guy. So I like it, he can get up there and block a ball from a very tall guy.
AH: Why is education important to you and Jevon?
CJ: Because education is what matters; basketball really doesn't. [With] education — no one can take away what's in your mind, that's yours to keep. What you learn and the better education you [have] then that's what will take you far in life.
Lions don't respond to the barks of small dogs – Cynthia 'CJ' Johnson
AH: Jevon is now in the public eye more and susceptible to public scrutiny as an NBA player — what tools about life have you and his father instilled into him to deal with it?
CJ: I have been telling him since he's been 5 years old, remember who you belong to. He's a child of God and he belongs to his parents. We know him, the world doesn't know him. So you can't put a lot of stock into what the world says about you. Now if you hear momma saying something about you then you probably need to straighten up.
Right before he went to college, I sat down with him and we had a whole conversation about the internet gangstas. You know that social media will put you in a tussle. Because like I tell him all the time, lions don't respond to the barks of small dogs. 
The people writing negatively on the internet and on social media, those are the small dogs. My son is the lion out here in this world, comin' to rule and take what's his; He's destined to be great. It's not what someone thinks of you, you know who you are, you know what you can do, do that and don't look back.
Jevon didn't even use social media before he went to college. Then once he became popular in college and he had a fan base. I realized how people wanted to communicate with him but I was skeptical of people that had fraudulent accounts on Twitter and stuff. I then realized how people were communicating, talking and praising and just wanted to thank him and support him. It's not all bad; there is a whole lot of good that people want to say out there too. And I believe social media can be used as a tool because every once in a while you need that uplift.
You need to know that you have people in your corner and people that have your back and people that are still supporting you. No matter how bad you think your game was. You need to know that people still have faith in you, to re-encourage yourself.
AH: It is not easy raising a young black man in this country, how do you and Jevon's father keep him focused and out of trouble and off the streets?
CJ: By doing just that — keeping him focused and keeping him off the streets. There was never a time in his life growing up when his father and I did not know where he was. He had a very strict schedule. He couldn't just … I see teenagers just get up and walk out of the house. That they have their own car and whatever … grown in the world. Not even when his dad bought him his first car. He still couldn't just leave and go where ever he wanted to go because he had a schedule. Jevon is just naturally a good kid. He's never been mischievous, he doesn't like trouble. He never wanted to be on punishment as a child and he didn't want to be caught up between mom and dad and do nothing he wasn't supposed to because he's just not that guy.
He's always been focused on what he wanted. Before it wasn't necessarily the NBA, it was just the next win for his team. So he was focused on that, he wants to be in the gym.
He wants to be at the game. He wants to watch film, learn more about basketball, his opponents and everything that comes up. It wasn't a lot of hard work because he wasn't doing anything.
AH: Is Jevon excited about playing behind and learning from Grizzly star Mike Conley?
CJ: Yes he is. He turned what I like to call a grade-school girl giddy when Mike Conley sent him a congratulations text. Actually in the car from the airport to the hotel the Friday after draft day, he got a text from Conley and he looked up all teeth; I'm like "who is that?"
I thought it was a message from his girlfriend and he was like "Mike just text me" and I'm like first of all "who is Mike?" I always say Mike Conley and he was like yeah Mike Conley. I said, "oh you are on first name basis". He said, "well he got my number, he text me". "I was like look at you". So he's very excited about that. Of course, you know Conley is one of the greats. Jevon knows there's a lot that he can learn from him [Conley].
Jevon is literally a sponge when it comes to bettering his game. He'll tell you, he told me he's not the greatest basketball player but he is pretty good at what he does. What he does he does well.
And so when we went on tour, we were all over the FedEx Forum and then we were just about to leave. We were going out and we could hear some music playing in one of the little smaller gyms — over to the side or something. I asked the guy that was showing us around, "who's partying and going on in there?" The music was playing really loud.
He told me "no that's not a party", he said, "that's Mike Conley working out, doing a private workout". I said "really". So Jevon went to the door, "I'm going open up this door and speak to him." He couldn't just pass up that opportunity up just to see him face to face. I took a picture of him and Conley posted it that day.
AH: What do you love about Memphis and would you be involved in any charity specifically here in Memphis?
CJ: What I love about Memphis — Memphis no matter who you are if you move away from Memphis when you come back to Memphis, it still feels like home. The weather is great. I love that coming from the Chicagoland area I can appreciate the traffic in Memphis. It may drive a lot of people crazy but I look at as serene. You know it's never a whole lot of heavy traffic in Memphis.
The people are so hospitable and so open and welcoming. That's where my best friend, that's where my family, the people I care most about on this earth, that's where everybody is.
I've met wonderful good people that would do anything for you and so that's why I was so overwhelmed and overjoyed with Memphis choosing Jevon because that was just a match made in heaven. I couldn't have been happier for anything else.
The NBA was announced so I knew that was coming. For him to go to Memphis was surreal, it still really has not registered. I guess once you know the first game in the Fed Ex Forum. It has to settle into my spirit but right now I still say, "is he really a Grizzly?"…… "is he really going to play at home?"
I will be involved in most everything that the Grizzlies have going on. That's who I am, I've worked a few years for St. Jude's Children's hospital in the fundraising department, so St. Jude's is near and dear to my heart.
Of course, I will always be doing everything I can and then I'm also a part of an organization called One Love Community Outreach led by Pastor Eric Scruggs. It caters to the Tri-state area of Tennessee, Arkansas, and Mississippi. They go out into the communities and talk to the youth and try to make sure they understand the devastation of gun violence. We give away food, school supplies, and clothes and in the areas to the people that need it. And we try to get people that are addicted to drugs in rehab facilities and things like that.
Editor's note: All photos courtesy of Cynthia 'CJ' Johnson

Latest posts by Sharon Brown
(see all)