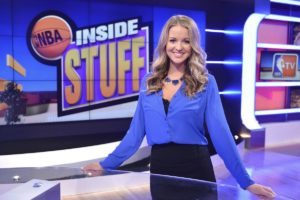 Real Talk: Interview with Kristen Ledlow
You might have seen her on TNT, or co-starring on NBA TV's Inside Stuff, a weekly show featuring all the behind-the-scenes stuff in the NBA, or perhaps you might have just seen her interviewing some of the league's biggest stars like Lebron James.
She started off playing volleyball and basketball, but her broadcasting career has finally planted her firmly in the NBA world primarily, and she's already made her mark in this male-dominated industry by the age of 30.
If you haven't already guessed, I'm talking about Kristen Ledlow, one of the NBA's most prominent and talented female broadcasters in the past decade.
All Heart had the honor of chatting with Ledlow recently before the NBA season revs up in a couple months:
All Heart: When and how did you decide that you wanted to become a sports broadcaster, and did your previous experience playing sports personally help you in your career?
Kristen Ledlow: I started playing basketball as an 8-year-old girl, so a career in or around the game was a lifelong dream. My love for broadcasting developed in high school and college. Because I spent my life playing the game, it was a language that came naturally to me from the start of my on-air career.
AH: What has been your favorite NBA game to cover so far, and why?
KL: I've witnessed many exciting NBA games, but none more historic than Game Seven of the 2016 NBA Finals at Oracle Arena. I was sitting next to the Hall of Famer Isiah Thomas at the game, having been the only two at our network to predict a Cavalier win at the start of the series. As I watched LeBron James and the Cavs come back from a 3-1 deficit to beat the greatest team of our generation on their home floor, I knew I was watching NBA history being made.
AH: Overall, what do you think of Memphis' draft pick, Jaren Jackson, Jr.? Do you think that Memphis made the right pick?
KL: In my opinion, Jaren Jackson, [Jr.] was underutilized and underrated in college. He's capable of a larger role. Though it will take time to adjust to the professional game, he will be a tremendous asset to the Grizzlies.
AH: Having visited Memphis covering games, what has been your favorite experience or memory here?
KL: I've had the opportunity to cover a number of Grizzlies games for both NBA TV and TNT, with my favorite coming on Martin Luther King Jr. Day. The city is a special one, with an arena atmosphere (both inside and out!) unlike anywhere else.
AH: Do you think that the Grizzlies should rebuild from the ground up and let go of Marc Gasol and/or Mike Conley, or do you think that they should roll the dice and stick with the current crew they have?
KL: Ultimately, the Grizzlies will rebuild. The most difficult position for an NBA franchise to be in is the middle – not at the top with a chance to win a championship, but not at the bottom with a chance to secure a lottery pick.
AH: Memphis has had a pretty rough history with coaches the past handful of years. What do you think of the Grizzlies keeping former assistant J.B. Bickerstaff as their coach? 
KL: Coach Bickerstaff not only has basketball in his blood as Bernie's son, but has done an excellent job paving his own way to a successful career in the NBA. J.B. has said his father repeatedly taught him to "put his big boy pants on," which will translate well to Memphis's "grit and grind" mentality.
AH: Being surrounded predominantly by men in your industry, have you faced any kind of challenges being a female sportscaster? If so, how have you overcome them?
KL: While being a woman in a male-dominated industry has come with its own unique set of challenges, it's a special time to be a woman in the NBA. For the first time in the game's history, it's possible to be a coach, a referee, an analyst, a play-by-play broadcaster, or even work as a high ranking executive in a front office. I am honored to be part of this wave of women making a mark in the NBA.
AH: What piece of advice would you give to aspiring females who want to get into the sports broadcasting and sports journalism world?
KL: Get on-air! Whether you want to work on television, on the radio, or write for a multitude of media outlets, start now. Because of the social media culture we've created, you have the opportunity to launch a web series or podcast or blog and better yourself as a journalist prior to your first job. Take advantage of it!
AH: Lastly, what are you looking forward to most this NBA season?
KL: This NBA season, I'm excited to watch the landscape of the league shift in a way we haven't seen in years. Will anyone upend the Warriors? With LBJ out west, who will represent the east? So many questions, with so many opportunities to witness history ahead.
Latest posts by Grace Baker
(see all)