Grizzlies Plan to Blot out the Suns (again)
Tonight the Memphis Grizzlies take on the Phoenix Suns in their third meeting this season. In each of the last two meetings Memphis has earned a not-so-close victory. The Grizzlies have dominated the Suns in recent history, earning 11-13 wins. Phoenix has very little to play for at this point. They are a very young team who just traded away PJ Tucker at the deadline. Phoenix has lost 12 of their last 15 games and are currently last in the West while Memphis is coming off a victory in Denver on Sunday and currently sits at sixth in the crowded West. The Suns love to run so the Grizzlies will have to be ready for that. Memphis will have the services of Brandan Wright (out 2 previous games for personal reasons).
Keys to Victory:
*Devin Booker is earning quite the reputation in the league. The 21-year old Suns guard is second on the team in scoring, averaging 21.1 points per game shooting 42.6% from the field, 37.2% from 3, shoots 82.1% from the charity stripe, and is second on the Suns in assists per game at 3.2. The young man, who can't even legally buy alcohol yet, is a problem for opposing players. In his two contests against the Grizzlies this season, Booker is averaging 21 points per game and 11 free throws. Keep Booker off the line and in check. Keep him frustrated.
Can I just say how much I'm looking forward to the reception Booker will get in Memphis tonight? If you don't know what I mean, watch these clips.
That Devin Booker-Zach Randolph interaction was like if I pushed a bear and the bear just hugged me out of pity.

— sneaker (@sreekyshooter) January 31, 2017
Good luck getting anything but a scathing reception at the Grindhouse Mr. Booker; you're going to need it.
*Mike Conley was feeling it on Sunday to the tune of 31 points and five assists. Marc Gasol showed his true abilities with 23 points and six assists. Zach Randolph finished the night with 20 points and 11 boards. To insure a victory tonight (and a season sweep of the Suns) in Memphis, I would like to see this Grizz trio punish the Suns yet again. Slow the game down to the pace the Grizzlies prefer and force them to play in the mud.
*I would be remiss to leave out my standard "PLEASE PLAY TROY DANIELS" line. Seriously, please unleash him on the Suns tonight.
When: Tuesday, February 28 at 7:00 PM CST
Where: FedEx Forum, Memphis
Where to watch/listen: Fox Sports Southeast, 92.9 ESPN Radio Memphis
*Stats via espn.com, nba.com*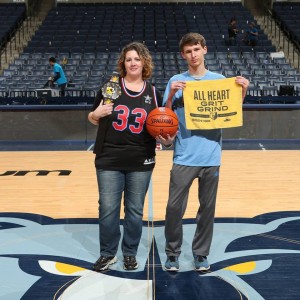 Latest posts by Elizabeth Smith
(see all)