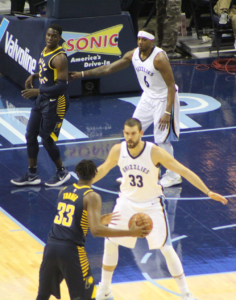 Grizzlies fall after slow start against Pacers

Slow starts have hunted the Grizzlies most of the season. Memphis only scored 6 points in the first five minutes of the game.
"I think we need to come out with a hit-first mentality," said Grizzlies forward Chandler Parsons after the game. "Sometimes we tiptoe into games and we have to start with that defensive edge and set the tone early."
"It's hard fighting back," Parsons continued. "How we played at the end of the game is how we need to play at the start of the game. It's tough digging a hole against these teams, no matter what their record is. They are NBA players. You give them a lead like that, it's tough to come back."
Memphis has lost three in a row after the 116-113 loss to Indiana.
The Grizzlies have dropped six of eight games after winning five of their first six this season. The team is now 0–4 against Eastern Conference opponents this season; however, the Grizzlies are 7–3 against Western Conference opponents.
"You can have some great nights offensively, some good nights — defensively, I don't think there should ever be an excuse to not be consistent," said Marc Gasol. "It's simple. You see what they try to run, see what they try to accomplish, and you communicate it. And then it just has a ripple effect. You need multiple efforts, everybody on the same page."
Gasol led the Grizzlies with 35 points, 13 rebounds, five assists and five blocks. Meanwhile, Tyreke Evans scored 18 points and nine assists as a reserve. Parsons added 13 points off the bench.
The Grizzlies' defense was non existent for the first three quarters and were down by many as 17 points. The Pacers shot 12 for 24 from the three-point line.
The Grizzlies rallied late in the fourth quarter but came up short after Gasol missed a game tying three as time expired.
Mario Chalmers started in place of Mike Conley who set out against the Indiana due to an Achilles injury.
The Pacers led by Darren Collinson managed a wire to wire victory on Beale Street. Collinson scored a season-high 30 points and dished out a team-high eight assists. Victor Oladipo chipped in 21 points while Bojan Bogdanovic added 16 for the Pacers.
"There's always a much needed edge playing in a game regardless, but especially on the road in the NBA," said Oladipo. "It's really hard to win on the road in the NBA. It's huge for us."
Up Next
The Grizzlies will host the James Harden and the Houston Rockets in their final regular season meeting on Saturday at 7pm. The Grizzlies lead the season series 2–1.

Latest posts by Sharon Brown
(see all)