Grizzlies stun Warriors 111-101
The Grizzlies stunned the Warriors 111-101 on Saturday night before a sell-out crowd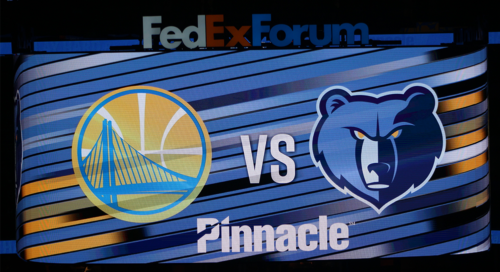 Pace.
Grizzlies coach David Fizdale was asked about controlling the pace in order to slow the Warriors down. He balked at the notion:
"No way. Let's go. I want to run. I'm not adjusting my style of play this early in the season to try and just beat Golden State for one game."
Fizdale continued, "We are trying to build a game that is going to be something we sustain over the course of our season that gives us our best chance. If running is what's got to happen, we've got to run."
And running is what they did. The Grizzlies scored 21 (8-of-12) fast break points. As of today, the Grizzlies are third in the NBA with 18.5 points fast break points per game.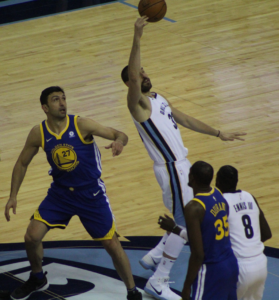 The three time All-Star recorded his second straight double-double of the season with 34 points and 14 rebounds.
"When I saw spaces and I saw gaps, I tried to attack them; it was simple," said Gasol. "Mike (Conley) having a good game or bad game doesn't change the fact that I have to do my job regardless of who's having a good or bad game. It doesn't really matter. If he has a good game, great. If he doesn't, it doesn't change my job."
Ennis the Menace was perfect
James Ennis scored 13 points on 6-of-6 shooting with four rebounds and three assists. Plus Ennis had plenty of highlights.
Jarell Martin made his presence felt in the second half. Martin finished with 8 points, five rebounds and two steals in his first start of the season.
Martin has confidence of his coach after others had written him off. Fizdale said before the game, "You give everybody their fair shot and you end up seeing something you like. I thought the fact that we stayed with Jarell all the way through the summer and through another training camp gave him time to show that he was picking up the things that we were trying to develop. We've been really happy with him, continuing to mold him as a professional and teach him really good work habits. He's been healthy."
Fizz continued, "Unfortunately, for the kid his first two years was just riddled with injury. Hopefully he can keep growing and developing at a fast rate and be a guy that we can really rely on."
The Grizzlies bench, though
After outscoring the Pelicans bench 53-8 in the season opener, the Grizzlies bench outperformed the Warriors bench 40-18.
Tyreke Evans led all bench players with 12 points and seven rebounds. Mario Chalmers added 10 points while Dillon Brooks chipped in nine points.
"We're younger, we're faster, we get out and go," Chandler Parsons said of the Grizzlies' bench. "That's one of the faster teams ever, so if we can run with them, we should use that system with everyone across the league."
Parsons continued his praise of the bench squad, "That second unit is a good ball movement unit. We've got a lot of attackers with Tyreke (Evans) and Mario (Chalmers) and Dillon (Brooks), lob threat with B-Wright (Brandan Wright). We've got a lot of weapons out there in that second unit. Our job is to keep leads when we get it and crawl back in when we're down. We've got to pride ourselves in that and just keep playing together and playing unselfish."
Parsons finished the game with eight points and converted on 2-of-4 of his three points shots.
Grizzlies' Defense
The Grizzlies have held opponents under 40 percent shooting and have forced 17.5 turnovers in their first two games of the season. David Fizdale credits on his associate head coach for the defensive prowess early in the season:
"I'm really happy with it actually. Guys are buying into the system. Like I said, I think J. B. Bickerstaff really took ownership of our defense and built a system that gives us a chance. The guys are really buying into it, so obviously that's really good to see.

"Two very potent teams in New Orleans and Golden State, who can really score, to see us do a solid job on both of them, that's encouraging. It just gives us another carrot to throw at the guys to get them to keep going at it."
Marc Gasol was also happy with the defensive effort. "We are really active," he said. "Guys are taking to heart what they're supposed to do. They're competing on the ball. Obviously, there's a lot of mistakes made, but I think our hustle and determination is getting us through them. Even though sometimes teams are going to make runs, we don't lose our composure, and we stick to it."
Warriors
The Warriors had an uncharacteristic game. They gave up 24 points off of their 17 turnovers. The Grizzlies held them to 39.3 percent shooting. However, Steve Kerr wasn't surprised by the loss to the Grizzlies. "This happens every year when we come to Memphis," Kerr reiterated. "It happened last year when we played them early in the year. We got destroyed. Year before, same thing. Really well coached team."
Kerr added, "They are well coached now. They were well coached under Dave Joeger before that – they're physical, they're smart. Seems like every time we come here early in the year, this is what happens. We have to be smarter. We have to be tougher."
The tag team tandem of Stephen Curry and Kevin Durant led the Warriors in more ways then one. They combined for 66 of the Warriors 101 points and both were ejected from the game in the closing minute.
Up Next
The Grizzlies are in Houston to face James Harden and Houston Rockets. The Rockets will be without Chris Paul. Tip-Off: 7pm CST

Latest posts by Sharon Brown
(see all)