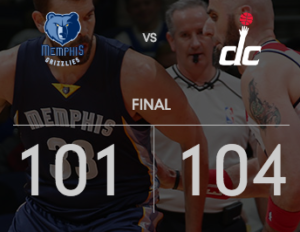 Grizzlies Fail to Work Their Magic Against the Wizards
The Grizzlies have exasperated fans with their tendency to lose games they should win and surprised fans by winning games that they aren't expected to. Unfortunately for Memphis, this trend continued last night against the Washington Wizards in a game they should have won.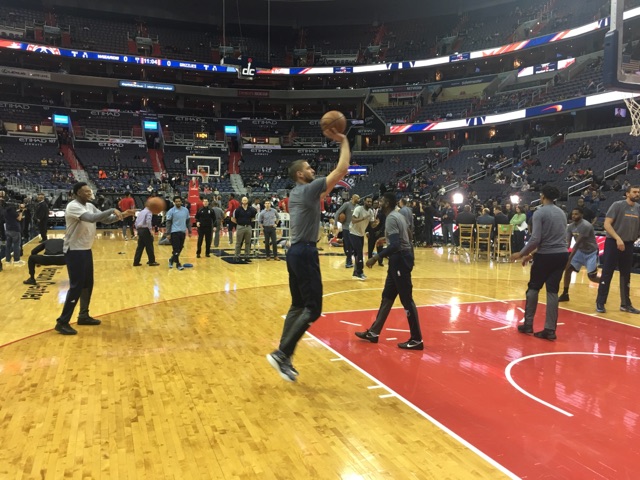 Pete Pranica and Brevin Knight discussed during the 2nd quarter how the Grizzlies have 'lost their way' defensively. No doubt the truth hurts, but that's it in a nutshell. Memphis has not held their own on the defensive end of the ball for too long now and their record is suffering due to that lack of defensive intensity. The Grizzlies have developed the tendency to start out slow and then decide to play defense in the second half. However, by that point they are usually down so far that the amount of energy they have to expend playing defense overrides their ability to be effective on the offensive end. This has to end.
At the half, Memphis (42.9%) was down 51-66 to the Wizards (53.3%). Washington cemented the first half drubbing of Memphis by shooting 37.5% from beyond the arc and 100% (12-12) from the charity stripe.
Memphis showed more life in the second half. I'm envisioning Coach Fizz in the locker room busting their chops for the poor defensive effort; please don't ruin that for me. It's a shame this has to be said over and over, but obviously it hasn't sunk in for the team yet. Coach is partially at fault due to the erratic lineups, however. The perils of having a rookie head coach…
The Wizards were looking for their first win against a Southwest Division opponent…and unfortunately for Memphis, they got it in a 104-101 victory over the Grizzlies. This was the Grizzlies third wire-to-wire loss of the season. Haven't we had enough of this yet?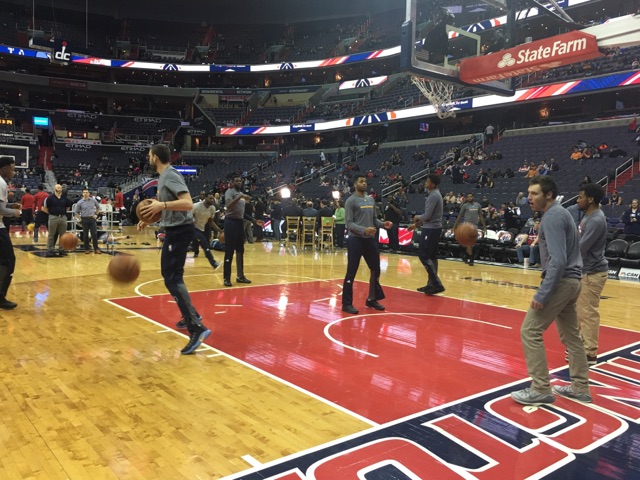 Stats Breakdown:
Memphis:
*It appeared for a few brief minutes that the no-real-backup PG guard experiment might be waning…but alas it didn't last very long. Andrew Harrison checked into the game in the first quarter after sitting out the previous two games while Tony Allen played behind Mike Conley. Harrison played 8:45 and notched 1 rebound and 2 assists in that time. Not ideal…the Grizzlies must get a handle on this backup PG situation before it's too late.
*JaMychal Green had an awesome night, earning his 6th double-double of the season. He notched 15 points, 13 boards (according to Grizz PR, it was a team-leading 12th game with 10+ rebounds), and a steal. JaMychal continues to play for that next big contract.
*Mike Conley had 5 turnovers in the game, two of which occurred in that crucial 4th quarter when the Grizz were attempting to take the lead. He finished with 20 points and six assists. On the bright side, he did get to the line 9 times, of which he made 8.
*Marc Gasol had a cool 28 points and had the Grizzlies only block. He also went 10-11 from the charity stripe. The one thing I'll never understand about Gasol? He only had 2 rebounds. When you've got his counterpart Marcin Gortat pulling 11 boards, this really makes a fan think. Of course, Gasol is out shooting more from beyond the arc now (he ended 0-3) but the rebounding numbers never get easy to understand, regardless of how used to the low numbers we should be. However, Gasol did make more Grizz history last night…
*Vince Carter went 3-6 from beyond the arc and ended with 12 points, 2 boards, 1 assist, and a team-high 3 steals.
Vince Carter will turn 40 on January 26, folks. #HalfManHalfAmazing still has some gas in the tank.
Washington:
*Markieff Morris had his 13th consecutive game in double figures, ending the night with 17 points and 12 rebounds. He was a problem all night long.
*John Wall had his 24th double-double of the season. He finished the night with 25 points, went perfect from the charity stripe, and had a game-high 13 assists.
*Otto Porter owned the 1st and 4th quarters for Washington. He torched the Grizzlies with 25 points and 7 boards. He went 6-8 from beyond the arc. Tony Allen had this to say after the game about Porter…
Here is Tony Allen's full quote on Otto Porter taking the Grizzlies completely by surprise and not being a focus of the scouting report: pic.twitter.com/kJnHwuIbQQ

— Chase Hughes (@chasehughesCSN) January 19, 2017
Tidbits and Reactions:
Grizzlies have trailed by >10 in the 1st half of 18 of their 44 games so far. Only Kings (22), Lakers, Suns, Blazers (19 each) have more.

— Peter Edmiston (@peteredmiston) January 19, 2017
Since Christmas, the Grizzlies have a Net Rating of -11 in 1st halves and +11 in 2nd halves. Opponents shoot 49% in 1st and 42% in 2nd.

— Peter Edmiston (@peteredmiston) January 19, 2017
 Next Up:
Memphis Grizzlies vs Sacramento Kings
Friday, January 20
7:00 PM
FedExForum, Memphis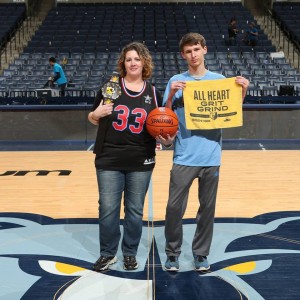 Latest posts by Elizabeth Smith
(see all)