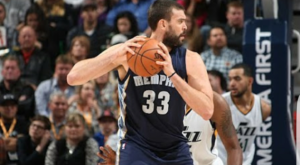 Grizzlies give Jazz the blues in Utah
Grizzlies 102-96 victory against the Jazz
1) Zach Randolph recorded his third double-double of the season with 18 points and 10 rebounds off the bench.
2) Marc Gasol led the Grizzlies with 22 points and five rebounds.
3) Vince Carter may have found a fountain of youth. The 39 year old Carter finished the game with 20 points, seven rebounds and two assists.
4) Mike Conley chipped in 18 points, seven assists and three rebounds.
5) The Jazz had four players in double figures led by Joe Ingles with 20 points, Lyles (18), Mack (17) and Hayward (13).
Stats of the Game:
Field Goal Percentage: Grizzlies 47.4 percent (35/76), Jazz 47.8 percent (33/69).
Rebounds: Grizzlies 43 (14 OREB), Jazz 28 (5 OREB)
Points in the Paint: Grizzlies 52, Jazz 42
Fast Break Points: Grizzlies 4, Jazz 8
Three Point Field Goals: Grizzlies 38.1 percent (8/21), Jazz 28.6 percent (8/28)
Bench Points: Grizzlies 45, Jazz 42
Assists: Grizzlies 13, Jazz 17
Steals: Grizzlies 3 Jazz 8
Takeaways
The Grizzlies were able to get their first win on the road. This was a game they needed to win and for now are 5-5 for the season and sit in ninth place in the west.
A little talk by Coach Fizz seem to give them a push in the right direction. He still had to rely heavily on the vets. Mike Conley, Marc Gasol and Vince Carter played 30 or more minutes.
The team relied on paint more and didn't settle for threes which was a good sign. However, they still had 16 turnovers. The defense is still not what it needs in order to make noise. It will get better once Tony Allen make his return from injury.
Deyonta Davis needs more playing time. He still has a lot to learn but he has raw talent and will be valuable to the Grizzlies in the long run.
Hopefully, that fire Coach Fizz put under the team will resonate and more wins will come. They still have a lot to figure out and it's not a time to panic
Quotables
David Fizdale – Head Coach
On the Grizzlies' performance
"I feel like this is the best four quarters we have put together. Guys, they want to win. They really want this. We worked really hard over the past couple of days to clean things up. I thought Marc Gasol took a step forward in his leadership tonight. Zach Randolph obviously just continues to impress off the bench for us. DD [Deyonta Davis] was fantastic protecting the rim for us. I thought he added a new dimension to our defense. It's something I've been dancing with, just feeling out who's going to do what and he really stood up for us. It was very needed with our backs up against the wall. Obviously, all of these guys were feeling the fact that we hadn't gotten a road win yet. I'm just really happy for that locker room."
On the importance of tonight's game
"Tonight was critical for us. I wouldn't say it was a must-win by any means, because we have a really connected group. But just for our confidence, for us to get a little closer and a little more trust, we needed to go win in a tough environment. This is arguably the toughest environment to play in. Great fanbase. No one ever wants to talk about it, but the altitude does have an effect on guys when you are not used to it. It's a heck of a team to play against. We really overcame a lot to take off this win."
Zach Randolph – Forward
On Vince Carter and coming off the bench
"Vince has been great man, just for me and I always talk to him about things because he started and he went to the bench and I asked the question, 'how do you deal, how do you stay ready' because he has always been through it all. The things I'm going through, he helps me out a lot, but not only that he is just professional helping all the young guys and whatever you need from him. Always talking and always lifting up guys and being there, he is a hall of famer."
On Coach talking to the team yesterday
"Coach got on us yesterday, we watched film and we got our first win. We are playing different and we get used to playing like this and it will come around." Additional Quotes on Back…
Marc Casol – Center 
On the game
"Our offense was good. JaMychal [Green] did a great job of pressing the glass. Me being outside takes both their bigs out of the paint a lot and obviously normally the center is going to clear a lot of space to get the rebounds."
On the offense in the first half
"The first half was really good as far as percentage goes. The second half we became a little more static, but were able to find the open guy and execute a little bit especially down the stretch. We were able to get the buckets that we want and especially the stops that we needed in order to win the game."
Next Up
The Grizzlies travel to Los Angeles to take on their rivals the Clippers on Wednesday, November 16th.
Game-time: 9:30 PM CST on ESPN

Latest posts by Sharon Brown
(see all)