Grizz defeat Jazz, winning third straight game
In front of a crowd of over 16,000 fans, the Memphis Grizzlies faced the Utah Jazz Friday night in Mike Conley's first return to Memphis and won 107-106.  The win Friday night came after wins in San Antonio and Charlotte earlier in the week.  To the delight of many fans, Conley's "Core Four" teammate, Tony Allen, was among the fans in attendance.
Conley's Game
The game Friday night marked the first time Mike Conley played in Fed Ex Forum as an opponent. The contributions that he made to the franchise and the city were recognized in a tribute video played during the game's first time out.
"Captain Clutch", as he was affectionately known while in Memphis, started the game slow offensively, ending the first half with just 4 points (2-8 from the field), 3 rebounds, and 1 assist in just under 17 minutes of action.  Conley played a total of 35 minutes and ended the game with 15 points (5-19 from the field), 4 rebounds, 3 assists and 1 steal.
Game Stats
Field Goals:  The Grizzlies connected on 43 of their 95 attempts (45.3%) and 10 of their 34 three point field goal attempts (29.4%).  They held the Jazz to 40.2% (35-87) and 26.5% from three (9-34).
Rebounds:  Grizzlies grabbed 46 boards, while the Jazz grabbed 45.
Assists:  Grizzlies assisted on 25 of their 43 shots.  Jazz assisted on 17 of their 35.
Free Throws:  Ironically, the Jazz literally had more free throws in the third quarter alone (19) than the Grizzlies had the entire game.  There were 13 free throws taken by the Grizzlies (11-13), while the Jazz took 32 (27-32).
Turnovers:  The Grizzlies had 11 turnovers leading to 8 points by the Jazz, and the Jazz had 14 turnovers leading to 16 points by the Grizzlies.
Bench Points:  The Grizzlies bench outscored the Jazz bench 32-14.
Team Leaders
Rookie Ja Morant led the Grizzlies once again with 25 points (9-22), 8 assists, 4 rebounds and 1 steal in thirty minutes.  Friday night's game was filled with Morant highlights, including one where he accidentally posterizes his own teammate.
Post game Morant was complimented by Coach Taylor Jenkins and his teammates.
From the first day we met him, you saw his humility, but also his confidence that he can be great.  But he wants to do it with his team.  He wants to make the plays to help his team whether it is him to score, him to play make, trusting the pass.

~Coach Taylor Jenkins

He's just enjoying it out there.  He's balling, and it's really good to see him doing that.

~Jonas Valanciunas
Dillon Brooks had another effective game with 20 points (7-15), 2 assists, 2 rebounds, 1 steal and 1 block.
Kyle Anderson and Brandon Clarke had solid games off the bench.  Anderson had 13 points (5-7), 7 rebounds, 2 assists and 1 block.  Clarke had 10 points, 4 rebounds, 1 steal and 1 block.  Additionally, Solomon Hill came off the bench and is credited with a steal with 2 seconds left in the game.  That steal prevented what could have led to a game winning shot by Donovan Mitchell.
Up Next
The Grizzlies, now 5-7 after Friday's win, have another home game Sunday against the Denver Nuggets at 5 p.m. CST.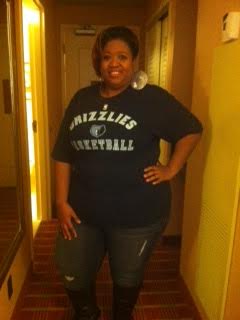 Latest posts by Carmen Patton
(see all)