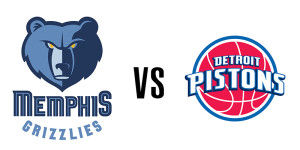 The Pistons stun Grizzlies 103-90
The Grizzlies started out solid against the Pistons in the first half of the game and finished went the half with an eight point lead (57-48). But the second half was a different story especially in the third quarter.
The Pistons outscored the Grizzlies 27-10 in the third quarter. The Grizzlies' 10 points were a season-low for the third quarter and the second-lowest scoring total for any quarter this season. The Grizzlies committed nine of their 15 turnovers in the third quarter. In the second half, the Grizzlies were outscored by the Pistons 55-33, ouch!!
Stats of the game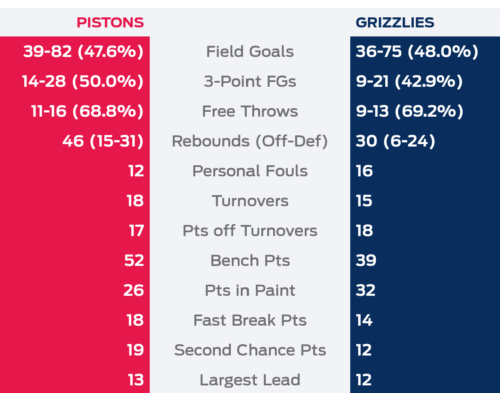 Game Notables
1. Mike Conley led the Grizzlies with 15 points and three assists. Conley has been the Grizzlies leading scorer in 34 games this season.
2. Marc Gasol finished with 13 points and five assists.
3. JaMychal Green chipped in 12 points and 7 rebounds.
4. Vince Carter (1,346 games) tied Kobe Bryant for 13th in NBA history for career games played. Carter finished with six points in 22 minutes.
5. Boban Marjanovic recorded his fourth double-double of the season with 14 points and 10 rebounds.
6. Reggie Bullock ended with 14 points (4-of-7 3P) and four rebounds.
What They Said!!!
TONY ALLEN:
On the starting lineup:
"We paid attention to detail, we executed offensively, and we were just practicing some behind the scenes schemes that we are going to use in the playoffs. That goes along with paying attention to detail. I like how we executed on both ends."
On the second half:
"Although we knew we'd be limited on minutes today, I kind of thought with that being a restriction we weren't able to make that run back there and put our imprint on the game. We wanted to see our young guys blossom today and unfortunately came up short, but we saw great things in those guys. Like I said, we're trying to pull some things out for the long run as far as the playoffs go. I saw some good things in doing that, like I said, paying attention to detail, but we're preparing for the playoffs."
On advice for those who haven't been to the playoffs:
"Just stay in the moment. Pay attention to detail. I know that it's kind of hard for myself to stand in the huddle and listen… but it counts. Like I said, we just have to play hard for 48 minutes and it will be a good scene going to San Antonio and getting a win."
Up Next
The Grizzlies will host the Dallas Mavericks at the FedEx Forum on Wednesday, April 12th for the final regular season game of the season. Tip-off: 7pm CST.

Latest posts by Sharon Brown
(see all)