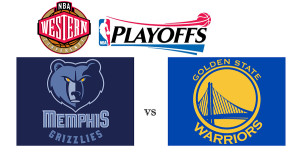 Western Conference Semi-Finals Preview: Memphis Grizzlies vs Golden State Warriors
All eyes are on Oakland as the Memphis Grizzlies advance to the second round of the Western Conference playoffs after defeating the Portland Trail Blazers in 5 games. Meanwhile, their opponent, the Golden State Warriors, who had both the top seed and the best record in the NBA for the season, have been patiently waiting for us after sweeping the New Orleans Pelicans in round 1 a week ago.
The unexpected and unfortunate loss of Mike Conley due to a facial injury he suffered in Portland is what some predict will be the downfall of this team's postseason hopes. There is no mistaking that Conley's absence has had a tremendous impact on the Grizzlies offensive game, but it was never going to be the Grizzlies offensive game that was going to win them a best of 7 series with Golden State. It will be the Grizzlies ability to use their defensive prowess to slow down the Warriors fast paced offense that ultimately make or break the series. The Grizzlies will need to wear them down, and wear them out.
The Warriors are the best offensive team in the league with the best perimeter shooting, and the Grizzlies will have to be on top of their defensive game to  stymy that powerful offense. We have seen firsthand, and recently, what can happen when one or more of the Warriors stars gets hot, and it isn't pretty, not if you are the team getting torched.
Klay Thompson has had a career year, and has been at the top of his shooting game, and the Grizzlies must figure out how to contain him offensively, while also attempting to contain his partner in crime, Steph Curry. They have proven to be equally deadly from long range, so it cannot be a case of either/or, the Grizzlies must defend BOTH shooters, and take the utmost care to do it without fouling. Letting the opposing team score with the clock stopped is never a smart plan, but it is even worse when it was a player in the process of shooting a 3. Something about seeing an opposing player take 3 free throws is especially painful.
The Short Straw On The Long Ball
Speaking of the three, consistent three point shooting is something that has long eluded this Grizzlies team, but it has never been as painfully apparent as in the last few seasons. To follow specifically the last two seasons, the saga of the long range shooter woes that have plagued this team: First, Mike Miller was brought in during the offseason leading to 2013-2014 in an attempt to give the squad a boost in outside scoring, and while he played in every regular season game, he was never really able to be the spot up 3 point shooter the Grizzlies needed.
Then, Vince Carter was acquired in the offseason as a replacement for Miller, and he was supposed to be the savior from beyond the arc, the guy that would finally bring the Grizzlies a respectable and consistent number of successful 3 point shots. He was said to also be replacing the veteran wisdom that Miller brought behind the scenes.
And while I hesitate to deem the Vince Carter experiment a bust after just one season, he has failed to live up to the expectations of fans and media alike, and while he has indeed made some big shots in a few big moments, overall those moments have been few and far between. No one can claim he has been the 3 point threat we all hoped he would be, and that this team desperately needed. Some of that can be rightfully attributed to the fact that Carter entered the season still recovering from a procedure to remove bone spurs in the offseason, coupled with the injuries that he has sustained over the course of the regular season.
But with Mike Conley out for the foreseeable future, the weight of the Grizzlies three point shooting will need to be carried by Courtney Lee, Vince Carter, and Jeff Green. Whether they are up to the task remains to be seen.
When Tony Allen is your only successful three point shooter in a game, you aren't going to win a series like that. Especially not a series against a team whose bread and butter is 3 point shooting. Nick Calathes making 4 of 5 from beyond the arc that one time was great, but it was a statistical anomaly.
If that is what we are relying on for the bulk of our outside shooting we are in serious trouble. The Grizzlies are not a team that wins from the three point line even on their best day, and they don't necessarily need to be, but they need to be able to make at least a few per game.
The Splash Brothers vs The Smash Brothers
This is where I think the battle will ultimately be won or lost. A lot of the outcome of this series will depend on the respective performances of Zach Randolph and Marc Gasol for the Grizzlies, and Klay Thompson and Steph Curry for the Warriors.
The Grizzlies and the Warriors play two completely different and opposing styles of basketball. Whichever team is most successful at implementing their signature style to shut down the other will inevitably decide the outcome of this series.
Hello, Captain Obvious, right? Well, maybe not so much. It won't be as simple as it sounds, for either team. Being able to do it once is one thing, but being able to do it at least four times is another. I know a lot of critics have the Grizzlies getting swept in 4, but this could easily go to 6 or 7 games. The more games we can stretch it out to, the better our chances will be.
The longer Memphis can subject Golden State to their extremely physical style of play, the harder it should be for the Warriors to keep up their high energy, fast paced style that has allowed them so much success this season.
In seasons past, we have matched up favorably with the Warriors, but in the current season we have seen the Warriors offensive capabilities from outside go from impressive to near miraculous, thanks largely to the continued improvement of Klay Thompson and Steph Curry.
The Warriors have other players that can offer a bit of scoring power, but their offense primarily relies on the effectiveness of Steph Curry and Klay Thompson to get in a hot shooting rhythm and be able to score successive long range or mid-range baskets in transition. Shut down those two, and you've eliminated at least 50% of Golden State's offensive ability.
This will be a series of interesting match-ups and mismatches as the opposing styles of these two teams clash. Marc Gasol would easily destroy Andrew Bogut in a head to head match-up, but the way the Warriors play, the real battle may be how well Tony Allen and Courtney Lee are able to shut down Steph Curry and Klay Thompson, or at least give them enough problems to keep them from being able to make a huge impact.
Zach Randolph and Draymond Green should be an interesting match-up to watch, a battle of strength vs speed. Let me reiterate that I think Zach Randolph is going to be, or rather we need him to be, a tremendous difference maker in this series. I suspect the Warriors will try to double team Randolph as much as possible, trying to keep him out of the painted area.
While Nick Calathes did a fantastic job starting in Conley's place in the final two games against Portland, I don't think he is the right person to be in the starting role against Golden State. I would rather see Beno Udrih start and Calathes and possibly even Russ Smith come off the bench. Really I would rather see a healthy Mike Conley in the starting lineup, but for the time being that ship has sailed.
In closing
I'll leave you with some tough love for the tough times ahead: I don't think anyone should count us out or give up on us in this series against Golden State, but we need to be realistic about how the loss of Conley hurts our chances, and how our entire offensive and defensive strategies will need to be reworked to compensate for that loss.
If the Grizzlies can keep the Warriors somewhat contained from beyond the 3 point line, and maintain an advantage by being able to score effectively in the post, and are able to do it consistently in enough games then there is a chance they could come away with the victory in this series and advance to the Western Conference finals. It might seem right now like a slim chance, but it does exist.
The Grizzlies are no strangers to being the underdogs, and indeed they seem to thrive on it. So if anyone would be up to the challenge this series will present, it's this team.
Game 1 Tip-off:
When: Sunday, May 3, 2015 @ 2:30 PM CST
Where: Oracle Arena, Oakland, CA
TV/Radio Broadcast: ABC/WMFS 92.9FM ESPN

Latest posts by Aimee Stiegemeyer
(see all)