Western Conference Quarterfinals Preview: Memphis Grizzlies vs Portland Trailblazers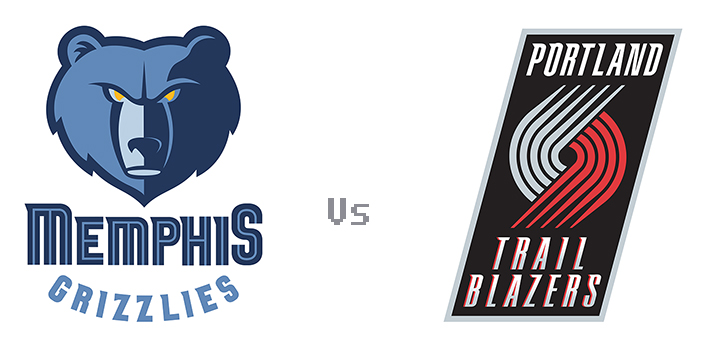 Up until the last two weeks of the season, it seemed as though Memphis finishing as the 2nd seed was a forgone conclusion, which is a testament to just how quickly things can change in the heavily stacked Western Conference.
Struggles down the stretch with injuries and inconsistencies coupled with a late season resurgence of a number of rivaling teams created a perfect storm of sorts that resulted in the Memphis Grizzlies falling several spaces in the race for playoff seeding, and ultimately ending up as the 5th seed.
Because of the way the league determines playoff berths, with division winners guaranteed to finish no lower than the 4th seed, Portland is seeded higher than Memphis. But Memphis will enter the series with the home court advantage because they have a higher number of winning games for the season.
It will be for the first time ever that the Grizzlies and Blazers will meet in the postseason, so there's no past data to look back on in terms of a playoff series against each other.
Which leaves us with only the performance in regular season games to get an idea of how a matchup between these two teams might go.
By that metric alone, Memphis has a clear advantage, having swept the season series against Portland this year, and winning 2 out of 3 games against them last season.
But of course the playoffs are another animal entirely, and anything can happen. Not many people expected Portland to upset Houston last year in the postseason, but that is exactly what happened.
We have seen what happens when this Grizzlies team gets overconfident and underestimates their opponents, so it will be very important to give as much focus and effort to this Blazers team as they would for teams they have struggled against.
Both teams have been plagued by injuries as of late, and neither team can be certain that missing players will indeed be ready to go at game time, or how they will fare once they get back on the court.
For the Grizzlies, Mike Conley missed the last four games of the season with a sprained foot, and Tony Allen missed the last nine with a hamstring injury.
Jeff Green has been playing through back pain for weeks, and there is a real possibility of him aggravating it further and being forced to sit out a few games. Obviously we all hope that won't be the case, but it certainly is within the realm of possibilities at this point.
Courtney Lee has suffered from a hand injury for a while now, and although he is back in the rotation, he's clearly not fully healed and not in his best form.
Vince Carter missed 5 weeks in the middle of the season after tearing a tendon in his left foot, ultimately requiring surgery to repair, but Carter also started out the season recovering from having a bone spur procedure on his right ankle over the summer. So while we have seen a few flashes this season of the Vince Carter of old, it hasn't been with much consistency. Which version of Vince we'll see in the playoffs remains anyone's guess.
On the Blazers side, Wesley Matthews tore his left Achilles tendon in early March and is out for the remainder of the season.
Dorell Wright has a fractured left hand, and is likely to miss most or all of the series.
Chris Kaman has been battling a back injury, CJ McCollum has a sprained left ankle, and Nick Batum has an injured right knee.
LaMarcus Aldridge hasn't been 100% these last few weeks, and Arron Afflalo, whom the Blazers acquired at the trade deadline and could have possibly picked up some of the slack left by the absence of Wesley Matthews, was sidelined recently with a right shoulder strain and could miss part or all of the series as well.
Head to head matchups at each position:
Mike Conley vs Damian Lillard

Mike Conley will be returning to the lineup after missing the last four games of the season, but it was obvious he was having issues with that ankle before he was sidelined. I am concerned that Conley hasn't had enough time resting to let that ankle recover, and as such won't be at full strength when he returns.
Damian Lillard has been a beast this season, there's no denying that. His ability to get hot and drop a massive amounts of points has been a saving grace for Portland this season, and they are going to need more of that from him during this series if they are to have a chance against this Memphis team. Lillard has shown he can deliver when it counts, and he was an integral part of the Blazers success in defeating the Rockets last year in the first round.
Winner: Damian Lillard
Courtney Lee vs Arron Afflalo

Courtney Lee has been very hit or miss in terms of shooting, and that was the case even before the hand injury that sidelined him briefly. Lee started out the season on a hot streak, and has cooled considerably throughout. As with fellow Grizzly Vince Carter, it is anyone's guess which version of Lee will appear in the postseason.
Arron Afflalo may potentially not even be able to play, in which case CJ McCollum would most likely take his place. Afflalo and Lee are similarly matched in terms of overall production, but both seem to have played their best basketball earlier in the season. I'd probably pick a healthy Afflalo over Lee, but I don't think we're going to see a fully healthy Afflalo for this series.
Winner: Courtney Lee

Tony Allen vs Nicholas Batum

Tony Allen and Nicholas Batum both have been struggling with injuries, but both players are listed as probable for Game 1.
Allen missed the last 9 games of the season, while Batum missed just the last one, but Batum's production for the games leading up to the one he missed left quite a bit to be desired.
Batum can score the ball at times, but judging from this season, it does not appear he can do it consistently.
As Grizzlies fans can attest, the value that Tony Allen brings cannot always be captured in a box score or a stat line, but you can count on him to make an impact in the game regardless. If the rehab and recuperation Tony has been undergoing for the hamstring injury was successful, he should be a tremendous boost for the Grizzlies in this series.
Winner: Tony Allen
Zach Randolph vs LaMarcus Aldridge

As mentioned above, LaMarcus Aldridge hasn't been at full strength lately. And while Aldridge averages more points per game this season than Randolph, and shoots a little better at the free throw line, Zach has the advantage in a few other areas, such as collecting rebounds, stealing the ball, and delivering assists. Both are exceptional players in their own right, both can deliver for their respective teams.
Winner: Draw
Marc Gasol vs Robin Lopez

Marc Gasol started out the season with an aggressiveness that he had not previously exhibited, and while it did wax and wane throughout the course of the season, he seems to be returning to that level, if his performance in the last game is any indication. I might be a little biased, but I still think Gasol is the best center in the league today. He may not always score the most points but he is a more complete player than his contemporaries.
By contrast, Robin Lopez appears to be on a downhill slide in terms of production and efficiency. But even on his best day, Lopez is just not at the same level as Gasol. And if Marc is indeed returning to his early season form, the Sideshow Bob lookalike will be no match for Big Spain.
Winner: Marc Gasol. Duh.
In closing, the Grizzlies need to do what they are best known for on the defensive end, and let their offense flow from that. We need to make the Blazers play Grizzlies basketball, and control the pace of the game as much as possible.
We can expect Portland to try and get our big guys into foul trouble early, so we need to be mindful of that and defend without fouling as much possible.
Ideally the Grizzlies will be making some outside shots, but regardless we also need to try and keep the Blazers from lighting us up from the 3 point line.
If we can manage to do most of these things, then my prediction is the Grizzlies take the series in 5.
Games 1 and 2 will be on the Grizzlies home court, on Sunday April 19th and Wednesday April 22nd, respectively.
Tip-off for both games is at 7 PM CST, and both will be broadcast on TNT.
In addition, Game 1 will also be broadcast on SportSouth, and Game 2 will be shown on Fox Sports Tennessee.

Well-caffeinated pedant and purveyor of fine internet opinions on NBA & WNBA Basketball and Your Mom.

Doesn't bluff, stays grinding.

Bluff City Born and Memphis Made

Latest posts by Aimee Stiegemeyer (see all)