Game Preview: Grizzlies visit Kobe and the Lakers
The Memphis Grizzlies will take on the LA Lakers tonight at the Staples Center at 9pm. Grizzlies will try to extend their winning ways in Hollywood. Grizzlies have a 12-2 record going into tonight. Their 2 losses were on the road to the Milwaukee Bucks and the Toronto Raptors* (this game has an (*) asterisk because the Grizzlies were without 5 key players due to a nasty stomach virus).
Match-ups
Kobe Bryant will still score a lot of points even if Tony Allen try to shut the water off. The key to the win is to let Kobe take most of the shots while he's on the floor. No one will be able to stop an aggressive Marc Gasol, who is coming off back to back 30 point games. He's just too good of a player for Jordan Hill  to contain him although, in the last game against the Lakers, he only scored 8 points. He also had 8 rebounds and 9 assists in that affair. In the past 3 games, he hasn't been deferring much to his teammates and has been actively and with authoritatively getting to the paint and shooting his jumpers. Take a look at his shot chart from the Clippers game; when he's shooting like that no one can stop him.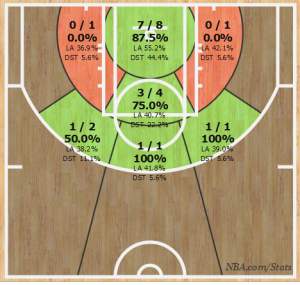 Zach Randolph has been a rebounding machine as of late. Since Jon Leuer has been scoring in double figures the last 3 games, Zach has been getting plenty of rest. He shouldn't have any problems playing against Carlos Boozer or Ed Davis.
Mike Conley should be able to get what he wants against Jeremy Lin. Mike is averaging 16.2 points per game and he's shooting a career high in three pointers at 47%. With excellent three point shooting from Mike and his back court mate Courtney Lee, Grizzlies are ranked 6th in the league in this category.
Bench play
Grizzlies bench should continue to outplay their counterparts in this affair. The Lakers bench is just not that good besides Nick Young who can go off at any moment. He's a known Grizz killer. Quincy Pondexter and Vince Carter need to disrupt his flow and make his shoot bad shots. Grizzlies bench needs to hit on all cylinders. Memphis' bench has improved tremendously over the past 7 games.
Analysis
Grizzlies will continue their winning ways and defeat the downtrodden Lakers once again. Lakers are ranked dead last in points allowed per game, while the Grizzlies are ranked 3rd in points allowed. This will be a very difficult game for the Lakers to win, if the Grizzlies are effective offensively and defensively. No one is going to stop the tandem of Marc Gasol and Zach Randolph. Lakers just will be outmatched in every area and Kobe can't beat the Grizzlies by himself. Grizzlies just have too many weapons for the Lakers to overcome.

Latest posts by Sharon Brown
(see all)