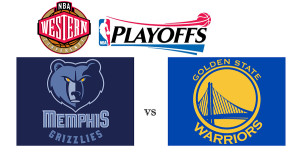 Western Conference Semi-Finals Grizzlies vs Warriors: Game 4 preview
Riding high on the momentum from their Game 2 win on the road and back on their home turf in the Grindhouse, your Memphis Grizzlies gave the Golden State Warriors a good old-fashioned Beale Street beat down Saturday night in Game 3.
There was everything that makes a great Grizzlies playoff game, we had Zach and Marc working down low in the post, the masked Mike Conley running the floor, and Tony Allen creating havoc and generally making Klay Thompson's life miserable. Courtney Lee contributed defensively, as well as hitting a clutch 3 pointer late in the 4th quarter just after the Warriors had cut the Grizzlies once 18 point lead to just 4.
It would be the closest the Warriors would get to a comeback, and the Grizzlies quickly nipped it in the proverbial bud, going on to defeat Golden State by ten. Final score was Grizzlies- 99, Warriors- 89.
In addition to putting Memphis up 2-1 in the series, it also marked just the fourth time since the start of the regular season that Golden State has been held under 90 points in a game, and two of those four were Games 2 & 3 of this series.
 Now onto the next one…
Tonight the two teams will once again face off inside FedEx Forum for Game 4, and what an important game it will be. There is a broad consensus in the basketball world right now that this will be a must win game for the Warriors, if they want to maintain any hope of getting out of this series alive and onto the conference finals. I don't necessarily disagree, but I have also learned not to underestimate an opponent, especially not one as good as this Golden State team has been all year.
Which is to say that I expect to see the Warriors come out with an increased intensity fueled by equal parts desperation and frustration. No one expected Golden State to struggle this way against Memphis in this series, but the Grizzlies have stuck to the ground and pound style of play they are best at, and so far the Warriors don't seem to have an answer for it. By the end of Game 3, both Steph Curry and Klay Thompson were visibly frustrated, as was Warriors head coach Steve Kerr.
Steve Kerr has proved himself to be an excellent coach in the regular season, in fact he has the most winning record of any rookie head coach in league history. Kerr's skill and experience coupled with his extremely high basketball IQ helped him lead his team to a franchise best season, and culminated in star point guard Stephen Curry being voted MVP for the 2014-15 season.
All of that is impressive by any metric, and the Warriors certainly have the talent and ability to win, but they are still a fairly young team with limited playoff experience, and they still rely on a fast-paced jump shooting based offensive style that the Grizzlies have been able to masterfully shut down in the last two games.
The Smash Brothers will still try and take shots, and invariably some of those shots will fall, but if the Grizzlies continue to put forth the same defensive efforts as they did in Games 2&3, and Tony continues to, well, be Tony, I think there is a good chance that tonight we could see a repeat performance of Saturday night.
So much of the Warriors offense relies on Thompson and Curry and their hot shooting, particularly from beyond the 3 point line, and both have struggled mightily in that department, with Klay shooting 4 of 12 in the past two games, while Steph is just 4 of 21.
They have few other players who can reliably contribute offensively, a weakness the Grizzlies have wasted no time in exploiting. Draymond Green and Harrison Barnes are capable but inconsistent, and Andrew Bogut is not exactly what you would describe as an offensive powerhouse. To make matters worse (or better) their bench will be shortened by the absence of Marreese Speights, who suffered a calf injury in Game 3 and will be unable to play for at least a week. Which basically leaves them Andre Iguodala and Leandro Barbosa for a second unit boost, the latter having gone ice cold in Game 3, after scoring 14 points in Game 2.
This means the Warriors starters, particularly their stars, will likely once again need to play heavy minutes in an effort to keep their offense flowing. Look for them to attempt a different defensive strategy to try and contain the scoring abilities of Zach Randolph and Marc Gasol.
But until otherwise proven ineffective, Zach and Marc should just keep doing exactly what they have been doing in the previous two games, as they have done it extremely well and the Warriors so far have not had much luck in shutting them down.
Ditto for Mike, Courtney, Tony, Kosta, and Beno. These guys have all been indispensable in their own way throughout the series, ways that may or may not be reflected in a box score. For some of them, their individual contributions may seem unimpressive, but it is the collective effort that makes it all work. When everyone comes together in their respective roles we have seen this team perform as a well-oiled machine. Efficient, effective, and nearly unstoppable.
Game 4 Tip-off:
When: Monday, May 11, 2015, 8:30 PM CST
Where: The Grindhouse, aka FedEx Forum, Memphis, TN
TV/Radio Broadcast: TNT/WMFS 92.9FM ESPN

Latest posts by Aimee Stiegemeyer
(see all)